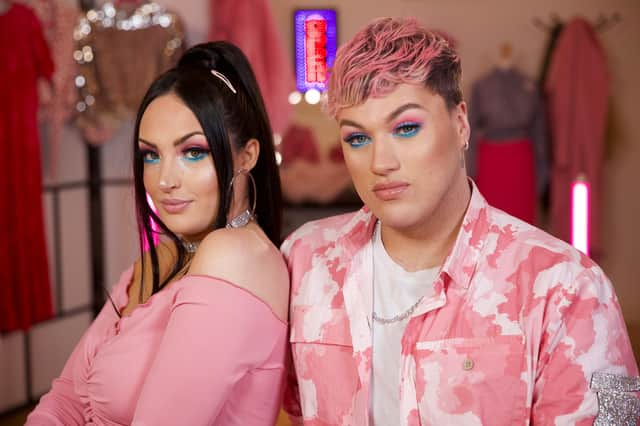 Best friends Alannah and Jamie love finding fashion gems in second-hand stores and live for upcycling. In the new series of Style Fixers the pair have one simple challenge, to turn the drab and dated into fabulous and on fleek. With a budget of just £30 to spend in second-hand stores and some simple upcycling they're out to prove you don't need to flash the cash to look bangin'.
"We are not fashion experts or seamstresses but that's the point, what we can do, anyone can do," says Jamie, "We give someone a whole new look entirely based on an item we have taken from their wardrobe and they don't get to see what we have done..."
"They have no idea what we have done to the item until the end of the show," chips in Alannah.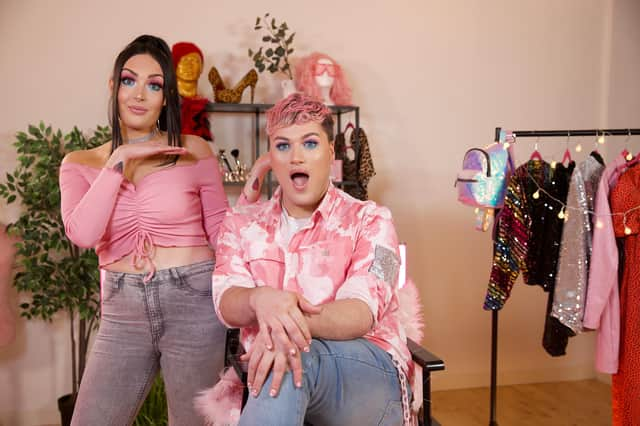 It quickly becomes clear the pair frequently finish each other's sentences.
Jamie continues, "It's fun, light-hearted and tongue in cheek. As long as they are happy at the end, we've done our job but, of course, some people don't like the finished look as much as we do and others love it, though it might not be for them."
Alannah admits, "Sometimes we can't rein ourselves in, but we would hate to make people feel uncomfortable..."
"...Aye, and they don't have to wear their 'Jalannah' creation," finishes Jamie.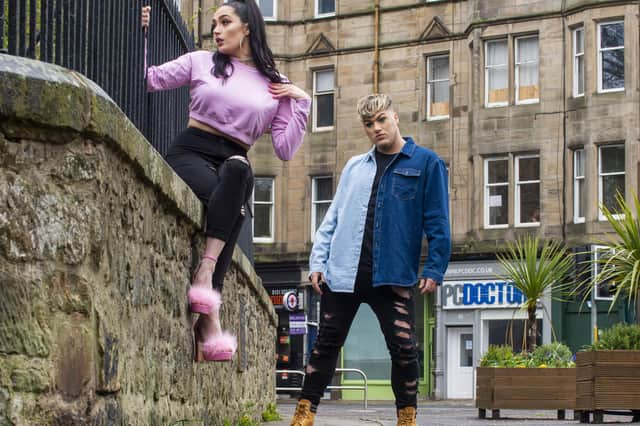 By day, the pair work as make-up artists at The Make Up Bar in Tollcross. By night, in normal times, Jamie is a drag act at Brewhemia on Market Street, where they both produce the venue's entertainment. Practically inseparable, they first met four years ago.
Alannah recalls, "The first time I saw ​Jamie​ he was standing outside the salon. In​ he walked ​in his​ rhinestone t-shirt, we​ ​clocked each other, ​started gabbing, ​and one of the first things he said to me was​,​ 'Do you like Beyonce? To be honest, we then broke into ​some​ of her choreography and have been inseparable ever since.​"​
​Brought up in Sighthill, ​Jamie, 26, attended Murrayburn Primary and Forrester High, "By the time I went to Forrester I'd moved back to Broomie where I was born," says Jamie, who now lives in Meadowbank with his partner of seven years, Chris Collins​, who runs the ​food blog​,​ Don​'​t Go Bacon My Heart​.
Allannah, 27, is from Woodburn, Dalkeith, and attended St David's Primary. She moved to Perth aged 11 before settling in the Capital at 16.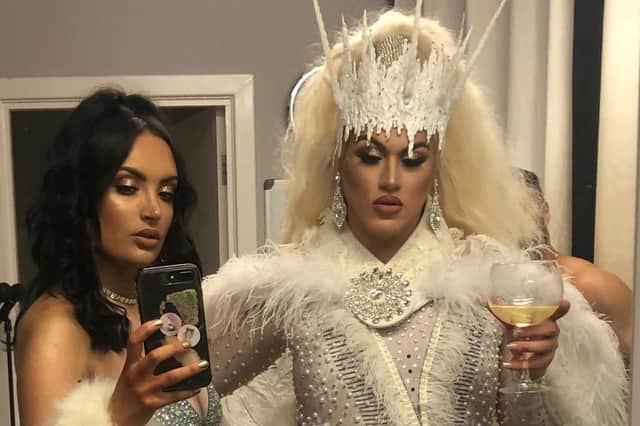 ​"​I actually played my first ever gig in Woodburn Miners' Club when I was eight, singing and dancing. I came out of the womb singing and dancing," she laughs.
Which brings us nicely to their other job at Brewhemia where they are the venue's Creative Producers​. Jamie also appears there as drag star Blaze, while Alannah too can be found performing in the weekly shows.
"I was head of make-up and ​did ​a bit of costume ​but was becoming ​overwhelmed by the​ volume​ of work. I suggested that I bring Jamie in to help. For the first week I paid ​him in ​Starbucks​, lip gloss and make​-​up​..." she chuckles, as ​Jamie takes up the tale, "​...then one weekend​, ​someone called in sick,​ ​I was already a drag queen​ and had wanted to do drag at Brewhemia for a while. I got my chance. That's how it started."
Jamie actually made his drag debut at the age of 20 in Chalky's Nightclub on Picardy Place. A year later, at Pride 2015​ he entered a drag comp​etition, "It was only my third o​r​ fourth time in drag​​ and I won it​," he says​.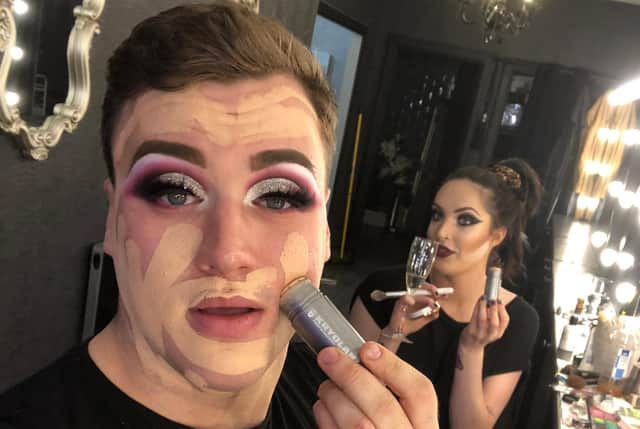 ​Alannah says, "At Brewhemia we started developing Jamie's drag persona together, finding references, hot glueing costumes together and, for the first time ever, I thought this is what I'm meant to be doing. I can still do everything I dreamed of doing when I was eight... and get paid for it."
She adds, "I love when we get a lad in with his girlfriend and he's not comfortable at first but by the time the show we are doing is over he is loving it..."
"...he's up on the table, playing with my wig, maybe giving me a wee slap on the bum, if I'm lucky..." jokes Jamie.
Alannah roars with laughter, "It's a very positive atmosphere, very inclusive, a place where you can be yourself."
Despite the quips, Jamie takes his drag seriously, "I call myself a drag queen but look at myself more as a female impersonator, I'm not the biggest fan of hosting with a mic when I'm in drag."
Consequently, although he can laugh now, when things go wrong, he's not always best pleased.
Alannah remembers, "Now this might have been my fault. In our HalloQueen Show Jamie was performing Clown by Emily Sande. He was dressed as a clown, de-dragging on stage, taking off the lashes, the wig... it was meant to be a very emotional moment. All I had to do was walk on stage and unzip the clown costume... the zip stuck. Instead of 10 seconds I was on stage for two minutes...
"... meanwhile, I'm trying to give it Emily Sande realness," laughs Jamie, before recalling his very first show at Brewhemia.
"I hadn't taken into consideration that as soon as I donned the wig and layers and layers of Spanx, I'd became a lot hotter..." he admits. "I started sweating. By the third song my lashes fell clean off my face. The glue pulled my eyeliner off, I was soaked right through and just had to power on."
The attraction of drag is that, "For an hour you can be whoever you want to be and perform what you want to perform," reflects Alannah.
For Jamie, it's a question he has thought long and hard about. "I use drag as my vehicle to do what I want to do. I could get on stage like this, as a boy, and lip synch to Beyonce, but it's not my fantasy, I grew up wanting to be a pop star even though I can't really sing. As Blaze, I can be a pop star."
If you haven't already guessed, Beyonce plays a big part in Jamie's life, she even influenced his drag name as did an unlikely TV heroine.
"When I first did drag I said to Chris, 'I need a name'. I didn't want a comical one, that wasn't the vibe I wanted to give off. My icon is Beyonce, so the one word thing really works for me. Chris ended up online looking at a list of names of people who had been on the old TV show Gladiator. There was a woman called Blaze. I thought well it starts with a B just like Beyonce, it's one word, it means fire so it's hot, and there were so many puns I could do, 'Come for a blazing night'. That was it."
Alannah chips in, "And there's a running joke that if I ever do drag I'd call myself Aliana Venti, because I love Ariana Grande..."
"... and you love a Starbucks," says Jamie.
So, as they prepare for Style Fixers to go out, is there anyone they would like to give the 'Jalannah' treatment?
"Style Fixers is literally two pals being two pals," says Alannah, "but our dream fixes would be Katy Perry or Beyonce, but I don't think they will be calling anytime soon so who we'd really love to 'fix' are our mothers."
"...or a bus driver," quips Jamie, adding with a laugh, "definitely a bus driver."
Style Fixers begins a six week run on BBC Scotland on Monday 10 May, 11pm, or watch on iPlayer
A message from the Editor:
Thank you for reading this article. We're more reliant on your support than ever as the shift in consumer habits brought about by coronavirus impacts our advertisers.
If you haven't already, please consider supporting our trusted, fact-checked journalism by taking out a digital subscription