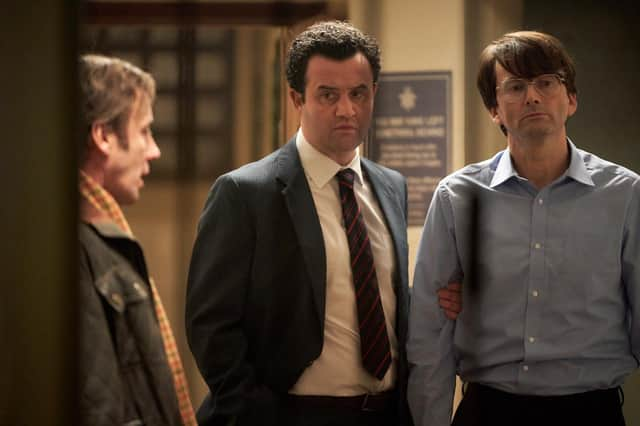 David Tennant stars as serial killer Dennis Nilsen (Photo: ITV)
David Tennant returns to our TV screens on 14 September as serial killer Dennis Nilsen in new ITV drama Des.
The programme tracks the story of Nilsen's arrest and trial from three perspectives - Nilsen himself, DCI Petery Jay and biographer Brain Masters.
This is everything you need to know about Des, including the true story behind the drama.
Des follows the story of Dennis Nilsen, one of the most prolific serial killers in UK history, who operated during the late 1970s and early 80s.
The ITV programme will explore how Nilsen was able to prey on young and vulnerable men in Britain in the 1980s.
"The series will not only highlight the police investigation and trial but also the effect of the media coverage on public perceptions of the victims at the time, raising questions of just how far have we really come since then," ITV explains.
The real life serial killer Dennis Nilsen being escorted in a police van on 5 November 1983. (Photo: Harry Dempster/Daily Express/Hulton Archive/Getty Images)
Talking to Radio Times, director Lewis Arnold said: "Nilsen was able to prey on these vulnerable young men and go undetected for five years without society noticing, or worse, caring.
"The economic and political resonance between the 1980s and today made this story feel sadly as relevant as it's always been."
David Tennant, who plays serial killer Nilsen, explained that he prepared for the role by watching footage of the real life Nilsen.
"There is some footage of Nilsen in an interview he did with Granada Television when he was in prison, and he was an avid home movie maker, some of which survive, so we were able to see these," Tenant said.
"It was a useful starting point to see how he moved and how he sounded, as there are occasional bits of audio of him around too.
"And of course the notebooks - he wrote and wrote and wrote in prison."
The series is based on Nilsen's controversial biography Killing for Company: The Story of a Man Addicted to Murder, written by Brian Masters.
Masters has also written about mass murderers Rosemary West and Jeffrey Dahmer.
Des is based on the story of Dennis Nilsen, who was a real life serial killer.
He was born on 23 Noevmber 1945 in Fraserburgh, Aberdeenshire. He was a quiet yet adventurous child, who was close to his grandfather on his mothers side. He would often go for long walks across the beach, and on to Inverallochy.
His grandparents led a pious lifestyle, something which Nilsen would later describe as "cold and dour".
At age 14, Nilsen joined the Army Cadet Force, and when he finished his schooling in 1961, he trained as a chef, commencing his training with the Army Catering Corps at St Omer Barracks in Aldershot. Nilsen would describe his time at Aldershot as "the happiest time in [his] life".
Following a brief period of time with the Argyll and Sutherland Highlanders in Inverness, Nilsen was selected to cook for the Queen's Royal Guard before being reassigned to serve as a cook for a different regiment in the Shetland Islands. He ended his 11 year military career with the rank of corporal in October 1972.
Nilsen undertook a variety of jobs throughout his life, including spending time as an officer in the Metropolitan Police from 1972 and 1973. He claims to have resigned after facing homophobia in the police force, given that he is gay.
At the time of his arrest, he was a member of staff at a Jobcentre in London's Denmark Street.
Between 1978 and 1983 is when Nilsen's murder spree began.
He preyed on young and vulnerable men in London, usually those he had befriended on the streets of Soho. Generally, his victims were homeless or off the grid.
Nilsen even earned himself the name of the "Kindly Killer" as he offered his victims food and a place to stay for the night in his flat in north London.
He murdered almost all of his victims via strangulation – however, if this failed, he would choose to drown them instead. He would hide the bodies in his flat, choosing to wash them and redress them after death. After a few days, he would dissect the bodies before opting to born them in a bonfire. Nilsen would later change his method to boiling the remains and flushing them down the drain.
Nilsen was caught in February 1983, when police discovered that his drains had become blocked with human remains.
According to Masters, Nilsen initially acted horrified at the discovery, however, after being asked where the rest of the body was hidden, he immediately confessed.
He told the police he did not know the identity of his victims, which left investigators to attempt to identify his victims.
His known victims are: Stephen Dean Holmes (14), Kenneth Ockenden (23), Malcolm Barlow (23), John Howlett (23), Graham Allen (27) and Stephen Sinclair (20).
At least six of Nilsen's victims have never been identified.
Nilsen killed at least 12 people, however upon his arrest, he admitted to actually killing 15 or 16. Months after his arrest, Nilsen claimed that he made up three of the victims, leaving police unsure about the number of people he had murdered.
Nilsen also admitted to engaging in sexual acts with six of the victims' bodies.
On 4 November 1983, Nilsen was sentenced to life imprisonment, with a recommendation that he serve a minimum of 25 years.
In the latter end of his sentence, he was incarcerated at Full Sutton maximum security prison.
Nilsen died in prison on 12 May 2018 after suffering from a ruptured aneurysm, aged 72.
Starring as serial killer Dennis Nilsen is David Tennant (Doctor Who, Broadchurch).
DCI Peter Jay was one of the lead investigators on the Nilsen case, and is played by Daniel Mays (White Lines, Temple).
Brian Masters, Nilsen's biographer, is played by Jason Watkins (The Crown, Hold the Sunset).
Ron Cook (Mr Selfridge, Hot Fuzz) plays DCS Geoffrey Chambers, the superior officer of the Nilsen investigation, and Peter Jay's boss.
DI Steve McCusker is another officer who worked on the Nilsen case, and operates as Jay Peter's second-in-command. He is portrayed by Barry Ward (White Lines, Save Me).
DS Chris Healey is another of the lead investigators in the Nilsen case and is played by Jay Simpson (Foyle's War, Black Mirror).
Ben Bailey (Fleabag, Doctor Who) plays DC Brian Lodge, another of the police officers working on the Nilsen case.
Lesley Mead was the partner of Graham Allen, who was the seventh victim of Nilsen's to be identified. She is played by Chanel Cresswell (This is England, Trollied).
ITV released a trailer for the new drama on 22 August on its official YouTube channel.
The trailer see's Nilsen arrested for his crimes, with a news reporter stating: "It has been confirmed that Dennis Andrew Nilsen has been charged with the first of what is said to be multiple murders."
The trailer also shows Brian Masters meeting with Nilsen as he states that someone who "knows the community" needs to write about the killer.
It ends with Nilsen saying: "It's nice to be listened to. Makes me feel human again."
Des premieres on ITV on Monday 14 September at 9pm.
The drama will continue to air throughout the week at 9pm on ITV, with episode two on Tuesday 15 September and the final installment of the three-part drama on ITV on Wednesday 16 September.
Each episode is around an hour long.
If you miss the show as it airs on TV, you'll be able to catch up using the ITV hub.