Dame Diana Rigg: best movie and TV moments of the Avengers, Game of Thrones and James Bond actress after her death aged 82
Diana Rigg is best known for her performances as Olenna Tyrell in Game of Thrones and Emma Peel in The Avengers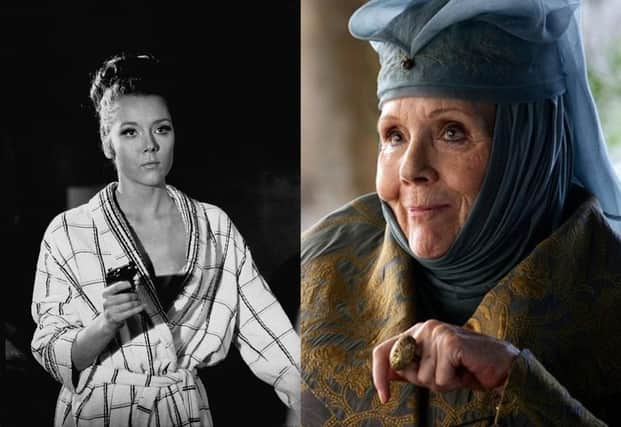 The showbiz world has been paying tribute to actress Diana Rigg who passed away on Thursday at the age of 82.
Best known for her roles in The Avengers, Game of Thrones and James Bond film On Her Majesty's Secret Service, the actress' career was bejewelled with award-winning performances, including an Emmy award for her role as Mrs Danvers in Rebecca in 1997.
The former University of Stirling chancellor is also remembered fondly for her performances in ITV's Victoria and Channel 5's All Creatures Great and Small, which is currently airing on Tuesdays at 9pm.
Dame Diana was also a highly acclaimed theatre actress and earned the first of three Tony nominations for her role in the Ronald Millar play Abelard and Heloise.
Here are some of her finest acting moments.
On Her Majesty's Secret Service
In 1969 James Bond classic On Her Majesty's Secret Service, Rigg played Countess Teresa di Vicenzo, the only woman to marry Ian Fleming's creation in George Lazenby's one and only role as the spy.
While Bond girls have often been left in the shadow of 007, Rigg stood alone with her performance as di Vincenzo, creating a character strong in her own right, devoid of the usual misogynistic cliches.
Rigg rose to fame with her performance as Emma Peel in 1960s spy drama The Avengers.
Replacing fellow future Bond girl Honor Blackman, Rigg would appear for just two series alongside Patrick MacNee's rugged John Steed. The pair forged a fun and formidable combination in what would become an iconic TV series.
Dame Diana would gain a new generation of fans with her masterful performance as Olenna Tyrell, the Queen of Thorns in fantastical TV series Game of Thrones.
Her rivalry with show antagonist Cersei Lannister and Machiavellian thirst for power made her a hit with fans who delighted at Rigg's cutting one-liners.
For her performance as Mrs Danvers in the 1997 adaptation Rebecca, Dame Diana would win an Emmy for Outstanding Supporting Actress.
The veteran actress' performance as the mischievous and obsessed housekeeper was a highlight of the ITV miniseries adaptation of Daphne du Maurier's novel.
Dame Diana delighted in one of her final roles as the onscreen mother to her real-life daughter Rachel Stirling in charming, offbeat BBC drama, Detectorists.
The actress puts in an understated but assured performance as Veronica in a show studded with joyous performances.
Appearing alongside Agatha Christie's beloved Belgian detective Hercule Poirot, Dame Diana is delightful as Arlena.
Much of the murder mystery's high points come during Arlena's verbal jousts with rival Daphne Castle portrayed by fellow heavyweight actress Maggie Smith.
All Creatures Great and Small
In her final role, Dame Diana appears in Channel 5 drama All Creatures Great and Small.
Adapted from the works of Thirsk vet Alf Wight the series is released this autumn with Dame Diana set to appear as eccentric and affluent dog-lover Mrs Pumphrey.