The St Edward's crown with its topazes, rubies, amethysts and sapphires would dazzle later, but so, in the opening of coverage, did ITV anchor Susannah Reid's dress. The brocade was so lustrous it might have been stitched together from pew covers nicked from Westminster Abbey across the road.
Naga Munchetty on the Beeb, meanwhile, stayed buttoned up in a thick, if royal blue, coat. Reid was alongside her Good Morning Britain co-host Ben Shephard, as befitting the double-crowning day, but Munchetty has a spiky relationship with her regular sofa partner so, with an epic shift looming, Charlie Stayt behind – see what I did there? – in the Breakfast studio.
While the BBC began by interviewing some nutters on the Mall with red, white and blue hair, ITV got right down to the juicy stuff, such as the "pay homage" controversy and the "working Royals only" rule, which would keep two ex-pilots off the Buck House balcony for the fly-past.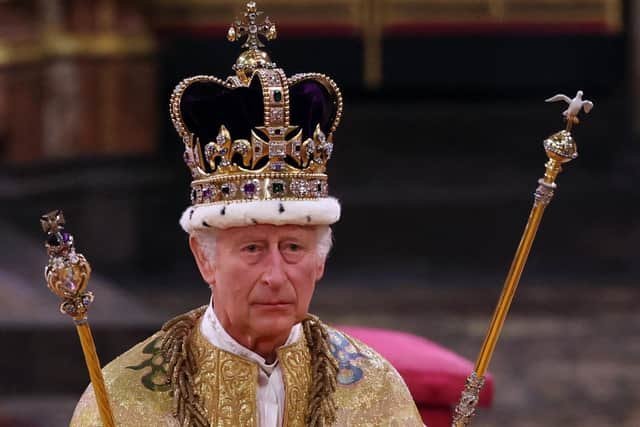 Muchetty told us about the canopy over the abbey's west door – for protection from possible rain, apparently – but ITV had the first pictures of the biggest military deployment for all of those seven decades. As some of 7,000 shuffled round Waterloo station in bearskins, Reid remarked: "You don't often see them out of formation." "Hope they've got their Oyster cards ready," said Shephard, keeping it light and fun.
Ah, but the Beeb had a reporter on an incoming train ferrying more squaddies. Ah, but some momentum achieved, things soon juddered to a halt with an interruption for news headlines from Stayt, he of the voluminous bouffant that would surely defy all attempts to pop a crown on top.
ITV got inside the abbey, the first shots of the CRIII insignia. The BBC meanwhile focused on a reversing yellow truck (not in the abbey, obvs). Reid confirmed the truck was carrying sand. Shephard, excited by this revelation, of little secrets being unearthed, said: "It's like we're lifting skirts." "Maybe lids," suggested Reid.
The commercial station was revelling in its advantage at this point, and seemed to be almost taunting the BBC by wheeling out Jennie Bond – a former Corporation royal correspondent – and Jonathan Dimbleby whose father Richard described the late Queen Elizabeth's coronation back in 1953 when it was one TV station and pretty much one TV set per street (when you knew your neighbours and invited them round to watch).
Also on ITV: Johnny Stonborough, the King's Gordonstoun chum and fellow sufferer. He told how HRH was bullied by the older boys with rugby scrum tweaking and ridicule for wearing the "wrong" duffle coat. Well, very soon these rotters were going to be gasping at how Charlie would be kitted out.
But ITV were bullying the BBC. "It's all fairly calm here," declared Munchetty with no one to interview. And fairly dull on your station, Naga. Surely at this moment an Auntie exec was dropping his marmalade and shouting "where the hell is Kirsty?"
Then, at 7:30am, she slipped onto her throne. Kirsty Young – the jewel in the crown of BBC Voices for Extremely Important Events wasn't late; this was always going to be her entrance. Let the early, giggly excitement die down then take over. Switch on that voice – lovely honeyed tones capable of making an anti-royalist pause mid-protest, maybe even drop his tin of quick-setting glue – and everything might be alright with the world again. (And with TV ratings).
At last Auntie got her freak on. The Voice introduced The Voice – Tom Jones, who as a young boyo watched the '53 coronation from bed while recovering from tuberculosis. Barbra Streisand remembered when the future monarch asked for a sip of her tea.
Unable to compete with that star power, ITV stayed on its gossipy, tabloidy tack. It was first to zoom in on the guests shuffling into the abbey. Look, there's Liz Truss among the ex-prime ministers – because of her blink-and-you'll-miss-it tenure, does she have to leave after the first trumpet voluntary? Look, there's Andrew Parker Bowles. It's not every splendiferous, but solemn bash such as this which finds room for ex-husbands. Well, there was a spare seat with Meghan staying behind Sausalito. Then Harry showed and everyone in Charles III's kingdom became a weekend body-language expert.
He wasn't crowned yet. Clare Balding on the Mall still had to fire off a flurry of factoids, all instantly forgettable in the grander scheme. Back at the abbey some "filling" was required from Huw Edwards: "The bright blue carpet with its royal overtones … and all across the gold carpet … " Still, he did mention the Stone of Scone, borrowed for the day.
Then … it's him! The king! From the side window of his carriage looking like a children's entertainer in a polar bear costume wearily trying to psyche himself up for an ice cream and jelly birthday party, but never mind.
What would he look like sat on our Stone? The logo for Fox's Glacier Mints? No, the fur came off, replaced by the supertunica, embroidered in gold, and at last Susannah Reid's dress was put in the shade.
But not ITV who gave the BBC a good run for its money. I was rating this a draw, high-scoring, until Young scored a last-minute winner with her elegant sign-off, just as she did for the Queen's funeral. "However much the world changes," she said, "tradition, ritual and ceremony still play an essential part in bringing us together in a spirit of celebration and community." God save Kirsty, God save the Stone, God save the King.