Aidan Smith's Xmas TV: An ill wind for Mrs Brown but fun with the competitive mummies
At about half past ten last night Brendan O'Carroll paid tribute to comedians past and present who'd done their best to make us smile while we've been stuck at home with the TV for company during this horrible year.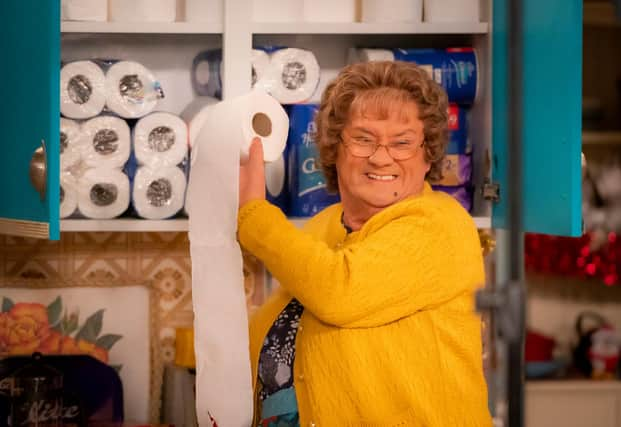 And what was his own contribution to this vital service, this lifeline for the lonely? Answer: an almighty fart.
The Christmas special of Mrs Brown's Boys (BBC1) had begun with Mammy (O'Carroll and his ginormous parapet of fake boobery) disappearing under Grandad's nightshirt with a candle. The family doctor, carrying out a phone consultation, wanted to know if the old man's test results had come back yet but Mrs B thought he'd said testicles.
Who knows, maybe the entire septic isle broke wind at the same time: a Brussels sprouts-powered, top button-undone explosion of relief at both 2020 being almost over and the favourite old-fashioned, panto-inspired, cracker gag-stealing, seaside postcard-honouring, hipster-defying, snob-baiting comedy was in its usual spot.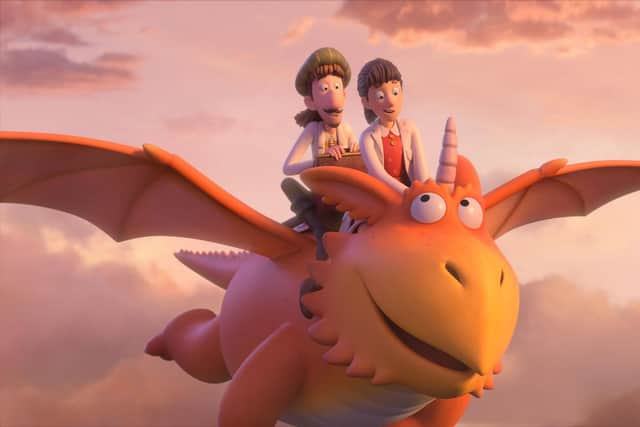 You have to admire the ballsiness of O'Carroll and his gang for trying to make each other corpse while groaning at their own gags. The best of them was probably Mammy bemoaning the panic-buying of toilet rolls then opening kitchen cupboards full of them - fridge, too. But this was like Monty Python, The Office and Alan Partridge never existed.
Motherland (BBC2) neither. Sharon Horgan's school-gates sitcom is all too accurate and all too funny. For this special it was everyone back to Amanda's place as the alpha mum hosted a soiree in her over-Christmassed home.
The loo played "Ding Dong Merrily on High", big letters on the landing read "LET IT SNOW" (rearranged by clarty Liz as "WET TONSIL") and everything was sparkly white, although not for long. Emasculated Kevin fell backwards with a jug of mulled wine, miraculously didn't spill a drop, but permanently wine-o'clock Meg's attempt at a congratulatory high-five burst his nose.
Poor Kev, he'd become obsessed by Minecraft, checking it out for "misogyny and casual drug references" before buying it as a present for his daughters. And he kept calling it "Mine-CRAFT" despite chaotic Julia telling him: "It's not German, Hitler didn't write it." (Odd, these second-syllable blunders. When Boris Johnson says "vaccine" it's like he's recalling a sternly alluring Austrian au pair from childhood). Motherland is terrific at skewering middle-class competitive parenting, everyone thrown together because of having kids and really just being "fremenies", but there was some peace and goodwill at the end with a collaborative effort to remove the "SANTA'S NOT REAL" graffiti from the Living Nativity. "Do you think it was a Banksy?" wondered Liz. Julia: "Hmm, was it you?" Liz: "No, I wouldn't use that font."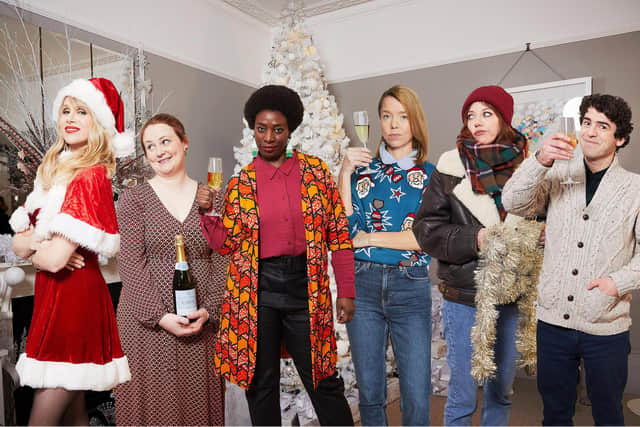 If this was all too hectic and modern then Channel 5 transported you back to a time when sprouts were 3d a bunch, turkeys 1s 6d a pound and the tree in the corner was lit with candles. All Creatures Great and Small has been a lovely revival, a tonic for these grim times and the festive edition was as cute as the sheepdog's pups delivered by young James Herriot on Christmas morning.
He'd been at it all night, having been fogged in, and Helen was at the farm with him. Who, the sonsy lass betrothed to chinless-but-rich Hugh for Yuletide nuptials? The very same. Would James blurt out his true feelings for her or would he carry on being the great Scottish dithering galoot?
Meanwhile, back at the surgery, the post had arrived - Tristan's exam results. Housekeeper Mrs Hall didn't want them opened, reasoning: "We can't have Christmas ruined by an unholy row." To which Siegfried replied: "I thought that was the point of it - that and the silly hats."
I admit that at first I wasn't sure about Samuel West as Siegfried, not really believing in his bumptious blustering, a problem of his youthfulness rather than his acting. But he delivered here with surely the worst chat-up line ever uttered in telly drama. At a Christmas party, standing underneath mistletoe, he said: "What a terrible parasite. It clings onto a tree, sucks it, suffocates the life out of it." And this to Dorothy, gagging for a bit of excitement in the Dales.
If All Creatures' Helen was fighting against what was expected of her, then so was Princess Pearl in Zog and the Flying Doctors (BBC1), the latest Julia Donaldson brought to small-screen life. "I want to be a doctor," she wailed. "Your duty is to wear a crown and be a royal beauty," the King (Rob Brydon) insisted. He then locked her up. No government warnings, no shifting from tier 3 to tier 4 - just a heavy door slammed shut. But Pearl didn't have to "sew pretty cushions" forever, the King eventually getting feminism. Germaine Greer would have been pleased.
Greer turned up as a talking head in Being Bridget Jones (BBC2) and although not being over keen on "the anxious, calorie-obsessed singleton in her thirties who changed the world" she admitted to a few Bridget moments of her own - as did Labour MP Jess Phillips and Cherie Blair who famously once answered the door of No 10 in her goonie, hair all over the place.
Bridget has sold 15 million books but creator Helen Fielding still suffers from such moments, too, admitting that lockdown comfort-eating was forcing her to hide behind a table for this doc's filming. A brilliant comic creation, though, and way funnier than Fleabag.
A message from the Editor:Thank you for reading this article. We're more reliant on your support than ever as the shift in consumer habits brought about by Coronavirus impacts our advertisers. If you haven't already, please consider supporting our trusted, fact-checked journalism by taking out a digital subscription.
Comments
 0 comments
Want to join the conversation? Please or to comment on this article.