Aidan Smith's TV week: The Undoing is undone, Dick Emery rides again but Michael McIntyre can't reinvent the wheel
Is it finished yet? Has she stopped walking? Has she started moving her face? And the really big question: is The Undoing just Midsomer Murders with better clothes?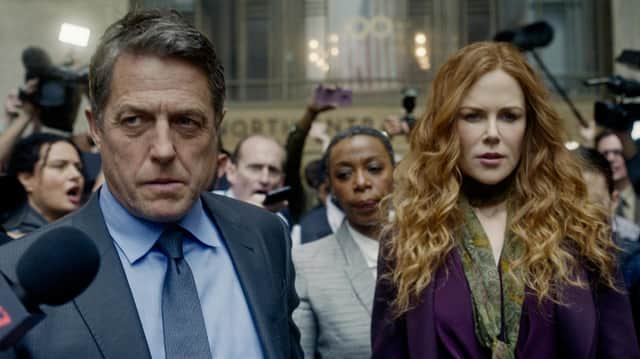 Hugh Grant and Nicole Kidman arrive at court for the start of the murder trial in The Undoing.
I liked the first episode of Sky Atlantic's whodunnit but realise now I was being shallow and male and easily-pleased and seduced by the glamour. Nicole Kidman was promenading around Manhattan, her life happy and her hair bouncing - what wasn't to like?
But all of that only takes you so far. As far as ten minutes into the second episode, in fact. If you haven't been watching - the show concluded this week - and you're finding it difficult to ignore the hype, then be aware you will need a greater tolerance than your reviewer could muster for a) continual reruns of the terrible deed (the crunching sound of that sculpting hammer!); b) being able to finger the culprit early and not wavering (normally I'm an extremely poor armchair sleuth); c) Kidman and her relentless strolling around.
Oh and another thing: Hugh Grant is still fundamentally Hugh Grant. For romcoms that might be fine, but didn't The Undoing promise he would reveal more of the dark side he explored in that brilliantly spooky impersonation of Jeremy Thorpe in A Very English Scandal? I didn't see it in this. He's as bashfully bumbling as he's been 5,000 times already in his career. Yes, I know that as oncologist Jonathan Fraser - accused of killing his lover, the mother of one of his young cancer sufferers - this is supposed to be self-preservation but it ends up looking like self-parody. Frankly, I was more unnerved by Grant's performance in Paddington 2.
Michael McIntyre attempts a new spin on the quiz format with The Wheel
Kidman as his therapist wife Grace walks the Big Apple to think, to process and what, to show off her designer wardrobe like she's in a commercial for a deluxe shampoo that only the Upper East Side can afford? The actress - who I still love, by the way - has spoken about how age-defying treatments had limited her range of facial expressions. This melodrama really calls for the full gymnastic routine, so maybe she's walking to demonstrate her inner torment, with some fuzzy camerawork not used since 1960s druggy flicks completing the picture.
Ultimately, though, The Undoing is undone by being surprisingly routine. By not being biting enough about perfect power-couple lives shattering. By a shortage of memorable lines and credible twists. And by its hammy court scenes. What a weak ending. No way is this drama of the year.
If Hugh Grant has a trademark tic then Dick Emery had many. Only one per character, mind you, but what comic creations they were: man-mad spinster Hetty ("Are you married? … "), the buck-toothed vicar, the thick bovver boy, camp Clarence ("Hello Honky Tonks, how are you?"), doddery Lampwick and pneumatic bottle-blonde Mandy forever detecting a double entendre where none existed.
I'm not sure I knew what one of them was, watching Emery's sketch show in the 1970s, but this didn't matter. Mandy's response was always "Ooh, you are awful … but I like you" before administering a playful shove which sent her vox-popper into a hedge or over a bench - then sauntering off with a wiggle, only to trip over her feet. Dutifully, I waited for that trip every week. Maybe if Nicole Kidman had incorporated it into her walking I'd have enjoyed The Undoing more.
Ooh he was awful ... Dick Emery in his 1970s heyday when "dolly birds" roamed the TV landscape
Dick Emery's Comedy Gold (Channel 5) is a long-overdue tribute to a forgotten funster. I expected his humour to be clunky and outdated now but find myself still laughing at it, and still waiting for the trip. So do plenty of contemporary comics. Catherine Tate, Harry Enfield and the Little Britain guys all owe him a debt, their own gargoyle galleries being nothing if not Emery-esque, and The Fast Show's Charlie Higson turns up in the profile to admit as much.
A few years ago on a visit with the kids to the National Museum of Flight at East Fortune I was amused to find one of Emery's biplanes among the exhibits. I wait for the programme to mention his flying exploits and it does. Emery owned many small aircraft and many cars, his son Nick speculating that he changed wheels every time the ashtrays got full.
And he had many wives. Five in all, I think, although it's easy to lose count. One would turn up at his dressing-room to find him "entertaining" a chorus-girl; another would receive his proposal of marriage while he was still wedded to someone else. This Mrs Emery says: "He loved being in love, loved the chase and was usually irresistible to those being chased." He was chased himself - by the RAF for desertion and later by the taxman.
A hectic life, then, and his exit was pretty busy too, with three of the wives jostling for position round the deathbed. His children saw little of him but daughter Eliza sums him up thus: "Always neat hair, really funny, terrible wind, gorgeous."
That might also do for a description of Michael McIntyre. Apart from "funny", obviously. The braying posho hosts the new Saturday night quiz The Wheel (BBC1) where "celebrity experts" try to help ordinary folk win money. It's Trivial Pursuit with gash chairs from when the Beeb had The Voice screwed onto a Merry Mixer and, for starters, Gok Wan on fashion, Mel B on pop and - no joke - Dermot O'Leary on World War Two. Presumably Antony Beevor wasn't available.
A message from the Editor:
Thank you for reading this article. We're more reliant on your support than ever as the shift in consumer habits brought about by coronavirus impacts our advertisers. If you haven't already, please consider supporting our trusted, fact-checked journalism by taking out a digital subscription.
Want to join the conversation? Please or to comment on this article.