Aidan Smith's TV week: The Woman in the Wall (BBC1), David Hockney: a Celebration (Sky Arts), The Following Events are Based on a Pack of Lies (BBC1), Screw (C4), Abbott Elementary (E4)
The part calls for stomping around in the rain at midnight with an axe. Bouts of insomnia possibly caused by there being a corpse in the house. Tiny moments of humour such as waking up on a country road in a nightdress, surrounded by curious cows. The lighting of a cigarette with a flame-thrower and an addiction to potato crisps. But mostly what's required is a haunted expression, preferably utilising a never-smiling, downturned mouth, in keeping with the subject matter of the drama.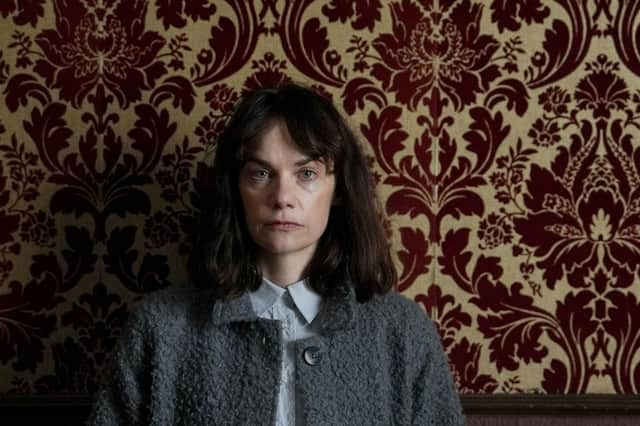 Thankfully the producers of The Woman in the Wall (BBC1) have done the right thing and cast Ruth Wilson. In the fictional Irish town of Kilkinure she's her usual mesmerising self as Lorna Brady. Routine hypnotic brilliance which only increases my admiration some more.
The subject matter is brutal: the Magdalene Laundries in which Ireland's "fallen women" worked for nothing, having had their babies taken away from them. The scandal has been filmed before but not as gothic horror. And regarding humour there's actually a decent amount, more than you probably expected, even in the victim support group for the mothers scarred by having been incarcerated in their asylum.
In reality, the last of the laundries - one-time occupant: Sinead O'Connor, then 14 - only closed in 1996. As Niamh remarks: "It wasn't medieval times. The fookin' Macarena was in the charts." And Amy demands: "I want blood: the Pope to drive all the way to Kilkinure in his fookin' stupid Popemobile and apologise to each and every one of us."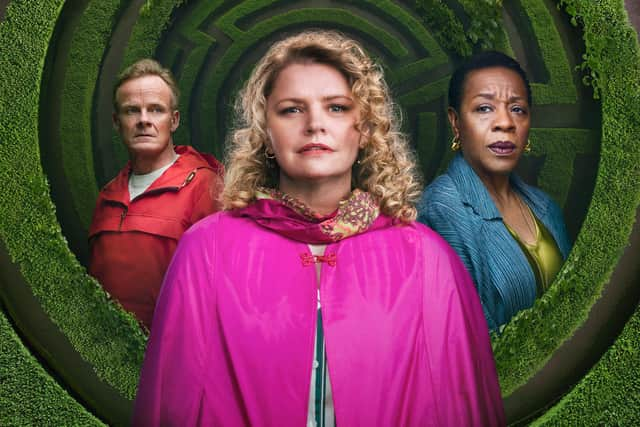 There's humour, too, when Massey, the local bobby, is around and when he clashes with Colman, the detective who's turned up from Dublin to investigate the murder of a Catholic priest. City lawman bamboozled by Hicksville is a familiar trope but, respectively, Simon Delaney and Daryl McCormack work it smartly.
Kilkinure, remarks Colman, is where "someone farts in church on Sunday morning and the entire town's laughing about it by lunch". So how come so little appears to be known about its laundry? Because, says Massey, "there's knowing, and there's knowing". The priest, though, was known to Colman. He is no stranger to these sadistic institutions. And quickly his nightmare flashbacks start to chime with those of Lorna, locked up at 15.
Irish-themed TV is on a hot streak in 2023. First Blue Lights, then Once Upon a Time in Northern Ireland and now this. There's Swedish psychedelia on the soundtrack and the look of the show - a swirl of sickly greens and blood reds - is almost as striking as the acting. Then Ruth Wilson reappears and takes it into a whole other dimension.
I think I'm particularly noticing visuals this week because of David Hockney: a Celebration (Sky Arts). Even on my modest-sized telly - if ever plonked next to some of the thumping great screens in my street, a man could end up with a complex - the colours are sumptuous and glistening.
Not too many sickly greens and blood reds, of course, for Hockney favours
shimmering blues like those of his swimming pools upon taking flight to California. London had been well served by artists and there was always a risk in Paris of tripping over an easel but "the real Los Angeles" needed to be painted, he recalls. For "A Bigger Splash" an action that lasted a fraction of a second took two weeks using teeny-tiny brushes to capture on canvas. "I was amused by that."
This series of films, four in all, have been billed as the last blast of "serious TV", being the final South Bank Show offerings from Melvyn Bragg. If so, they're a poignant joy, not least for coming so soon after the death of Michael Parkinson. Parky loved the long interview, so too Bragg. The TikTok generation, however, don't have the patience.
Hockney is 86 and, despite being hard of hearing, is an absolute trouper. An absolute rebel, too. Studying in London he was told he wasn't attending enough lectures to gain a diploma. But why, he wondered, did he need to listen to a talk about nuclear physics? And why would he need a diploma anyway?Why couldn't he chat up men in Earl's Court pubs? Why, back in his native Yorkshire later, would he want to stay indoors during wild weather warnings rather than throw open the door to painterly inspiration? Only supposed to be back on home turf for two weeks, he ended up staying for nine years and was never more prolific.
Now based in Normandy, he's never been bigger. A 90 metre frieze of the surrounding countryside is the largest work of a career which shows no signs of stopping. "Get up and paint immediately" was the order to himself in London, painted on the chest of drawers at the bottom of his bed, and he's still adhering to it.
Serious TV may have collapsed but Bragg's barnet hasn't. It's outshone, though, by his subject's splendid blazers and specs you'd have to call Hockney-esque. At the end of the first programme the great artist lights up a fag. Why shouldn't he smoke? The camera zooms in on the badge on his lapel. It reads: "End bossiness soon." There's a final cheeky chuckle before he says: "I could have gone for 'End bossiness now' but that would be too bossy."
I like it when losers win. Or more specifically: when an actor like Alistair Petrie, who's been such a hopeless headmaster, husband and father in Netflix's Sex Education, has the opportunity to play a roaring success. At least he seems as much when his face is blown up on the side of an historic building and he makes his entrance via zipwire dressed in a kilt.
Ah, but in The Following Events are Based on a Pack of Lies (BBC1), he's the fibber. Dr Rob Chance - the first TV character with that surname, I reckon, since Crossroads' caterpillar-moustached smoothie Adam - is billed as an activist, scholar and "eco-preneur". Really, though, he's a con artist who fleeced his ex-wife of all her money and is now wooing a bestselling, widowed author. Quirky and original, this is a black comedy shot in vibrant colours; Hockney might like that.
Screw (Channel 4) on the other hand is a black comedy in 50 shades of grey: the apparel of a prison-set show that suffers in comparison with Jimmy McGovern's Time, but there's no shame in that as they all do. "Ninety-nine percent boredom and one percent sheer terror" says the obligatory Scot (Ron Donachie) of the warden's lot. For us, though, there's droll humour. First female guard: "I'm seeing someone." Second: "A therapist?" First, alarmed: "No, a man. You think I need to see a therapist?"
Would the teachers at the Philadelphia-set Abbott Elementary (E4) benefit from therapy? Possibly, but what their school needs more is basic equipment. Toilets where there's no blowback and dodgy lighting which doesn't recreate the atmosphere of The Shining (a second-grade urchin's observation; how does she know?). It needs less cynical teachers like Barbara and more idealistic ones like Janine. Oh, and a less self-obsessed nitwit of a principal. But all of this makes for a terrific mockumentary, every bit as sharp, sweet and cheering an ensemble piece as Parks and Recreation.
Comments
 0 comments
Want to join the conversation? Please or to comment on this article.