Aidan Smith's TV week: The Scotts (BBC Scotland), A Murder at the Edge of the World (Disney+), The Curse (Paramount+)
One of the most eye-catching scenes in the new season of The Crown is the 50th birthday party Charles hosts for Camilla and specifically the marquee thrown up in the grounds of Highgrove.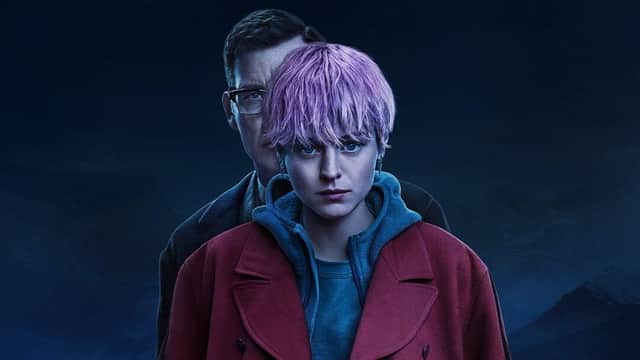 It's spectacularly see-through and Charlie definitely didn't hire it from Black's of Greenock. No offence to those estimable great outdoors kit merchants: I swear by their Force Ten Classic which saw me through many adolescent camping expeditions. But I have to confess I've never come across a tent like this before.
"Oh I have," says my wife, who's much posher than me. "Been at a wedding in one, fell asleep in the corner of one. The slight drawback is you can't really sneak outside for an illicit snog without everyone seeing … "
Anyway, there's a shimmering, mystical quality to The Crown's marquee which I didn't expect to be matched on TV again any time soon, considering how the Netflix juggernaut's budget blows everything else away. But behold: Vincent in The Scotts (BBC Scotland) is sporting a shirt which seems to be fashioned from the same material.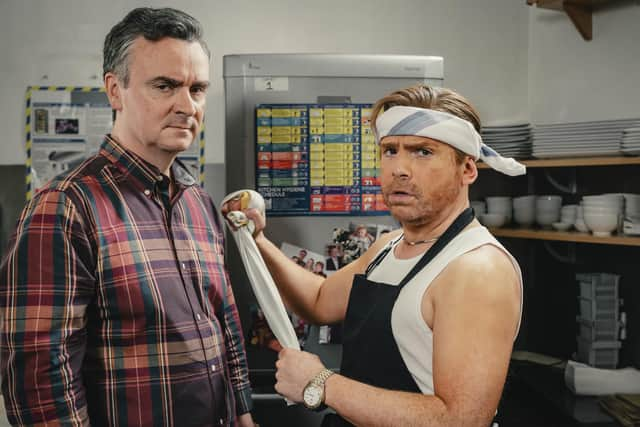 In the middle of the day as well. Matched with screaming trews and of course his luxuriant wig. Nephew Jason is seeking dating tips because Uncle Vinny knows "everything about women".
The Scotts is "What the Burnistoun boys did next … " Robert Florence is Vincent and Iain Connell is his less flash, less fake-tanned, less everything brother Henry. This pair could have spun off from Burnistoun like Chewin' the Fat did with Still Game. I could have watched an entire series of Jolly Boy John but acknowledge that six half-hours of the bedroom-sequestered bozo's bizarre dressing-up antics to a techno beat while bawling "For real!" might have driven them both mental. So here they're playing grown-ups dealing, as the third series opens, with grown-up issues including impending empty nest syndrome and new mums not wanting their identity swamped by nappies and sick.
Henry and Vincent's sister Colette (Louise McCarthy) whose baby daughter is Free Britney Scott wants to revive her singing career. The rest of the family recommend she keeps it low key. Narked by this, Colette says: "Would Lana Del Rey sing in a bowling club? Evoke the spirit of an imagined America then announce the buffet's opened?"
Impossibly hip Del Rey may be, but that's no protection against being namechecked in a Scottish sitcom which ponders the advisability of a "bum lift" and measures successful media campaigns next to the popularity of "cats daein' mad things: slidin' doon bannisters, slappin' dugs".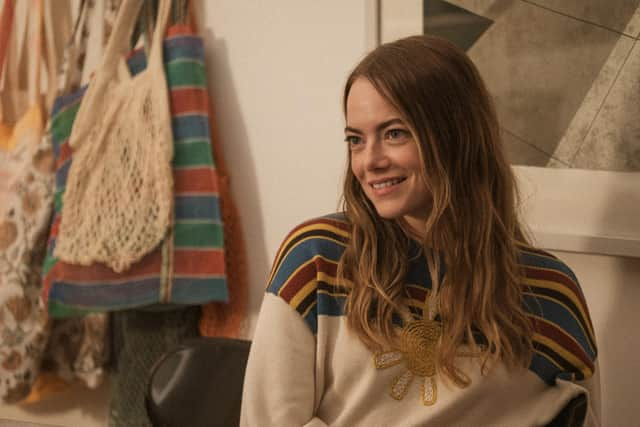 Meanwhile, Henry's wife Vonny wants to liven up their marriage. She yearns for "romance, adventure, fun". He groans: "I come in from work on a Friday, burst. And noo I'm expected to provide fun as well?" What if he was to throw his wife onto the bed every once in a while? "I'm no' Indiana Jones." But doesn't he know that taking risks is an attractive feature in a man? "No' on a building site it's no'"
Vincent should know, being the last of the great romantics, even if he needs his cuban heels to measure up. "Short guys run the world," he assures Jason. "Pacino, Cruise, Compston … "
Earlier in The Crown, Emma Corrin played Princess Diana. In the thriller A Murder at the End of the World (Disney+) she's still peering bashfully though her fringe but this time resembles a young Jodie Foster. She stars alongside Harris Dickinson who must be Ryan Gosling's wee brother, so presumably he's one down from a young goose, whatever that is.
Corrin is Darby Hart and Dickinson is Bill Farrah and they start out as romantically-involved amateur internet detectives, singing Annie Lennox's "No More 'I Love You's" in the car. (When did vehicular singalongs begin? The Deer Hunter, perhaps. Then Wayne's World and Dumb and Dumber played it for laughs before TV came up with Carpool Karaoke and Car Share).
By the end of the first episode, though, our duo, no longer together, have been summoned from the US to Iceland and a symposium about "technology's role in ensuring a human future". The venue is a deluxe, minimalist hotel - not a contradiction in terms, don't write in - in the middle of snowbound nowhere which looks like one of Gerry Anderson's spaceships waiting for the master marionettist to attach the strings.
The host is Andy Ronson (Clive Owen), a reclusive, billionaire tech bro. Perhaps Rishi Sunak's would be impressed by him and maybe our beleaguered PM would like to be at this meeting of minds - anywhere, indeed, rather than here. Well, at least until the guests start being bumped off. They came to save the planet; now they've got to save themselves. (Apologies if that reads like breathless blurb on a publicity poster).
While her ex has given up sleuthing for art and now calls himself Fang, Hart's credentials for the symposium are as the "Gen Z Sherlock Holmes". Initially she didn't think herself worthy of being sat next to the first woman to walk on the Moon and a Chinese developer of "smart cities". But now that A Murder at the End of the World has turned into Cluedo - or Midsomer Murders set in an super-eco version of the country house but with better-looking victims/suspects, none of whom is a church bell-ringer or runs a tea shop - she's extremely useful to have around the place. Intriguing.
But not half as intriguing as The Curse (Paramount+). What a strange, weird, warped, unsettling, tense, claustrophobic, cringeful drama. Oh and funny, too, especially at those moments when you've decided you can't watch any more but end up having another peek.
Emma Stone I know (can't wait to see her in the film of Alasdair Gray's Poor Things) and Benny Safdie, too (Uncut Gems), but Nathan Fielder is new to me. He's written, directed and stars in the story of a couple, just married and full of themselves, who reckon they're the kindest, cuddliest, most carbon-neutral property developers in the whole wide world and it's the New Mexico city of Espanola's great good fortune it's getting all the mirrored housing, jobs and kindness.
Except … for the documentary chronicling the deeds of Asher (Fielder) and Whitney (Stone), an elderly woman not displaying enough gratitude has her eyes dabbed with water, menthol reddening them. "A little TV magic!" says the creepy producer (Safdie). There's an awkward scene when Asher, for the cameras, hands cash to a young girl selling drinks in a car park then, when he thinks filming is over, grabs it back. Things get even more awkward when he and Whitney have sex. And the conversation with his father-in-law in the greenhouse beats anything in Meet the Parents for awkwardness.
I promise you will never look at cherry tomatoes in quite the same way again. Or indeed tiny sausages.
Comments
 0 comments
Want to join the conversation? Please or to comment on this article.