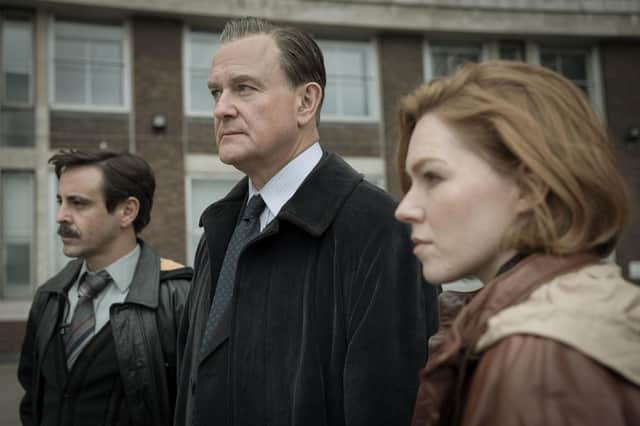 What does that even mean? Don't get me started on Spandau Ballet and the crimes they perpetrated with dreadful lyrics. Slapping their song "Gold" on the soundtrack would have been an obvious thing to do. Instead, what a treat to hear the Fall and Gang of Four on BBC1 in primetime. Even Smokie, for goodness sake.
Neil Forsyth, the show's Dundee-born creator, doesn't really do obvious. It would have been obvious to simplify the biggest robbery in world history but if you've seen his Guilt you'll know that he likes layers. Rather than lose some characters he's made the story even more hectic, adding fictional ones, and many times you'll go: "Who the hell's this?"
It would have been obvious if the story had been glamourised simply by the actors adding their natural attractiveness but - how can I put this without being rude? - almost everyone with the exception of Hugh Boneville as DCI Brian Boyce looks ordinary, slightly desperate and a bit grotty in their forlorn 1980s clothes, the distressed leather blousons and denims being matched by the faces, even on those suddenly £26 million richer.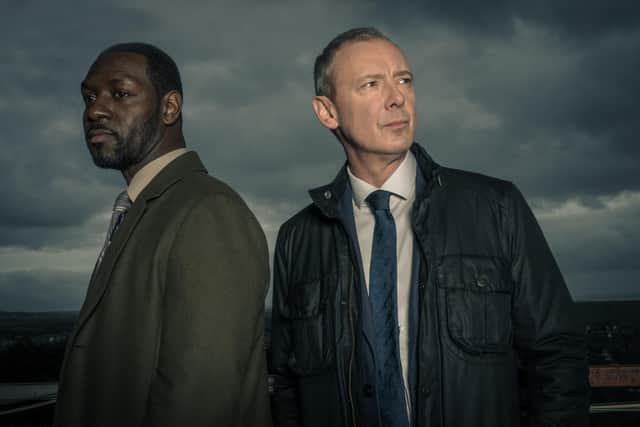 Much of this is down to the filming. The graininess chimes perfectly with news footage from the time in the companion documentary The Gold: the Inside Story (BBC1). If the budget was bigger, or it was a movie, the drama would have a certain sheen. Forsyth, though, knew the look he wanted.
I'm guessing he stretched a pair of tan-coloured tights across the camera lens. For dark moments, the tights could have been smeared with the sauce from the bottom of a tin holding a Fray Bentos steak and kidney pie. To lighten, such as when the action moves to Tenerife, butterscotch Angel Delight might have been used.
A beige Austin Allegro pops up right away in the doc. It's parked outside the warehouse at Heathrow from where the gold was snatched. Modest cars like this were the police's pursuit vehicles. Computers were modest, too, and at times detectives were overwhelmed by the enormity of Brink's-Mat.
No wonder. The Isle of Man is described in the doc as "a funny old place" but was a haven for money launderers who could set up companies with "stooge directors, stooge shareholders, affairs completely secret".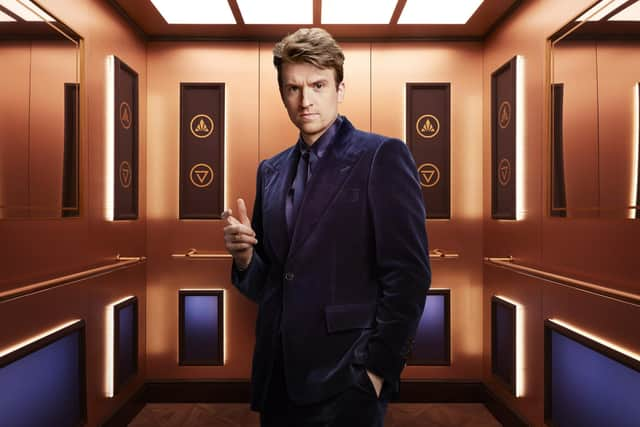 It's right that we get to meet the real Boyce and his team, clearly still affected by the death of their colleague, killed by Kenneth Noye. "Stabbed ten times, five in the back," states Boyce for the record. Noye, when finally brought down, really did tell the jury he hoped they'd all get cancer. And he saw himself as such a charming opportunist as well. Let's hope those prison walls contained no love.
The drama doesn't follow the money to Miami, into the hands of the Mafia and the cocaine barons, back to the UK and its funding of the London Docklands redevelopment and Ecstasy raves, thus completing a circle, from warehouse to warehouse, so there's plenty of scope for a second series. And for Forsyth to sneak in more Dundee United references.
Not meaning to come over all Mary Whitehouse, but does Grace (ITV) really have to go out at 8pm on a Sunday night? The first series last year had John Simm's Brighton-based crimebuster investigating internet snuff porn. Here he's chasing a masked, black latex-clad rapist armed with a sex toy. It's a tough watch, even for the parents of kids packed off early to bed.
And, notwithstanding the shocking theme, a dull one, full of cliches, clunkiness, pointless drone shots, flimsy characterisation and a pretty obvious culprit (I never normally spot them). Twelve months ago Simm's det supt had an idiosyncratic quirk - standard issue for telly cops, so another cliche - but now seems to have misplaced his interest in spiritualism.
My main concern, though, is that this is yet another seaside-set policer. St Cyrus in the Mearns and Crail in the East Neuk might be feeling rather left out by TV, but location scouts: don't dare think about invading my favourite bits of coast. I'll fight you on the beaches.
Remember It's a Knockout? Of course you do. Ordinary folk with proper jobs competing with pride for their towns in daft games, all conducted in a friendly, sporting manner. No one was an influencer, no one was craving fame, no one was mean.
Well, last year's big reality hit The Traitors and now Channel 4's answer, Rise and Fall, are kind of the bastard offspring of Knockout. Pride is no longer enough; there has to be a money prize. Community centres won't do; there has to be a swish establishment supplying welcome drinks so the over-sculpted contestants can shriek and hug, just before they start stabbing each other in the back.
Rise and Fall is set in a London hotel. Greg James hosts although is out-performed by the talking lift. There are "rulers" in the penthouse and "grafters" in the basement. The former hold the power and continue to glug champagne but can be toppled from down below where it's all cold showers and grim soup. The first confrontation is between two women with terrifying boobs. Please don't call me ungallant; watch and you'll see what I mean.