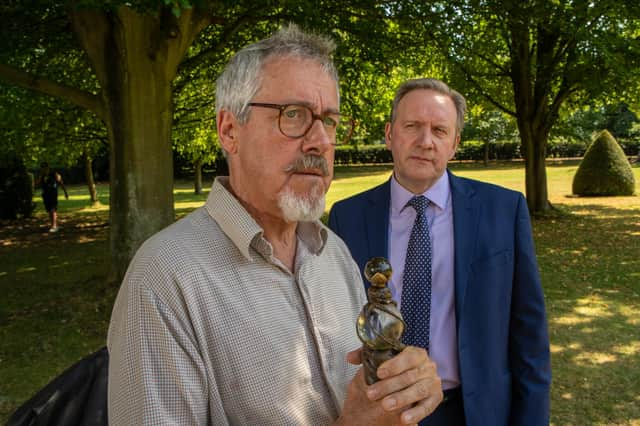 Griff Rhys Jones is a batty beekeeper as Neil Dudgeon is on the trail of more Midsomer Murders
The next scene has DCI John Barnaby being challenged by his wife to touch his toes and already you're thinking – this is a whodunnit where our love-handled hangdog hero will have to sprint a sub-12sec. 100 metres across a village green and parkour along a vestry roof, orchard wall and assorted farm outbuildings.
The village this time is Granville Norton where the most important living things are the bees.
Griff Rhys Jones is breeding a master race and as nutty apiarist Ambrose Deddington, his overacting tendencies are well to the fore. He lives with his sister (Imogen Stubbs who, I've just checked, is 60 – where did all the time go?), which adds an extra layer of nuttiness, but wait until you meet the other sister.
Is Nicola Walker closing the door on Unforgotten?
Bees dominate utterly. The vicar bemoans poor attendance at sermons, muttering that if his church was "a shrine to a bee-worshipping cult, we'd be packed to the rafters".
The yoga teacher, instructing on breathing, recommends it mimic the sound of bees. The Granville Norton honey doesn't just taste nice, it's alternative medicine battling cancer, and, of course, Flight of the Bumblebee turns up on the soundtrack.
You have to shift down the gears for Midsomer Murders after so many urban crime dramas recently. It's very easy to think you're hearing "media area" when in fact Barnaby's sidekick is talking about a "meadery".
But you learn stuff. When the sidekick is puzzled by the Deddington domestic arrangements, Barnaby remarks that Cleopatra married two of her brothers – "and probably murdered one of them".
Stacey Dooley fronts the should-be-rubbish-but-isn't game show This Is My House
The more time I spend in Granville Norton, the less I like it. The vicar, who is black, has his bishopy ambitions blocked.
The newest incomer, who is gay, isn't being admitted onto the village forum. Are the bees, in fact, Nazis? And have they just stung the local GP to death? Says the pathologist to Barnaby, this joke taking a good 28 minutes to arrive: "Buzz off, and let me get back to work."
It's ten years ago this month that Neil Dudgeon replaced John Nettles as Barnaby. That's an awful lot of rustic rozzering, checking cream teas for arsenic and generally being the scourge of programmes called Escape to the Country. He's proof that crime dramas can survive lead characters being bumped off or stars dying off, but are we really being made to contemplate Unforgotten (ITV1) without Nicola Walker?
Apologies if you haven't watched it yet, but discussing the latest instalment seems unavoidable in the wake of the shock and horror it's caused.
Walker's DCI Cassie Stuart, closing in on the truth about the Matthew Walsh murder, is driving home. It's late and her head is full of the usual family-related poignancy and regret.
The four suspects are also in their cars, each with varying degrees of panic written across their faces, when a vehicle roars up a side street and smashes into Cassie.
ITV haven't made the whole of season four available in one go – a good thing, generally, I reckon, but now we're going to have to wait until Monday's finale to learn Cassie's fate. "No way does she survive that," I say to my wife. "I don't know," she says. "SIPS are pretty effective now."
I'm confused. "SIPS?" "Side Impact Protection System," she sighs. "Raise your game." But Unforgotten is not Line of Duty. It's not the kind of show that encourages its fans to talk in acronyms. And, more urgently, it's not the kind of show that drops bombshells like this.
Unforgotten is almost anti-drama. Dramatic things happen, but we never see Cassie and Sunny Khan (Sanjeev Bhaskar) chasing villains through abandoned warehouses, the bad guy tipping heavy items in their path – and how many times in lesser shows does that happen?
America will never remake Unforgotten – or if they did the dementia storyline would be ditched and Cassie would be given bouncier hair and a faster car. France or Spain will never remake Unforgotten – or if they did Cassie and Sunny would have to end up shagging.
But how can the show survive if our heroine doesn't? For Nicola Walker this is a situation as perilous as that faced this week by her namesake the First Minister and she's going to need similar powers of escapology.
Are you ready for yet more property porn? In a game-show format ripping off Through the Keyhole? No celebs this time, but "normal people"? Presented by – not her again – Stacey Dooley? Didn't think so, but hang on, This Is My House (BBC1) is silly, derivative and possibly brilliant.
Four normals, all calling themselves Fern, all claiming they live in a converted barn in the Kent countryside. Are they good-enough actors? Are they actually actors?
Doesn't matter. The rivalry between Fern 1 and Fern 2 is white-hot, like Alexis vs Krystle in Dynasty.
"This is how I roll out of bed in the morning to stop the shepherd seeing my boobs," demonstrates Fern 2. Fern 1: "There's where my personal trainer lives. He's literally changed my butt from the poop emoji to the peach."
Then Fern 3 makes a joke about the BBC's diversity obsession. Love it.
A message from the Editor:Thank you for reading this article. We're more reliant on your support than ever as the shift in consumer habits brought about by coronavirus impacts our advertisers. If you haven't already, please consider supporting our trusted, fact-checked journalism by taking out a digital subscription.