Aidan Smith's TV week: Love & Death - prayers, volleyball and adultery in a little Texas town
David E. Kelley has made such a brilliant career out of spousal betrayal potboilers that it's a disappointment to learn that the E in his name doesn't stand for Extramarital.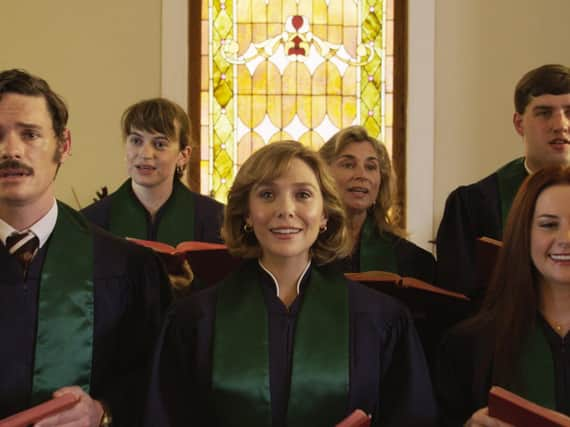 The man who brought us Big Little Lies, The Undoing and The Lincoln Lawyer is at it again with Love & Death (ITVX). The title is the giveaway that this affair doesn't end well, but then we already knew that from the involvement of attorney-turned-spinner of torrid tales Kelley.
He didn't actually spin this one; it's a true story. We're in God-fearing Texas, a li'l place called Wylie. Nothing to do with Wile E. Coyote and the Road Runner; life here doesn't zip along. The biggest excitement in almost the whole first hour concerns an inter-church volleyball match with Wylie's Methodists vowing to "whip some Lutheran butts". But love is coming. And - with blood draining down a bath plughole before the flashback begins - death.
The milieu is one we know from a thousand films and TV dramas: wide, tree-lined avenues, ranch-style homes on an incline, white picket fences (an earlier Kelley show was in fact called Picket Fences). But the kitchens aren't property porn-sleek like in his other sagas as this is a period piece. The fire surrounds are heavy stone; Andy Williams would have hunkered down in such a hearth to record one of his Christmas specials. And that bath is yellow. Still, the homes seem lovely for 1978.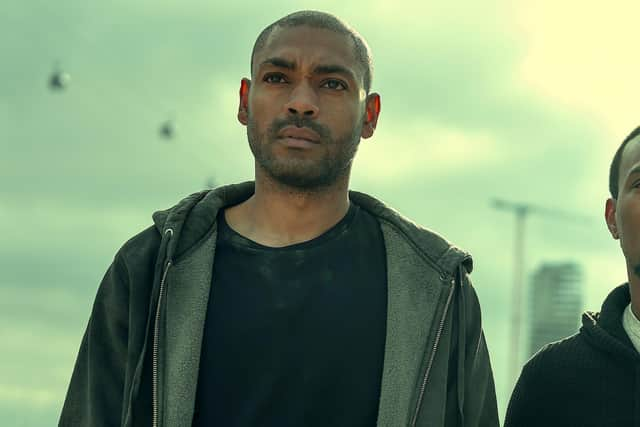 Candy Montgomery, though, is looking past the suburban dream and all this Americana. She gazes out the window at her comically-dressed husband Pat, lost in his lawn-mowing reverie and, in Elizabeth Olsen's stunning performance, no words are necessary.
Candy sings sweetly in her church choir but inside she's screaming. Pat works in electro-magnetics but there is no crackle of charged particles in the marriage anymore. She confides in a fellow mom: "I've done all the things a wife is supposed to do: house, kids, meals. Where is the payback?" In the set-up at least this is prime John Updike territory, and one night after a parish council meeting Candy asks Allan Gore: "Would you be interested in having an affair?"
These are very ordered lives. Initially Allan declines. He's married to Betty and they're trying for another baby through her ordered urgings ("Slower, deeper … squirt!"). Then he shows interest but before getting down to it there must be thorough discussion - his "strategy sessions". Then, agreement reached, strict rules are drawn up, Candy taking charge of booking the motel.
This is sad and funny, though sympathy for the lovers may wane as the story progresses. Of their illicit rendezvous, just off the freeway, Candy says: "It's funny how somewhere that always looked bland and innocuous can suddenly take on vivid hues and colours." Allan says: "That's beautiful." Maybe Allan could seem bland and innocuous with his big potato face and instead of love handles, bannisters, but not to Candy, right at this moment. And Jesse Plemons who I remember fondly from Friday Nights Lights plays him beautifully.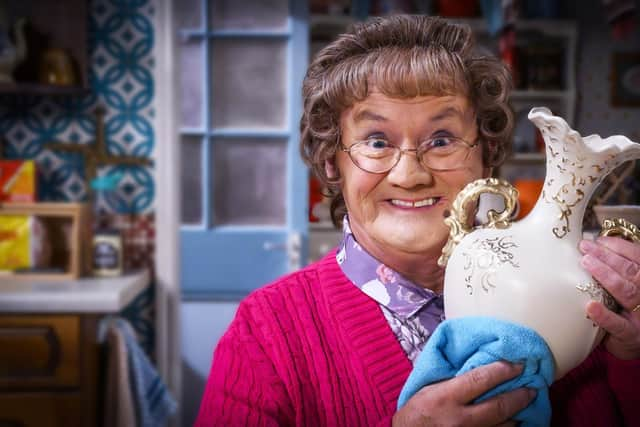 In The Lovers (Sky Atlantic/Now) I'm guessing we're supposed to dislike Johnny Flynn's Seamus, the vain, smug and preening TV personality, wont to ask: "Do you know who I am?" And the set-up for this odd-couple romcom effortlessly establishes its aim. I can't stand him.
To the point, it must be said, of finding the whole thing preposterous. Seamus's field is politics but off-screen he's a berk - minimal research, mistakes his new producer for a fan - and it's hard to believe that he's any good at nailing government ministers in interview. I know we're supposed to laugh but it's really stretching credibility that he shares a profession with, say, the late, great Brian Walden, no matter that this is a dumbed-down, attention-deficient age.
Now, normally I'll watch, and write about, the first of any new series but I can't resist a peek at the next two episodes here, to see if Seamus improves. Of course I might also be curious to find out how the romance is going, and whether suicidally depressed supermarket worker Janet (Roisin Gallagher) will fall for the man's dubious charms or if he'll tip her over the edge. So, dammit, The Lovers kind of works.
The action flits between posh London where Seamus lives with his actress girlfriend Frankie and edgy Belfast where he clophops into a patronising piece of reportage which rightly gets him chased off the street. And here's another credibility problem: Frankie is played by Alice Eve - why would any man be unhappy with her?
It would be unfortunate if you mixed up The Lovers and Love & Death. If, as someone who only watches true crime, you misheard the title of the new David E. Kelley saga in a recommendation from a friend and found yourself groaning: "That bloody Richard Curtis has got a lot to answer for."
Similarly no one should confuse Top Boy (Netflix) with Mrs Brown's Boys (BBC1), though there are plenty who would cheerfully dump Brendan O'Carroll's smutty Irish mammy bang in the middle of a murderous drugs war in the hope they might not see her again.
Don't be so sure. Agnes seems bomb-proof. Has there ever been a more divisive TV programme? Those that watch are morons; those that groan at its base humour are snobs. Which are you? The other day a review of a Glasgow performance of the stage spin-off was headlined: "Time for this puerile show to be put to bed." Well, normally I'm predisposed to liking anything which upsets the Daily Telegraph, but with Mrs Brown that might be too much of a stretch.
This is a tired introduction to the 473rd series or thereabouts. Agnes is tired because her family take her for granted and dump all their stuff in her house so it approaches Steptoe & Son levels of clutter, which makes for an unfortunate comparison with a classic sitcom. Grandad's not much comfort as he's suffering from constipation and bum jokes are still being, er, cracked in the final scene. I suppose that's an achievement of sorts.
In 1940s Hollywood, Warner Brothers' classic gangster movies would rip plots and characters direct from newspaper headlines of the day. Now Top Boy, a classic British-made crime drama has done the same thing.
When a man from the Summerhouse estate is arrested by Immigration Enforcement he seems destined, as a neighbour puts it, "for Rwanda or some s***". But the van doesn't leave. It can't leave because - in scenes reminiscent of Glasgow's Pollokshields in 2021 - residents pile out of their flats to block the vehicle. Eventually the man is released.
I must admit to coming adrift from Top Boy after it was dropped by Channel 4 but thrilling, throat-grabbing moments like this mean I'm going to have to go back to the start of Netflix's revival. This is the last run. We're headed for an epic showdown between Dushane (Ashley Walters) and Sully (Kane Robinson) over who's toppermost in their drugs dominion in Hackney, London. Dushane seems to have retired already and in a rare tender moment helps his girlfriend choose the decor for her new nail-bar chain. This can't last and it doesn't, not with decapitated Moroccans turning up in boxes and baby-faced Irish mobsters assuming control. Sully needs his pal to step up again.
Comments
 0 comments
Want to join the conversation? Please or to comment on this article.