Aidan Smith's TV week: Keeping Faith, The Syndicate, Britain's Tiger Kings - On the Trail with Ross Kemp
Go on, admit it: when a drama comes with a warning this can be an incentive to watch. After all, it's telling us the show will be more than just people talking in kitchens of gleaming chrome and shimmering marble. Keeping Faith (BBC1) admits to "strong language" only, but drastically undersells itself.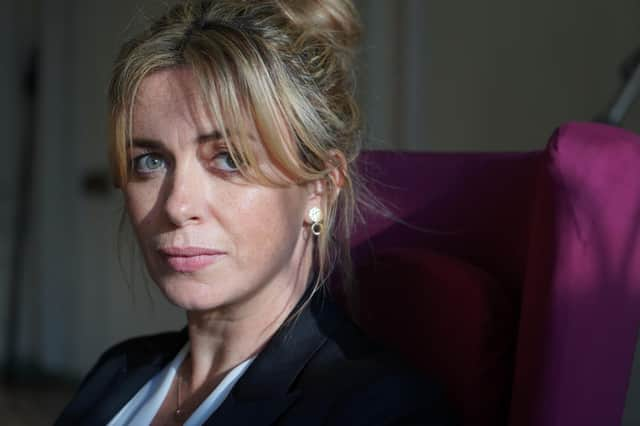 Eve Myles peers through her fabulous fringe in Keeping Faith
This is what the notice should be: "Contains scenes of extreme hair manipulation: piling high, sudden cascading, twirling, tousling, yanking, wrenching, sweat-soaked flailing when boxing, fringe over eyes for rear-view mirror pouting, windswept and wistful for big-sky, big-ballad scenes."
If all of this is your kind of thing then Keeping Faith is your kind of Saturday nighter. Top billing goes to Eve Myles' hair, with a support cast including Myles. You might call it soapy but I wouldn't do that anywhere around Myles' stroppy solicitor Faith Howells. She's liable to remove one of her stilettos and stab you with it.
Stilettos are a big thing in Keeping Faith, now in its third and final season of showing off wild Welsh scenery and wild Welsh women. Faith's best friend Lisa organises a speed-dating night and, with the stress of it all, topples from hers. Faith's mother Rose is required to walk through a forest in hers. But Faith wins this particular contest, striding across castle ramparts and over cobbles, sometimes while eating lunch-on-the-go or applying more lipstick or sucking on a kid's lollipop.
The would-be Lottery millionaires in The Syndicate have to pursue their golden ticket all the way to the South of France
Bigger than shoes in this show are Faith's coats. In season one she wore a yellow mac which instantly became a school-run must-have for yummy mummies (and my own mother-in-law who is very glamorous). In season two she wore a thick wool number in electric blue. Now she's gone for burnt orange.
But bigger still is Faith's hair. It is truly fabulous. And all through the emotion of being Faith - of thinking her husband died only for him to return, of thinking he might kill her, and now, of a custody battle with him over their three children - her barnet has never let her down.
She lets it down, which isn't the same thing. In fact, this is a prelude to Keeping Faith's money shot: our heroine lying despairingly on the floor, the lioness's mane fully fanned out, tears welling, music swelling. I sincerely hope Faith finds happiness by the end but reconciliation with her mum seems some way off (Faith, to her face: "Nasty, nasty, nasty bitch!") and if Steve was thinking he still had a chance with her, she's just gone and beaten him up.
I think we can say that Neil Morrissey has well and truly left Bob the Builder behind. He was a bent copper in Line of Duty, a murder suspect who was then bumped off in Unforgotten and, in The Trial of Christine Keeler, the absent father returning to sell his daughter's scandalous story to the papers. Now in The Syndicate (BBC1) he's Frank the friendly neighbourhood newsagent who fakes his own death and scarpers to the south of France with £27 million, leaving behind his bride-to-be.
The hardest man in Britain? Maybe this time Ross Kemp is just the tastiest
This is the fourth season of Kay Mellor's lotto-win drama and the bounty was won, on a ticket Frank sold, by a group of youngsters working at a West Yorkshire doggy daycare centre. They're all skint and stressed: Roxy's pregnant by her feckless boyfriend; Gemma looks after her ageing gran and is dreading the release from prison of her father; Jake's ex has just got herself a new man; Keeley is hooked on gambling apps.
Depressing? In other hands, maybe, but Mellor has a flair for this kind of material and an empathy for breadline survivors, imbuing them with pluck and humour. When a brutish debt collector, unable to collect on this occasion, growls "I'll be back", the fearless response is: "Who are you, the Terminator?"
This is a world of fat clubs and seized TVs and reconditioned washing machines but, facing the threat of zero-hours contracts when their kennels get poshed-up, the kids are determined to improve their lot. A flash-forward scene has them in capering hot pursuit of Frank on the Cote d'Azur in a minibus. If they were a bit younger and their jalopy was a bit bigger, this could almost be Here Come the Double Deckers! of fond memory.
Finally, are you ready for Tiger Wars? On Easter Monday there's Louis Theroux: Shooting Joe Exotic on BBC2, wherein a lanky documentarist profiles the lockdown global sensation. The following night a slightly more thick-set documentarist bites back with part two of Britain's Tiger Kings - On the Trail with Ross Kemp (ITV1).
Who will win? Who will be the most scared? Kemp, who clearly has the most meat on him, lays down a marker in part one of his show when in the wilds of Nottinghamshire, next to a motorway, after listening carefully to a big-cat owner's justification for his hobby, he remarks: "This is slightly decadent, you in your hot tub, looking at your lions."
Hang on, lions? I thought we were talking tigers. Kemp arrives too late at the back-garden zoo of another enthusiast where a tiger is about to be stuffed. He then nips over to Germany where Britain's ban on circus animals can be circumvented and gets into a cage with … a lion. Hang on, don't I recognise that big hair? Could it be Faith? Someone asks: "I thought you were Britain's hardest man?" "Tastiest maybe," he trembles.
A message from the Editor:Thank you for reading this article. We're more reliant on your support than ever as the shift in consumer habits brought about by coronavirus impacts our advertisers. If you haven't already, please consider supporting our trusted, fact-checked journalism by taking out a digital subscription.
Want to join the conversation? Please or to comment on this article.