Aidan Smith's TV week: Henpocalypse! (BBC1), Sanditon (ITVX), At Home with the Furys (Netflix), Rig 45: Murder at Sea (More4), The 1970s Supermarket (C5), Alison and Larry: Billericay to Barry (Gold)
Are we ready for a comedy where, nightly, the government deliver grave news from a podium lashed with hazard tape spelling out the order "STAY HOME"? A command that has the whole nation cowering, the streets deserted and deathly quiet?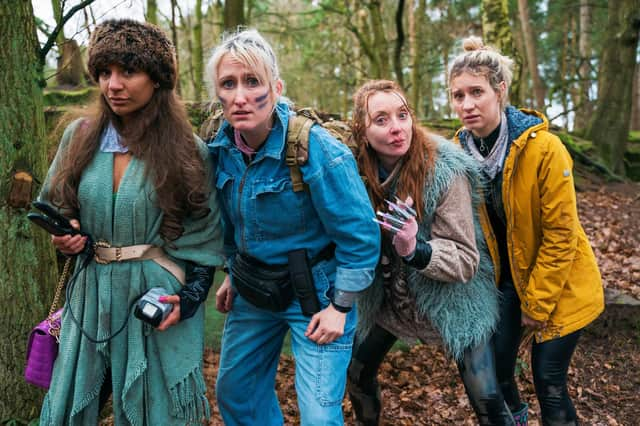 Too soon? Not according to Caroline Moran who's created Henpocalypse! (BBC2). The writer has imagined a hen weekend interrupted by a viral pandemic which traps the bride-to-be, her mum and a gaggle of besties in a Welsh cottage - along with their strip-o-gram. It's good fun, though I can't repeat too many of the jokes as they're utter filth.
Top marks to the set designers who've filled the cottage with surely every item of willy-shaped paraphernalia marketed by the hen industry. The oiled-up Drew is dispensing cocktails from a willy-barrelled super-soaker - penis coladas - when, on the TV, the Health Secretary corpses.
Nine weeks later, they're all still there. It's not so much a pandemic, more a mandemic. The male of the species is in danger of being completely wiped out. "So many men are dead," cries Drew. "Jeremy Clarkson, Jordan Peterson, Russell Brand - all the great thinkers. The loss is unimaginable."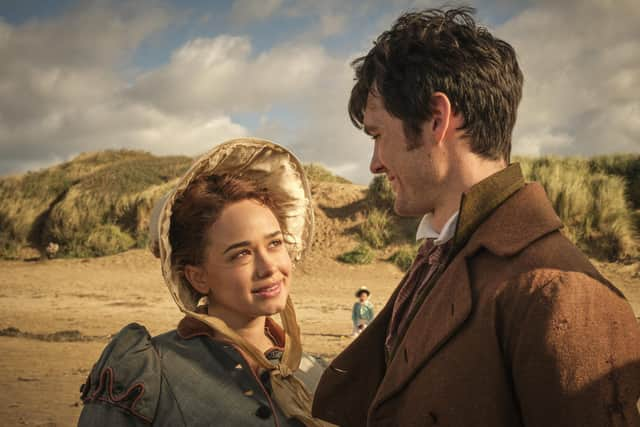 "But how special does that make you?" encourages Shelly, one of the hens, as she handcuffs him to a radiator, the last possible hope for the survival of civilisation as we know it.
More immediately, the girls need sustenance. Zara, who may never see her wedding day, is reduced to snorting the last of the coffee granules. The hunger has been causing wild hallucinations (telly weatherman Tomasz Schafernaker?). A raid on the nearest shop is organised with dildos transformed into weapons. Mercifully, the shelves are full of the kind of tinned produce which can withstand disasters. Wails a desperate Bernadette: "You want Fray Bentos; I want Fray Bentos."
Clunky link alert: we're switching from Fray Bentos to Benthos. They're a fictitious oil company and Rig 45: Murder at Sea (More4) is a drama. Even so I doubt that Rishi Sunak, so keen on drilling in the North Sea, will risk watching.
The last series featured seven slayings on the platform with the murderess escaping justice so it's no more of an advert for a career as a roughneck than Prime Video's The Rig, with all of that show's supernatural creepiness. Rig 45 is Swedish but spoken in English with a few Scots in the cast and hilariously St Andrew's House - that grand art deco seat of a bit of oor wee government - serving as a jail.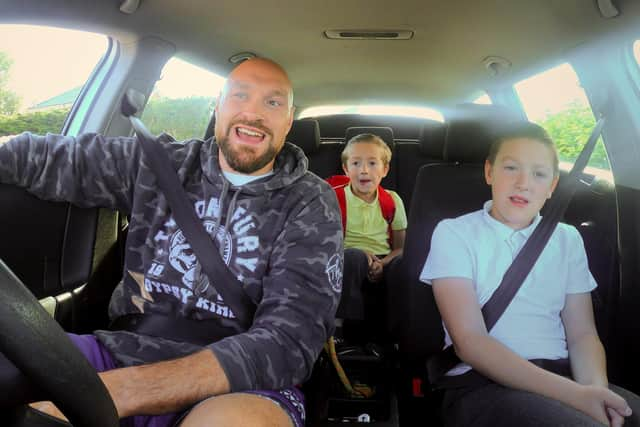 Petra - played by Lisa Henni as one of those strong-willed Scandinavian blondes it's customary to describe as "ice cool" - killed to avenge her brother's death. The police suspect he was murdered and so take her back out to the rig where they encounter a gloomy crew and obstructive management.
There's a wrangle over a piece of evidence (Cops: "It's the property of Police Scotland." Benthos: "But we're not in Scotland - this is international waters"). And there's another suspicious death. "This has become a strange and dangerous place," mutters the cynical Kevin.
It's also become quite lustful. The Benthos boss is having it off with her head of security. Kevin would very much like to be having it off with his Scottish co-worker Sara. And one of the cops is behaving quite lecherously around Petra.
This is all highly unusual - and surprisingly racy - for a drama set just off the coast of Aberdeen. Ah, but we're not in Scotland - this is international waters.
Now it's back to Fray Bentos. Mere seconds of The 1970s Supermarket elapse before I spot the boil-in-a-tin giant's steak and kidney pies piled high on a shelf. Of course they have to feature.
Channel 5 are becoming specialists in this kind of nostalgia. Earlier in the summer they whooshed us back to the three-day week. Disparagingly, the documentaries could be called boil-in-a-tin. A few talking heads, overuse of the word "iconic", grainy film heavy on browns and beiges. But they slip down easily, just like Angel Delight back in the day.
Did our fathers really remain in their work suits at teatime, only lifting their heads from the newspaper when the food arrived on the table? Apparently so. Mothers going out to work - and still having to do all the cooking - made convenience meals a godsend for families.
But, whoa, don't kill the magic! I'd prefer the secret of Angel Delight's unpoppable bubbles remains a beautiful mystery. Similarly why Spam, compared to unprocessed pork, was Barbie-esque pink.
In Sanditon (ITVX) another young woman is anxious about her nuptials, although for vastly different reasons to Henpocalypse!'s Zara. Charlotte, do you love Ralph? "Well, I'm very fond of him," she replies, clearly pining for another. This is posho period drama - Jane Austen's unfinished final novel from the Regency era - so everyone is verr verr polite. ("I do hope I shall make a good impression … Perfectly quaint … What pleasing countenances … I understand you keep a fine stable"). It wouldn't normally be my kind of thing and I've already missed two entire seasons, but screenwriter Andrew Davies, who's picked up the manuscript and sprinkled some of his customary mischief, might be drawing me into this romp. Up to a point, anyway. "What shall I wear - green and gold Chinese silk or yellow taffeta?" You're on your own there, girl.
Sanditon is a beach resort for the beau monde. As the old song goes: "Every duke and earl and peer is here." Morecambe on the other hand boasts Tyson Fury as a permanent resident, although the undefeated world boxing champ doesn't seem especially happy mooching around there.
Don't get the guy wrong. Loves his wife. Loves his six kids. Doubtless loves the Lancashire sands as well, but adjusting to being around them full-time is tricky, which is the premise of At Home with the Furys (Netflix). As he remarks, it's a far cry from Wembley Stadium, 94,000 cheering punters, to picking up dog poo on the prom.
I don't know about the first rule of fight club but the first rule of parent club should be: don't give your children names you'd be self-conscious about shouting in public. "Stop that, Adonis! … Prince, don't hit your brother! … Venezuela, wait until I get you home!" Not that Fury seems self-conscious in any way, or that I'd be bold enough to question him.
A passer-by exchanges pleasantries with the local legend before quipping: "Still think [Anthony] Joshua would beat you." Fury doesn't need this. He has ADHD and bipolar disorder and suffers from depression, the domesticity soon getting him down. Sweeping the mansion grounds he groans: "I'd rather get the f*** punched out of me than stay at home and do these jobs." No surprise, the ring comeback is soon being discussed.
Last and definitely least is Alison and Larry: Billericay to Barry (Gold). Gavin and Stacey may be the best-loved comedy of recent times although I'm not so desperate for its return that I need to see Alison Steadman and Larry Lamb having massages. Truly this is like watching face-packs dry. I'm sure the stars enjoyed the pampering but this pointless jaunt between the sitcom's main settings is travelogue nadir.
Comments
 0 comments
Want to join the conversation? Please or to comment on this article.