Your invitation to the Scotsman Fringe Awards at the Edinburgh festival
We reveal the line-up for this Friday's Scotsman Fringe Awards - and how to book free tickets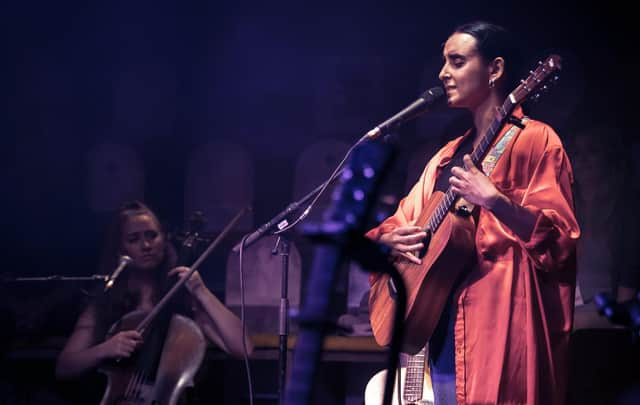 Maimuna Memon, creator of Fringe First winner Manic Street Creature, will perform live at this year's Scotsman Fringe Awards
This Friday sees the return of the Scotsman Fringe Awards. Our annual prize ceremony has been running since 2004, and is where the winners of some of the most prestigious theatre prizes at the festival are revealed.
The awards take place at Pleasance Beyond in the Pleasance Courtyard at 10am on Friday 26 August. A limited number of free tickets are available from today and can be booked now using the promo code FringeAwards22 via the Pleasance website.
Today we reveal the line-up for this Friday's awards – hosted, as always, by the Scotsman's chief theatre critic Joyce McMillan.
THIS YEAR'S GUEST PERFORMERS
Maimuna Memon (with Rachel Barnes and Yusuf Memon)
Maimuna Memon is the creator of Manic Street Creature, a terrific new piece of gig theatre at Summerhall that won a Scotsman Fringe First last week. It's the story of Ria, a musician from Lancashire who moves to London in the hope of a fresh start, but finds that a new relationship just brings back the ghosts she was trying to escape. We're delighted that Maimuna has agreed to open and close the awards with special performances of songs from the show.
Also a Fringe First winner last week, Brown Boys Swim (at the Pleasance Dome) is a brilliant new coming-of-age play by Karim Khan about two young Muslim men determined to learn to swim after not getting invited to a pool party. Brown Boys Swim is full of witty, insightful dialogue, and we're thrilled that the cast have agreed to perform a section of the play at our awards.
A Fringe First winner in the festival's first week, Laura Horton's sharp, sensitive play at the Pleasance Courtyard is the story of a woman gradually waking up to the fact that she is a compulsive hoarder. It's beautifully performed by Madeleine MacMahon, who is going to present an extract from the show at the awards.
This year we will be presenting six different awards.
Presented annually by England's biggest arts festival (and one of the biggest fringe festivals in the world), this award supports a winning company to take their show to Brighton next year.
Holden Street Theatres Award
Presented annually by a major arts venue in Adelaide, this award supports a winning company to take their show to the Adelaide Fringe, the second largest arts festival in the world.
Mental Health Fringe Award
Presented by the Mental Health Foundation in partnership with the Scotsman and the Tron Theatre in Glasgow, this prize is awarded annually to the Edinburgh Fringe show that most compellingly addresses the subject of mental health. The award has been running since 2017. Each year's winner is supported to present their show at the following year's Scottish Mental Health Arts Festival, one of Scotland's biggest arts festivals.
Filipa Braganca AwardEstablished in 2017, this award recognises the best solo performance by an emerging female artist, and was set up in memory of a gifted young theatre performer sadly missed since her death in 2016.
Sit-Up AwardsOver one third of shows at the Edinburgh Fringe deal with important social issues. The SIT-UP Awards were launched in 2018 to support plays that raise awareness about such issues and to help them achieve greater social impact. An award of £5,000 is given to a company to amplify and extend the reach of their work after Edinburgh and also to encourage and enable audiences 'to take action' if they are affected by the work they have seen on stage.
Scotsman Fringe Firsts: week threeWe are delighted to announce that Adura Onashile, actor, playwright, film-maker and former Fringe First winner, will be joining our theatre critic Joyce McMillan on Friday for our third week of 2022 award presentations. Established in 1973, the Scotsman's Fringe Firsts are recognised all over the world and are the most prestigious theatre awards at the festival. Now presented in partnership with the University of Edinburgh, they recognise outstanding new writing premiered at the Edinburgh Fringe, and are awarded once a week throughout each year's festival; there is no set number each week. We will be announcing this year's final week winners on Friday.
We hope you will join us on Friday. Highlights from the awards show will also be available to watch after the event at www.scotsman.com
This year's Fringe Awards are dedicated to the memory of our friend and colleague Tim Cornwell, a former arts correspondent for the Scotsman, who died earlier this year. Tim wrote many features and reviews from the Edinburgh festivals over the years, and is very much in our hearts and minds this month. We are also dedicating this year's Mental Health Fringe Award to his memory; Tim wrote, and spoke, with great honesty and wisdom about mental health and had been part of the judging panel for the awards.
Scotsman Fringe Awards, Pleasance Beyond, Friday 26 August, 10am. Book free tickets here (using promo code FringeAwards22)