Women's Sport at the Fringe
Our critic David Pollock highlights a diverse and inclusive range of Edinburgh Festival Fringe shows based around the subject of women's sport.
With football's Women's World Cup taking place alongside the Edinburgh Festival this year, and the English team confirmed for the final this weekend, it's interesting to note just how many shows are taking place at the Festival which take women's sport as their theme. A number of them specifically use sports like football and wrestling, with their strong but outdated masculine associations, as unexplored backdrops for female stories.
Lucy Hayes' Bitter Lemons, for example, follows two women – a goalkeeper and an investment banker – as they prepare for the biggest professional challenges of their lives, before discovering their unexpected pregnancies. The show's primary theme is abortion, and Hayes says it's "really trying to be as nuanced, clear and empathetic as possible, then asking audiences to take away their own conclusions." Yet football is an ever-present element.
"I wanted to platform two traditionally male-dominated industries, and interrogate how the structures of this might impact the pressures and ambitions of two non-male characters," she says. "There's something so richly dramatic about football, it creates natural routines and stakes that are a gift to a writer. We all have a relationship to football, even if our relationship is not having a relationship, because it's the sport that most tracks our national identity. The beauty of football is that it's so accessible, so I don't know why certain people feel the need to appoint themselves as its gatekeepers."
Nell R Bailey is co-creator, with Ellie Roser, of Pitch, which was inspired by the controversial Qatar World Cup and in anticipation of the 2023 women's tournament. It's a show about football and the LGBTQIA+ community, she says, which "brings together a diverse group of queer artists to present a collage of historical and present day queerness in relation to football.
"Ellie and I made a queer group of friends through women's football. We celebrated Chloe Kelly's winning Euros goal on North Bridge after the tech run for our show last year. Women's football was everywhere, and a pivotal part of our queer community, but we knew there wasn't anything out there that spoke specifically to queerness and football. Pitch explores queer relationships to football, including female and non-binary athletes playing the game.
"One of the discussions in the show is the stereotype that all women footballers must be gay, a perception that many of the people we interviewed shared in teenage relationships to football. That's shifting now, and whilst there are many queer players, there are also many straight female athletes in the game. It's an inclusive space that shouldn't demonise, label or diminish any sexual orientation within the sport. Alongside the show we're running kickabouts in Edinburgh for all abilities, we want queer people to feel seen and reminded that they have a place in sport."
Paul Beeson is the writer and lead actor in Two Halves Productions' Never Trouble Trouble (Till Trouble Troubles You), at Heart of Midlothian FC's Tynecastle Stadium. It's about revered early 20th century Hearts great Bobby Walker, but Two Halves' last show was Sweet FA, a very popular look at the development of the women's game in Scotland, and this production is at least as much about Walker's mother and de facto manager Janet.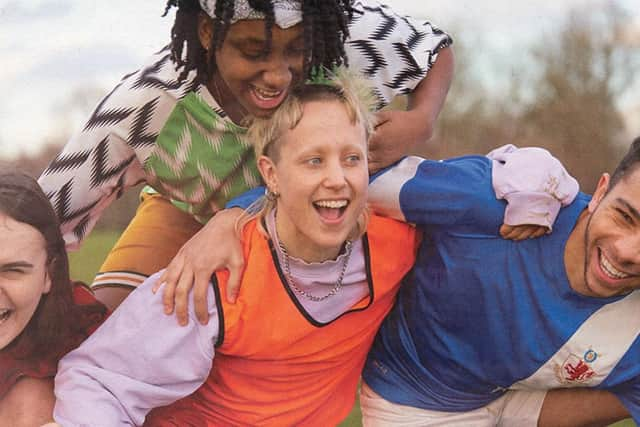 "Janet was a huge influence on Bobby," says Beeson. "Without her unwavering support and help managing his career, I don't think he would have made the same impact. Her story shows us not only how culturally important football was at its formation, but how interested women were in playing and following the game. It's amazing how many people don't know the women's game was as popular as it was in the early 20th Century, or that the game was banned in 1921. We had wonderful audience feedback for Sweet FA, particularly from women saying they felt empowered and proud after watching, and from some men who felt ashamed of the FA's misogynistic actions."
Football isn't the only women's sport being platformed. Tegan Verheul, an adult convert to pro wrestling, describes her play Chokeslam as a love letter to the sport. "Wrestling's something that brings me a lot of joy," she says. "A lot of my memories about big wrestling moments are wrapped up in a past relationship, so I let the play evolve into a storytelling hybrid that introduces audiences to wrestling, relives its most memorable moments, and reveals some pretty intimate details surrounding the dissolution of my marriage."
"Pro wrestling is a great example of a sportt where women are truly leading the way. Wrestlers like Charlotte Flair, Becky Lynch, Bianca Belair and Iyo Sky exhibit an unmatched level of athleticism, and they're following a long line of talented female wrestlers who fought hard to overcome discrimination and career sidelining not just by their employer and industry, but by fans as well. Women's matches used to be when fans got up for a beer, now they're usually the best match of the night."
Scottish playwright Nat McCleary's Thrown also looks at wrestling, this time the Highland Games staple of backhold wrestling. "We need to dismantle the notion that there's any peculiar validation for women who play sports that have historically been ring-fenced by men," she says. "We need to step away from the desire to pat women on the back for stepping into sport of any kind, and allow female sport to be comparison-free, judged on the strength of the competition in the moment, and evolving independent of any male equivalent."
"One of the most affirming responses from female audience members of Thrown is how empowering it has been to see women of different generations who aren't athletes wrestling and being taken seriously in doing so, and how that's inspired them to consider what they also might be capable of doing."
In another sporting vein altogether, New Zealand playwright and performer Sarah Harpur has created a piece about professional equestrianism in The Shit Kid, an idea which came to her while watching New Zealand compete in the America's Cup for sailing. "I didn't feel represented by Team New Zealand," she says. "It's not just a gender thing, it's a class thing. These guys are clearly great at what they do, but if you've grown up on a yacht, you're not exactly a 'man of the people'. I got myself a bit wound up about that, and channelled it into a play about the struggle of a fiercely determined person trying to carve out a career in equestrianism, a sport that's better suited to those descended from royal bloodlines.
"At its core, The Shit Kid is about not feeling good enough and trying to chase it away through ambition. There's no better setting to tell a story of insecurity and blind ambition than through the lens of elite sport, where the stakes are high and there are clear winners and losers… Without giving too much away, it's a show that pretends to be about chasing the Olympic dream, but underneath the drive for ambition is the feeling that lurks within everyone, that deep down we're not enough. I hope that people who see it reflect on what success really means to them, rather than aiming for an external idea of it, and I hope they laugh along the way."
Bitter Lemons, Pleasance Courtyard, until 28; Pitch, Pleasance Courtyard, until 28; Never Trouble Trouble (Till Trouble Troubles You), Tynecastle Park, until 28; Chokeslam, Paradise in Augustines, until 27; Thrown, Traverse Theatre, until 27; The Shit One, Just the Tonic at the Caves, until 27.