Tune in to Zoo TV for a virtual Fringe experience
The veteran directors of Edinburgh Fringe venue Zoo explain to David Pollock how they have risen to the unique challenge of making their presence felt in 2020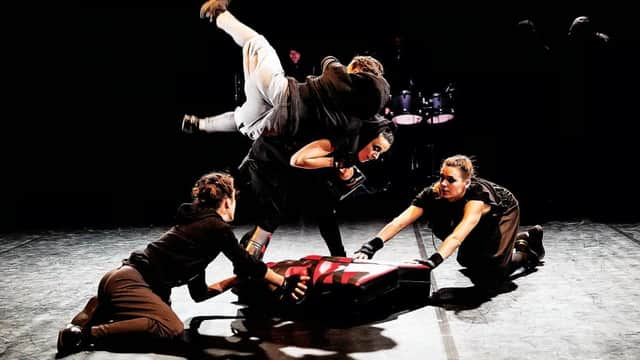 Zoo TV's online programme next week includes Amazones PIC: Michal Hancovsky
'On the day the decision was made to cancel the festival this year, I sat glumly behind my desk thinking, 'this is pretty damn depressing'," says James Mackenzie, founder and artistic director of the Edinburgh stalwart Zoo Venues, which would have been celebrating its 20th year in Edinburgh this year. "After a while I thought, right, what can we do? Should we do anything online? That afternoon, myself and a couple of colleagues started to build a website, just for something to do."
They put together, he says, "a very sketched half-job" that day, then the idea was put away for a couple of weeks while the immediate reverberations of the festival grinding to a halt – the individual show cancellations and the hit of giving refunds – were felt. Then after a while Mackenzie asked his team, "we've got potential to do something here, what's everyone's thoughts? They all thought it was a good idea."
It's fair to say that no individual Edinburgh Fringe venue has risen to the challenge of making their presence felt in 2020 quite like Zoo. While there are large bodies of new work at the DIY end of the scale from theSpace and Laughing Horse, a strong but predominantly archive-driven programme from Gilded Balloon, and individual pieces tied to those homes of critical acclaim the Traverse and Summerhall, Mackenzie and the rest of the Zoo team's efforts have brought a selection which marries volume, variety and quality like no other.
The U2-referencing ZOO TV will include six shows for each of its six days, in a programme which Mackenzie says is approximately 40 percent comprised of work which is either all-new, or presented in a specially re-adapted format exclusive for this platform. The rest consists of companies' archive recordings, much of it new-to-Edinburgh and all checked for broadcast quality by the Zoo team. After all, he points out, "a dodgily-shot iPhone video from the back of the stalls doesn't tell you anything, does it?"
Highlights include an Edinburgh-exclusive showing of Ontroerend Goed's previously performed work Loopstation; Fix&Foxy's Rocky, a play about populism and what happens when the populist becomes the boss; sound artist Graeme Leak's Ewetube: An Infinite Eco-Opera, live-streamed from his Stirlingshire farm; and Tracks, a live-on-Zoom rehearsed reading of a new play by Paula B. Stanic, with an artist Q&A afterwards.
"Tracks is a three-hander about two adults, Mickey and Simone, who have grown up in the care system, and what happens when Simone, who has been estranged for 15 years, comes back to find Mickey," says director Jo Newman. "It's beautifully written, very truthful and delicate, and the characters are so visceral. It's been interesting to explore the format of a rehearsed reading on Zoom, I've done some digital projects working with the platform over the past few months and it's a surprisingly effective way of working, so I'm excited to see how this works."
Those who are familiar with Zoo's regular programme will know that dance forms a large part of it. Highlights on ZOO TV include a recording of choreographer Marcos Morau's Tundra for National Dance Company Wales, and an excerpt from Scottish Dance Theatre and Scottish Ensemble's new digital work These Bones, This Flesh, This Skin. There will also be two very relevant pieces from Luca Silvestrini's Protein; LOL (lots of love), which was seen at Zoo in 2011, and a new work for 2020, The Sun Inside.
"LOL (lots of love) enters the lives of a group of six people trapped in their webs of aspirations, desires and self-broadcasting," explains Silvestrini. "Reflecting their inability to free themselves from their online personae, the characters narrate their busy and intricate electronic lives as their physical interaction becomes progressively more awkward and out of control. Meanwhile, The Sun Inside has been created during the period of Covid-19 lockdown; with filmmaker Roswitha Chesher and composer Andy Pink, I invited members of the public to capture on video the importance of sunlight during this extraordinary period.
"While adapting to a new life, we have been searching for and following the sun inside our homes. Through windows and doors, in our gardens, on our front door steps and balconies, rays of sunlight have been framing spots of comfort and reflection, creating shadows and intricate designs. One hundred and fifty-two contributors from around the world have responded by submitting short videos, which have then been choreographed into a new dance film. [These pieces] demonstrate our resilience and determination to connect people through dance in various media and locations."
ICoDaCo (International Contemporary Dance Collective) will be showing two explicitly connected pieces of work – a recording of their dance piece It Will Come Later, and a filmed-during-lockdown reflection on it by artists involved, named Push: It Will Come Later. "The show was made over two years by six international dance artists from five countries – Sweden, Wales, Hong Kong, Hungary and Poland," says producer Gwyn Emberton.
"It's a dance performance in which the audience sits around all four sides while the dancers perform on a revolving set, and was made as a collaborative project with no leader or director; all of the artists were jointly making the decisions. We made the work during the initial protests in Hong Kong and as political landscapes changed in each country represented, so the work and how the artists made it seems to resonate even more with the world right now."
Elsewhere, in visceral Fringe style, other political concerns of the year bleed through. "Are You Numb Yet is set in the aftermath of the Black Lives Matter movement and the global pandemic," says Kel Matsena, co-artistic director of Matsena Performance Theatre. "The rest of the world seems to have moved on, completely unchanged, but a young black man, Dre, feels left behind.
"He saw the world on the brink of real change and equality, but suddenly everyone lost interest, leaving Dre's mind at war. This short film explores his trauma. The more he's consumed by it, the more he becomes isolated. The whole cast mould and shapeshift from protestors to monsters and animals to tell this story through a potent mix of poetry, text, dance, music and theatre."
Mackenzie is hopeful that the impressive format which Zoo has created, which he describes as being like an "iPlayer or Netflix for theatre", will engage the venue's regular audience while enticing newcomers who don't need to "jump on a plane from Australia to see it". It's also, he points out, a first step towards a hybrid model which next year might accompany a partly live but possibly much-reduced Fringe programme. As to how the economics of that stack up, it's a question for another day, although he believes artists will inevitably have to start charging for online work somehow.
"We're pretty pleased with ZOO TV, actually," says Mackenzie for now, allowing himself a moment of contentment. "From starting out not having a clue what it might turn out to be, it's worked well. It's good to be back at the festival for all of us, in some way at least – I think our sanity is relieved that something is happening."
Zoo Venues' ZOO TV programme of online theatre work runs from 17-22 August. For full listings and details of how to access the screenings and contribute through crowdfunding, see www.zoofestival.co.uk/schedule