Scotsman Fringe First Awards: five new winners and an invitation to our awards ceremony
We reveal our final five Fringe First winners of 2023, and invite you to join us on Friday for our closing awards ceremony
This Friday morning at 10am The Scotsman will celebrate the 50th anniversary of our Fringe First awards with a ceremony at Pleasance Beyond in the Pleasance Courtyard, with special guests including EIF director Nicola Benedetti and Fringe CEO Shona McCarthy.
We have a limited number of free tickets for the ceremony for Scotsman readers. To claim yours, please email [email protected] no later than 5pm on Thursday 24 August with the subject line SCOTSMAN FRINGE FIRST TICKETS.
Those at the ceremony will be the first to find out the winners of some of the key awards at this year's Fringe – the Holden Street Theatres Award (which supports a transfer to next year's Adelaide Fringe), the Brighton Fringe Award (which supports a transfer to the UK's second biggest Fringe festival in Brighton), the Mental Health Foundation Fringe Award, a prize for the most compelling new show about mental health, awarded by the Mental Health Foundation with support from the Cornwell Charitable Trust, and the Filipa Braganca award, that recognises the best solo performance by an emerging female artist.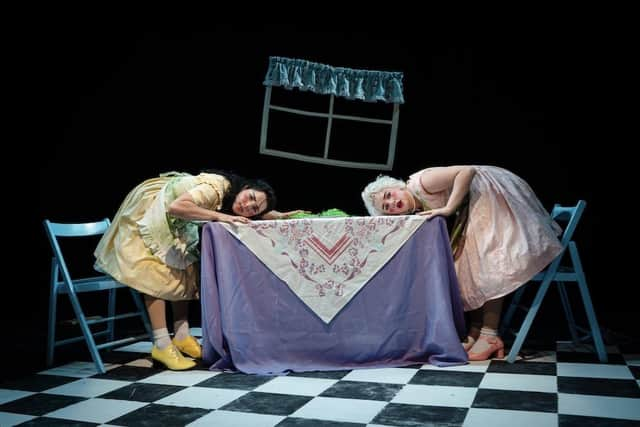 The ceremony will, of course, also include the final five winners of the Scotsman's Fringe Firsts, the internationally sought after prizes for outstanding new writing at the Edinburgh Fringe, which were established back in 1973. Thank you to our panel of judges, Joyce McMillan, Mark Fisher, Susan Mansfield, Sally Stott, Fiona Shepherd, David Pollock and Jackie McGlone, who between them have seen hundreds of Fringe shows over the past three weeks, and debated long into Tuesday night which shows should make it through to the final week's list. And thank you, once again, to the University of Edinburgh for continuing to support the awards, and also to the Pleasance for hosting all of our awards ceremonies.
Here are our final Fringe First winners of 2023. Congratulations to all of them.
What we said: "A girl, Ruva, walks home alone at night. There is a 'creature' stalking her – or 'maybe I'm just paranoid.' She repeats the self-comforting phrase like a charm. Beasts (Why Girls Shouldn't Fear the Dark) is written and performed by Mandi Chivasa with an assurance her character cannot be afforded. The quiet suburban streets of London are a hunting ground and she is potential prey. Drawing on her Zimbabwean ancestry, Ruva invokes animalistic beliefs and rituals. It turns out her animal instincts are right – she is being followed by a cunning predator. Claws out, she forces an animal encounter – he retreats, but the hunt is not over...
It's performed with sly humour and audacity, but Chivasa is clear that the right of women to walk the streets unmolested is no laughing matter, that micro-aggressions like cat-calling are the tip of an ugly iceberg and that the murders of Sarah Everard, Sabina Ness and Ashling Murphy, among many others, cannot be in vain." (Fiona Shepherd)
What we said: "The issue of care for the elderly, who does it and at what cost, is one of the most pressing of our age, and erstwhile stand-up comic Ben Target tackles it in microcosm in this bittersweet one-man show. Target moves in with octogenarian Lorenzo after he suffers a stroke, charting his journey as a full-time carer with frankness and humour. Target has a long-term interest in care, particularly palliative and elderly care, but he doesn't have an axe to grind here. In this personal story, he has found a way to confront difficult things, the messiness of ageing and dying, lightening the load with humour and by creating a portrait of the extraordinary man that was Lorenzo Wong." (Susan Mansfield)
The Insider (Zoo Southside)
What we said: "The Insider is gripping, blistering. Written by Anna Skov Jensen, the narrative revolves around a police raid - the simultaneous strike in 14 countries on major banks and suspected members of the CumEx tax fraud network. Our protagonist tells of his scintillating, narcissistic boss, who first encouraged him to exploit the financial market. Interview transcripts crawl across the back wall all the while. When the network begins to crumble, so too does the conscience of our protagonist. The production could perhaps maintain its anger and urgency to the close (its final moments make a bullet out of what could be a bomb), but The Insider is explosive nonetheless - a truly high-tech, high-octane piece of theatre." (Josephine Balfour-Oatts)
Strategic Love Play (Summerhall)
What we said: "Miriam Battye's defiantly unromantic Strategic Love Play is a kind of anti-rom com, in which a straight-talking woman takes a metaphorical baseball bat to the faux-niceties of what is often a brutal process while on a date with a middle-of-the-road man who just wants to leave, but for some reason can't. Despite seemingly having no connection apart from the watered-down beer that they're both drinking, they're held together by the energy of Battye's robust writing, which is not so much permeated by cynicism as powered by it. A demonstration of what might happen if relationships were seen in terms of starting a war rather than finding love, it questions whether online dating is creating or killing connection, by replacing it with something colder: the search for self-affirmation and power." (Sally Stott)
What If They Ate The Baby? (theSpace on the Mile)
What we said: "Ever since the second wave of feminism broke over American culture in the early 1970s, the figure of the stay-at-home post-war suburban housewife has been an object of both passionate rejection and a some cultural fascination, to women shocked by the limitations on female ambition and potential so speedily re-imposed after the Second World War. Rarely, though, can their way of life have been subjected to such a radical confrontation as it experiences in What If They Ate The Baby?, the latest show from Fringe-First-winning New York theatre-makers and performers Xhloe and Natasha… By the end of this brisk 50-minute show, the postwar American suburban dream lies smashed to smithereens by the ferocious alternative energy of Chloe and Natasha's queer world-view." (Joyce McMillan)