My Festival: Morag Deyes
The outgoing artistic director of Dance Base reflects on 45 years of (mostly) fond festival memories, from hanging upside down on a circular trapeze three months pregnant to throwing up in her handbag.
What are you doing at this year's festival?
Laughing, crying, gasping, remembering, forgetting and loving. Oh, and overseeing our amazing programme at Dance Base and for the last time after many years which makes it all the more precious. The Fringe is in my DNA and I just love its energy in all the venues, out and about in the streets and parks, onstage.
What do you most want to see this year and why?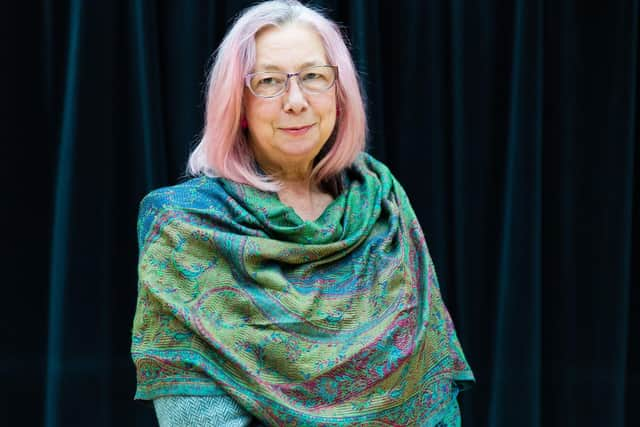 Full houses for everything and therefore happy dancers and sharing this unique time with our artists from all over the world who are having the very rare experience of repeating their shows and finding out more about their work (and their stamina!) in the process.
What's your favourite place in the city and why?
Hermitage of Braid, like a dappled fairy dell with a burn tinkling through, and an open bracing prairie on top (Blackford Hill). Also a place which enjoys guest appearances of manically overexcited dogs who are spoilt for olfactory choices. Great place for Pooh Sticks, finding what peace there is in silence and gazing at lush moss.
Who do you most like spending time with at the festival?
Random and new audience members and beloved old friends.
What do you remember about your first ever Edinburgh festival appearance?
In the Fringe 1977 I was hanging upside down on a circular trapeze, swathed in yards of crimson ribbon, three months pregnant and playing Jocasta in a wild production of Oedipus Rex at the Theatre Workshop in Stockbridge. Health and safety was at that time a fanciful rumour.
What are the best and worst things that have happened to you in Edinburgh?
Best... having my life and perceptions altered forever by courageous artists, many with thanks to Impresario Ricky Demarco and visionary Edinburgh International Festival Director Brian McMaster. Worst - throwing up into my handbag in the back of a cab between a couple of parties, but somehow being pleased with myself that the barf didn't end up on the cab floor. Silver lining etc.
Tell us something about you that would surprise people.
I'm an introvert, love Kurosawa's Rashomon with a feeling close to obsession and I take comfort in ironing. Oh, and I wanted to be a truck driver.
What's the first thing you do when you wake up in the morning?
Immediately call my dream analyst and then fire up the cauldron, prepare toads, bats, virgins etc. Whatever ingredients required for the hexes of the day.
And what's the last thing you do before you go to bed at night?
Wrestle with images and sounds from shows that wormed their way into my subconscious and when they've left the building I set the controls for the heart of the sun.
Thanks for the interview! We'd like to buy you a drink. Where are we going and what are we drinking?
Thanks very much to the Scotsman for keeping the arts pages and by doing that acknowledging culture is our soul food! It's been a pleasure and a privilege. So, we are going to the top of Arthur's Seat at midnight and the drink de nuit is the elixir of eternal bliss with a micro dose secreted in a pear juice chaser.
Morag Deyes is the outgoing artistic director of Dance Base, Scotland's national centre for dance. Its 2022 Fringe programme can be found at www.dancebase.co.uk