My Festival: Jacob Storms
The award-winning writer-performer takes us inside his play Tennessee Rising: The Dawn of Tennessee Williams in our latest My Festival Q&A
There are thousands of shows in Edinburgh this month. Please explain why we should come and see yours.
Tennessee Rising: The Dawn of Tennessee Williams explores a six year period in Williams' early life (1939-1945) that has never been explored on the stage! If you love theatre and the work of Tennessee Williams you don't want to miss this! But even if you know nothing about Williams and his work and just want to see a universal story of an artist making their way in a world crumbling around them then the play will resonate with you too and you will hopefully leave wanting to learn more about Williams' beautiful artistic contributions to our world.
What will we learn from your show that we didn't know before?
You will learn that Tennessee was once a young man who struggled to find his way in the world both personally and professionally and that his road to success was long and full of obstacles. However, he refused to give up and soon changed the theater for ever, which I find reassuring and I know other people will as well, whether or not they themselves are in the arts. Tennessee always said he made a 'religion of endurance' which is something I think we can all relate to and benefit from doing.
Who or what was the biggest inspiration for your show?
Definitely the man himself, Tennessee Williams! I realized his formative years had never been dramatised and I was inspired by Tennessee to commit to the long journey of bringing these years to life so people could understand him as a person more than ever before and also inspire them to dive back into his life's work.
Who do you most like spending time with in Edinburgh?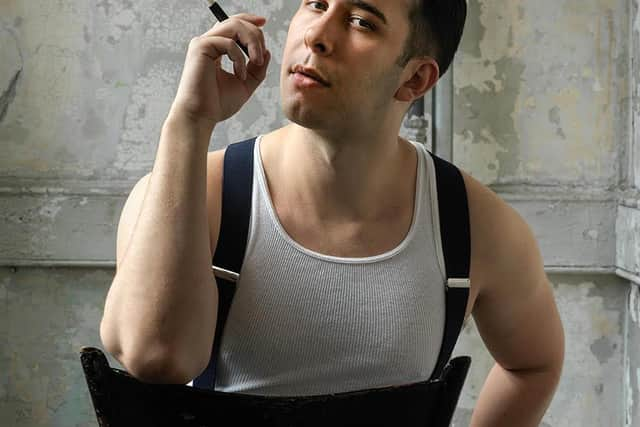 There are so many talented Aussies performing in the festival and all of them have a real zest for life and love to laugh, which is a must in my book!
Tell us something about you that would surprise people.
Up until I was around age 13 I thought I would pursue a career in visual arts but I got bit by the acting bug and it changed my whole life trajectory, though I still love to draw and now realise the different ways we express ourselves all feed into each other in a very powerful way! I was happy to learn that Tennessee himself was also an avid lifelong painter!
What are the best and worst things that have happened to you at a festival?
The best thing is getting to perform every day in Edinburgh for audiences who love theatre and Tennessee Williams. The worst thing is having to search for edible food late at night!
What's the first thing you do in the morning and the last thing you do at night?
First thing I do is wake up and listen to the Oscar at The Crown cast recording on Spotify as I prepare for my show and the last thing is make sure my bow tie for Tennessee is where it is supposed to be for the next day's performance!
Thanks for the interview! We'd like to buy you a drink. Where are we going and what are we drinking?
Alchemist bar for margaritas!
Jacob Storms' Tennessee Rising: The Dawn of Tennessee Williams, Assembly Rooms, 5.05pm, until 27 August