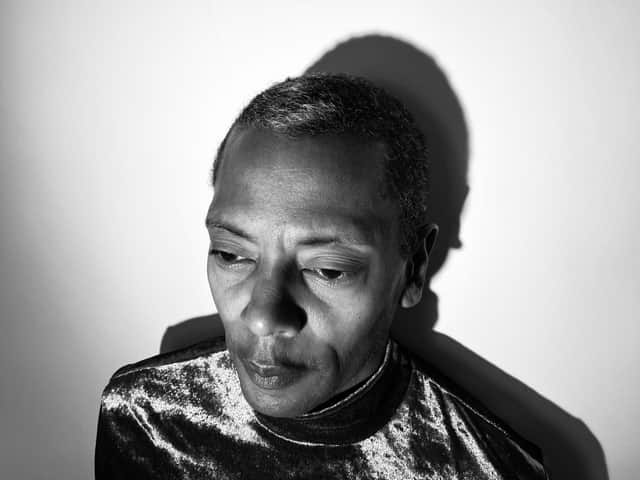 Jeff Mills is known as a DJ and techno pioneer but is also a multi-skilled musician who grew up listening to jazz.
Jeff Mills is rightly hailed as one of the foremost ambassadors of the hugely influential Detroit techno scene, but his 40-plus year DJ career is only one string to this musical polymath's bow, which includes orchestral collaborations, creating live soundtracks to silent films and recording and releasing a steady stream of austere, progressive and conceptual electronica albums and EPs via his own Axis Records.
Even so, his latest project, which he brings to Leith Theatre as part of the EIF's eclectic contemporary music strand, is a refreshing surprise – Jeff Mills as improvisational electronic jazz musician. Tomorrow Comes the Harvest is a concept originally sown with pioneering Afrobeat drummer Tony Allen, who built his career as Fela Kuti's rhythm maestro but latterly collaborated with the likes of Damon Albarn, Joan As Policewoman and Charlotte Gainsbourg.
When Allen passed away in 2020, Mills took the project onwards as a live entity, playing with Allen associate Jean-Phi Dary on keyboards and a rotating line-up musicians on flute, bass and, for the Edinburgh show, Prabhu Edouard on tabla.
"It's a very transcendental type of performance," says Mills, speaking from his US base of Miami. "The basic concept is not preparing, doing everything spontaneously and on the fly. It's very different from a DJ set - it's almost night and day. If you are a master DJ you can dissect the music down, but for the most part the music is of a certain tempo and rhythm and you just have to work around it, whereas performing live you are creating the patterns, you use the time differently and you really understand just how much rhythm you possess. You also find out what you like to do the most, which is the best thing."
This is far from Mills' first live music rodeo, however. In the late 1980s, he formed influential electronic band Underground Resistance, with keyboard player Mike Banks, vocalist Robert Hood and Mills on percussion and decks. Meanwhile, his love of jazz dates all the way back to playing in school bands.
"I didn't study it formally but it's what I grew up on," he says. "So by the time I had graduated from high school I was well versed in fusion rock, fusion jazz, the Stanley Clarkes and the George Dukes. To be quite honest, my mindset never really changed - even when I became a DJ and all the way through, this is the music that I listen to when I'm at home. I like to listen to music more than I like to dance to it."
Although he became synonymous with techno, Mills started out in Detroit as a house and hip-hop DJ, dubbed the Wizard for his dexterity on multiple decks (he was later name-checked in Eminem track Groundhog Day). He also spent a number of years as a DJ on Detroit radio stations WDRQ and WJLB, working out what would appeal to an audience of four million listeners, and introducing them to the nascent techno sound of their city, as pioneered by Juan Atkins, Derrick May and Kevin Saunderson. "At first it was fun," he says, "and then it got really tough, very competitive. I slept at the radio station, I was in production all day long, buying music, trying to find things. I never went home, I worked literally around the clock."
Mills became a key figure in the so-called second generation of Detroit techno, founding his own Axis Records 30 years ago as a repository for his minimal techno compositions. In 2005, he broke new ground, collaborating with the Montpelier Philharmonic on orchestral renditions of his own works and, in the past decade, he has created and performed electronic scores for Fritz Lang's silent sci-fi classics Metropolis and Woman in the Moon.
"For me it's all connected," he says. "It's wonderful to play with orchestras, but I'm confined to the score, which made me want to be more free and that is what I found working with jazz musicians. As a result I'm now looking back at classical music, jazz and techno also in a slightly different way. It's all part of the same equation, there's just different answers whenever I make some slight modifications."