Janet Christie interview: How working on a building site prepared comedian Susie McCabe for the Fringe
The Glaswegian comedian looks at what it means to be a woman in Femme Fatality
We're in the Assembly Club Bar at George Square, comedian Susie McCabe and me, and as the Edinburgh Festival Fringe lets its hair down around us on a hot, sticky afternoon, we're both on soft drinks as McCabe tells me about her latest stand up show Femme Fatality and why she takes August seriously.
"I could actually murder a refreshing, cold pint," she says, "but no, I don't touch a drop the whole of August. We come, we deliver a show and new people see you and it's all about growing. You need to get into a groove with the Fringe. It's very easy to be 'oh, I hate this, I'm a working class Glaswegian, this isn't for me', but you need to go 'well there's no many working class Glaswegians here, and there's no many women who are working class Glaswegians. I can count them on one hand. So if you're in a 200-seater every night and have a platform to say something, say it. You hope it will resonate and open up conversations. And you can do that by telling jokes."
What McCabe has to say covers her journey from her birth in Glasgow through a childhood where she felt out of place but didn't know why, to realising she was gay, training as an electrician and working on building sites, becoming a stand up comedian and finding her place in the world. Her show, Femme Fatality, is her response to discussions around what being a woman constitutes, and one in which she employs her razor sharp wit.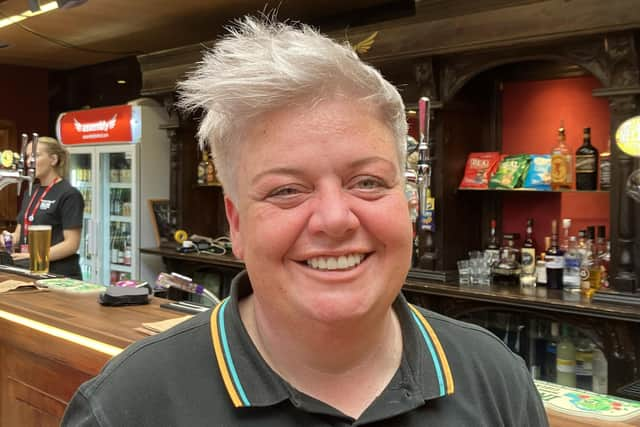 "Well everyone else has an opinion on it," she says. "You go on Twitter and men over the age of 50 are talking about what a woman is, while having lived in their mother's basement their entire life and never been near a woman, so I thought I am going to look at my personal journey into womanhood.
"And I realised I am to womanhood what Northern Ireland is to the United Kingdom - a part of it with a few exceptions and ultimately I look like I belong somewhere else."
Now 43, McCabe is happy in her skin, and in her trademark Fred Perry polo shirt, jeans and trainers, topped off with a grey quiffed crop and beaming smile. With 13 years of stand up under her belt she can count herself a success - this is the second year running she's sold out her Fringe run - and she's supported Kevin Bridges, Frankie Boyle and Jason Manford on tour. As well as touring internationally as a stand up she's also clocking up screen time with appearances on Have I Got News for You, Frankie Boyle's New World Order and Question Time. But she wasn't always so comfortable about her place in the world and in Femme Fatality she talks of feeling a failure her whole life, starting with not being the wee princess her parents, an electrician and 'a dinner lady who became a home help', had hoped for when she was born in 1980 in Glasgow.
"12lb 10oz," says McCabe. "They thought that's no oor first daughter, that's oor first Russian weight lifter. I was never the type of baby that was going to be in an advert. Unless it was an advert for Communism. Sitting in a nappy on a tank. At six months old I had my City and Guilds in plumbing. At two years old I had sciatica and a Celtic season ticket. My dad was always 'all I wanted was a wee lassie and I've got this dirty thing coming in with a football under her arm, muddy legs and manky trainers.'"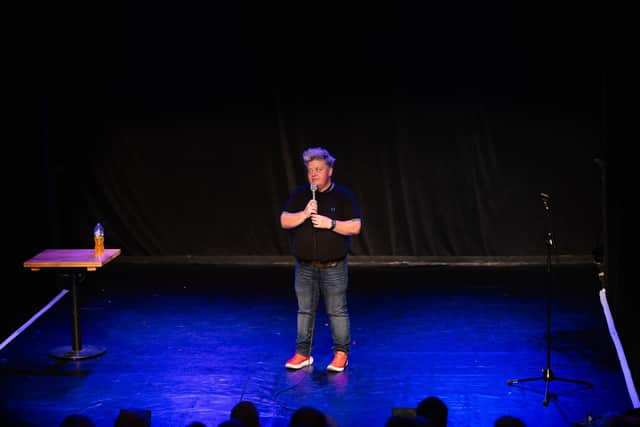 "I think there was a kind of oddity about me. At school the boys would play football and the girls would play netball and I wanted to play football but the teacher would literally lift me by my collar and make me play netball. The teachers were just like 'why are you playing football?' as if 'that's for the boys, you can't do that because in a couple of years time you're going to have boobs', as if that's going to stop you from running.
"Your friends' parents and the neighbours judged you, like 'she's a bit odd isn't she, always playing football with boys, why does she not push a pram or have dolls?' I did have them but they were in the loft and I didn't play with them because I had a football. People went 'aw she's a tomboy' but it wasnae really accepted."
For anyone under 40 and watching how far we've come that a women's team can reach a world cup final, the 1980s must seem a different country, and McCabe loves to point out how 'bananas' it all was. With no gay women on TV or references she struggled to identify how she was different.
"In the 1980s every female presenter on television looked and sounded like Princess Diana and I knew I wouldn't look like that when I grew up. It was a very different time. We had to wait to the 1990s to see a gay woman presenting on TV, when we got Sandy Toksvig and Sue Perkins. And both of them went to Oxford. I thought is that a finishing school for lesbians? Nowadays there are lots of gay TV presenters - every time you switch it on it's 'Hiya!' In fact there's too much flamboyancy on my television. Sometimes I'll say to my fiance Nicola 'put on Songs of Praise. I need to see some depressed Christians and hear some Protestant hymns."
Looking different meant McCabe always had body issues - "You don't look at me and think Sex and the City. You think dogging in a layby" - but nowadays she's happy with the way she looks. Despite this she still majors in self-deprecation, something she regards as a Scottish trait.
"Self-deprecation is something we do about us as individuals, about our cities and our country. I think we have an element of being a small northern european country that disnae get too big for its boots. There are two sides to this coin - there's your mum and your granny and aunties being the wind in your sails but equally they'll be the ones saying 'hey you, don't get too big for your boots', and that's quite a working class thing (in Scotland we're predominantly working class and even with social mobility, you could be sitting in a four bedroomed house in a posh suburb and still consider yourself working class and I think we're probably one of the only countries in the world that does that) and the reverse side of the coin is we've always had that role of being the little guy in the Union and when you come to places like the Fringe and hear 'yeah, my brother's coming up from Oxford', we have a real chip on our shoulder about that. So I think self-deprecation is the way we protect ourselves. You expect to get knocked back and if you don't it's a bonus."
If our identity politics are subject to rapid change, our perceptions of Scotland's place in the world are also shifting, according to McCabe.
"Over the past 10-15 years I see a different Scotland, one that has its own heroes like Andy Murray, Chris Hoy, a successful football team compared to where they were, and a generation of young Scots, regardless of their political views on things like independence or whatever, confident about their place in the world because they've grown up having their own parliament. They don't remember a time of Scotland not having that, whereas I do - I left school three weeks after Tony Blair came to power, so my whole entire education was spent under a Conservative government and that probably tires you out. So now there's a political confidence that's come through with this new generation."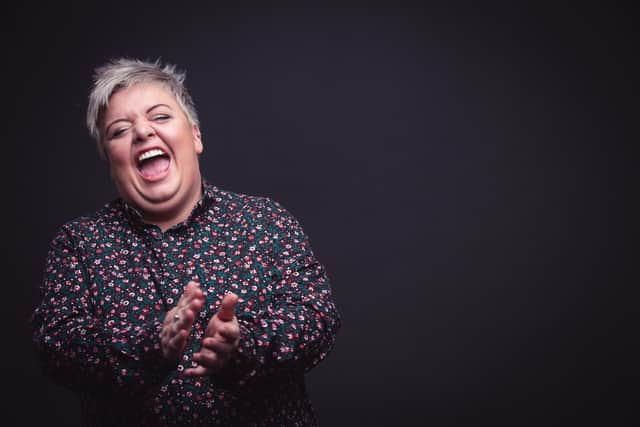 Having worked on building sites at a time when women with a trade were scarcer than hen's teeth, McCabe has a unique insight into masculinity and with a father, brother, male friends and colleagues, her feminism has an inclusive approach with regard to men. Realising she was a lesbian while a teenager she nevertheless tried to be heterosexual and flirt with men but ended up on their five a side football teams before she came out. After spells working in a bar and a shop, with her electrician father coming round to her being gay, she followed him onto a building site and worked as a labourer then trained as an electrician too before becoming an estimator pricing building jobs then at 30 did a comedy course with a mate as a dare.
"It was eight weeks and the last week was a gig, so I did that and then just started getting gigs," she says.
So she must have been funny already?
"Aye, I've always been a wee bam, always been funny, always had an answer. It's probably a protection thing that came from knowing you were gay and being worried about it, trying to just protect yourself. I think it comes from there, being overweight, being the class clown at school."
Despite what she describes as an atmosphere of toxic masculinity on building sites, McCabe thrived, with young male apprentices seeking her advice - 'I was like Papa Smurf' - and sympathises with the way men's worlds have changed as much as women's.
"The men on the building sites with the toxic masculinity, they were failing at being husbands and fathers and sons, so dressed it up as banter and tried to deflect their own insecurities."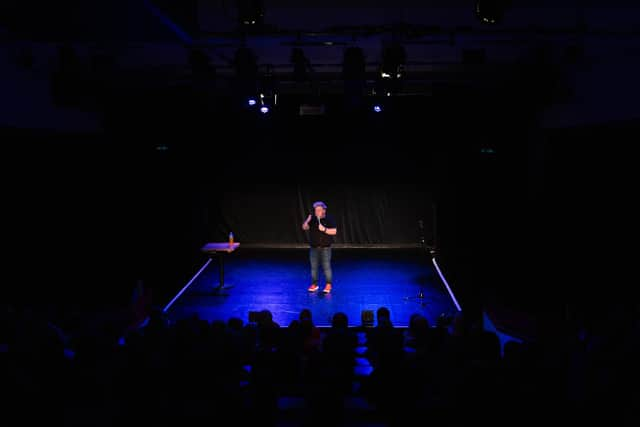 Homophobic comments were rife, but didn't extend to McCabe.
"I once asked them how come you don't say that stuff to me, and their answer was because that would be homophobic." She laughs. "And those men, they very easily come across as anti-feminist but women know those men, it's their husbands, their brothers, their fathers, so when I do my comedy I kind of soften it.
"And modern men are amazing; they cook, they clean, they take the kids to school - but don't they f***ing tell you about it, every man talking about air fryers. It's so funny and you're not having a go at them, you're just highlighting how they behave. As soon as you say that line about the air fryer every woman looks at their husband and goes 'that's you' and 'that's you when you take the kids to dance because I'm working late'.
"Men used to build ships, be blacksmiths, take broadswords into battle. Now their greatest enemy is the tannins of a merlot. They're scared to admit they can't do stuff around the house because they don't work in those industries any more, but they don't want to let their wife down and admit they're not 100% man. And they are amazing men, and it's OK if you cannae put up a shelf, because that's what a lesbian is for. Men used to sexualise lesbians, now they utilise us."
"So they say 'Susie, I've got this light fitting, would you help me?' which translates to I just do it. I get it, in the same way that I look a certain way and it's maybe not womanly, well they're a software engineer. It's like my grandfather, completely handless. But my nana could paint, wallpaper, change a plug."
Growing up in the East End of Glasgow and not being exposed to the arts, McCabe did not expect to find herself one day working at the Edinburgh Fringe.
"I never even went to the theatre when I was a kid. As much as we grew up in a nice area of the East End of Glasgow, access to the arts just wasn't a thing. And that's probably why I've got a lot of imposter syndrome around this job. It's not like you're sitting in the house and your dad's mate comes in who's an actor. Your dad's mate comes in and he's a plumber or a joiner. In the East End of Glasgow, nobody was going to shows. You went to the fitba, you got a pie."
These days McCabe's parents are among her biggest fans, her mother was at this year's Fringe listening to her daughter's routines about them and how they shaped her, literally.
"I don't paint them as bad people," says McCabe, "and the relationship that I have with my parents is the same relationship that everyone my age has with their parents. They are unconscious comedians, I don't think they realise they're funny. My dad said "Susie, what's non-binary?' and I said 'No! Two days and an interactive white board for Facebook, we're not going through this again. No. So the world has changed more in the past 20 years than in the past 50 and my dad, a white, heterosexual 73 year old might not understand non-binary, but he understands compassion."
With her Fringe run almost over, McCabe is happy with how it's gone, as she is with her life in general.
"I think if you get to pay your bills by doing this as a job, you're incredibly lucky."
Is it better than being an electrician?
"Oh aye. I do laugh when it's like 'oh, I'm tired, three shows a day, I think I've got Fringe flu'. I'm like 'here listen, you're no' hanging off a building fitting a floodlight are you? It's no a cold December morning when plastic's snapping as you're trying to bend it cos it's minus three. Do you know my favourite day of the year? See that first Monday back at work after Christmas, when school's back, construction's back and you look oot yer windae and it's teemin it doon and it's grey and the trees are blowing and you're just standing there, wee cup o tea, in yer pants and you're like 'this is an all right life this'. I get to do this. I'm doing this for a living."
With the end of the Fringe McCabe is looking ahead to a busy second half of the year working on a new show and next weekend will be getting married to her fiance Nicola, a dog walker, who she met at a gig through mutual friends.
"It's all sorted. Everything's tickety boo," she says.
But she won't be taking anything for granted. Fear of failure is still part of her DNA.
"It will always be there, always. So I make sure I'm prepared for my show. And also, like I've been married before and before I proposed I spoke to my best friend about what if this one doesnae work and that fear of failure. But you can't think like that even thought the fear of failure is something that weighs a lot. It's probably one of the reasons that I never had children as well as I've never been maternal, but I would just be like what if I have a kid and I make them bananas and fail as a parent, what does that do to them?
"So, I'm perpetually afraid of failure. But I think you've got to harness the fear and use it as motivation. You'll have peaks and troughs with it but you have to try and use it in a positive way, feed off the fear and use it as fuel to take you on a path. You've just got to make sure you're good."
Susie McCabe: Femme Fatality, Assembly George Square Studios, Studio Two, until 27 August, 8.35pm, assemblyfestival.com/whats-on/susie-mccabe-femme-fatality