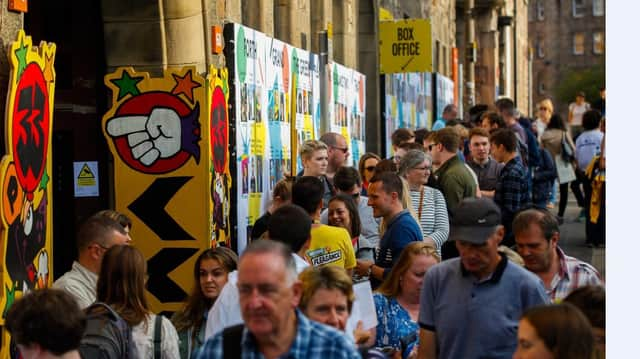 A few months ago, it seemed unfathomable that something on the scale of the Edinburgh festivals could have a year off. Even a few weeks into the lockdown there was a sense of denial about it – how could the biggest arts event in the world not happen? On the plus side, this is a unique opportunity to slow down and reflect. Who are the festivals for? What could they be doing better? Do they still live up to the idealism that created them? Is it all sustainable? What might Edinburgh look like without them? These and other questions will no doubt provoke fierce debate in the month ahead, as the Edinburgh ­Culture Summit also returns in an online version, and various festival players host their own discussion events.We asked five people who know the summer festivals well to write miniature manifestos for the festivals' future. We would love to hear what you think too. – Andrew Eaton-Lewis, festival editor
Jim Sutherland: The Edinburgh Festival Fringe started in 1947 with "people's groups" staging events independently of each other. Hamish Henderson's 1951 "people's festival" built on this as an alternative to the highbrow Edinburgh International Festival of its day and was designed to be for and of the people of Edinburgh.For years this is how it was: a rough and ready atmosphere with prices set low so that locals could afford to take a chance on a show that might just surprise them. It felt as though anybody could stage a show and all sorts did. Gradually the money moved in: costly venues, short-stay accommodation, prices hiked higher than a stilt walker's eye, begging the question who can actually afford to perform let alone attend an event. Some groups manage to hold onto the original DIY Fringe spirit, but it can't be easy.Who's making money? Everybody but the artists it seems! Last year around 4,000 shows sold 3,000,000+ tickets but punitive venue rents, compulsory marketing and various deductions including a contribution towards Edinburgh City Council's extortionate venue licence fee mean that performers are being charged more than they can make back in ticket sales. Many locals leave the city to let their flats out at crazy prices.So what will Festival 2021 look like? We've established that many artists have to pay to play. Those same performers are likely to have fallen through the cracks in government support during Covid-19. If the government doesn't step up for freelancers, there may not be anybody left for profiteers to exploit. The very people that the Fringe most relies upon may not actually be able to afford to appear. Can the Fringe part with profits and get back to its roots? There is no art without artists.
Jim Sutherland is a musician and composer whose work includes the films The Outlaw King and Brave and the international music project La Banda Europa.
Morvern Cunningham: For too long now, the city of Edinburgh has been simply unable to support its young and emerging creative residents, as the pillars of support in place merely uphold the status quo – weighted towards Edinburgh's cultural institutions, the festivals, and their city centre concentration.It is these that will be most challenged as a result of the current crisis, as our focus has suddenly narrowed (in the way that lockdown suddenly shrunk all of our worlds overnight) to something much smaller, more manageable and hyper-local. I believe it will be up to the grassroots to be the vanguard of ­creative and community rebuilding as we move forward into the great unknown.My personal vision for the city is a redressing of the widening imbalance in creative power and cultural visibility that has been encroaching on Edinburgh for decades; a challenge to the hierarchy and hegemony that are traditionally so resistant to change. What I believe may bring meaningful change to Edinburgh is the collective creative case for the city-wide sharing of wealth and space, for the benefit of all who live here and, by extension, its visitors.My suggestions include: a local crowd-sourced arts fund founded by those in well-paid arts sector management positions that in turn supports a range of diverse emerging artists; ­obligatory provision of free space to artists across the city; alongside a year-round medium-sized grassroots multi-arts venue for the city.Edinburgh needs, now more than ever, a radical, bottom-up reimagining and re-evaluation of the city's future, with an emphasis on community-led solutions going forward. Instead of the "thundering hooves" mentality of competition and commerce, the city should be concerning itself with the sensitive year-round integration of art and culture with its public spaces, in collaboration with local artists and residents.
Morvern Cunningham is a Leith-based freelance creative producer and founder and trustee of multi-arts charity LeithLate. The piece above is a digest of a larger paper entitled You'll Have Had Your City?, which is available to read in full at The Skinny website and published in pamphlet form by Out of the Blueprint.
Alice Boyd: As the largest arts festival in the world, the Fringe is one of the most exciting events in the calendar for many artists and venues. However, there is still a way to go in terms of environmental sustainability, accessibility, diversity and inclusivity.I am founder and co-director of Staging Change, a network of artists and venues working to improve the environmental sustainability of our practice. Staging Change is committed to working with stakeholders across the festival to make change happen.We would like to see a commitment from organisations to create targets for a zero carbon festival in the future. This may take the form of venues using renewable energy suppliers, as well as encouraging wider structural changes making low-carbon forms of transport to the festival more accessible to artists. It is also essential that the festival engages residents and local artists in their response to the climate crisis, as no-one will have a better knowledge of the city and its opportunities for change.On 5 August, Staging Change and The Greenhouse will launch the #FutureFringe campaign, supported by the University of Edinburgh and the Fringe Society. We are inviting anyone involved in the Edinburgh Festival Fringe to submit responses to the simple question "What does your #FutureFringe look like?".We welcome input from residents, venues and participants, and will be using the responses to inform calls for change at all levels of the festival on topics such as inclusivity, environmental sustainability and accessibility.
Alice Boyd is a sound designer, theatre-maker and environmental campaigner, and founder and co-director of Staging Change. Follow the campaign on social [email protected], or visit the #FutureFringe website at www.futurefringe.co.uk to get involved.
The following assumes The Plague has passed…
1) Campfires: Let's have campfires in The Meadows, the Royal Mile, and St Andrew's Square. All performance can be traced back to gathering around campfires. Let's have story­telling fires, fires we dance around, fires we play music to. Let's ignite the night with bright sparks of joy around campfires of soul!
2) Danger: The Fringe needs to regain its danger. Let's turn away from the homogenization, corporate cozying, and "everybody have a good, clean, safe time" path the Fringe has been on and get back to the enthralling danger of true art. The best nightclubs have always been the ones where you feel that something illegal has just happened and if you stick around it might happen again. Theatre isn't where you go to feel safe, it's where you go to get provoked, to question what you've been doing in life. Freedom is exuberantly dangerous, let's celebrate it.
3) Digital: NO! Let's ban anything ­digital or virtual. You want your art, comedy, music, dance? Then get into the small sweaty rooms and BE with the performers. No phones allowed! Digital is for staying in, Fringe is about getting out!
4) Stars: No more star reviews. Want to know how the reviewer felt about the show? Read the damn review. Let's ban awards too while we're at it, or better yet have Anti-Awards for categories like "Least Challenging Performance", "Most Pathetic Exploitation Of Political Identity For A One-Person Show", and "Most Names Dropped in a Conversation at The Loft Bar".
5) Sex. Lots and lots of sex. Let's turn Edinburgh's sex saunas into sex-positive performance venues! Let's have marathon readings of banned books, erotic stand-up comedy in the red velvet rooms of the "pubic triangle", and poets reciting Anais Nin while strippers practice their ancient arts around them. Lenny Bruce and Honey Harlow as our avatars. We need to be on top of each other again, know each other again. Self-isolating SUCKED! Let's regain that feeling that if you go out you just might get laid, your life might radically change, you might even find bliss.
Lach is an American singer-songwriter and founder of the anti-folk art and music movement. He lives in Edinburgh and performed for many years at the Fringe as well as making regular appearances on BBC Radio 4.
Yasmin Sulaiman: If anything good has come out of the Covid-19 crisis, it's the general acknowledgement that we can't go back to the destructive routines of the past, those patterns that seemed so normal to us just five months ago.And when the Edinburgh festivals return, I'd love to see evidence that this consensus is shared by them as well; that the "bigger and bigger" ­narrative of the last couple of ­decades has become antiquated in the post-pandemic world. We ­desperately need new metrics for measuring growth and success in August, and now is the time to ­create them.The truth is, this past period of huge growth for the festivals has given me the fulfilling and happy career I have now. I made my creative name out of consecutive Augusts of sleepless work, first as a student writer and later as reviewer and editor with privileged access to the most sought-after shows and the most interesting people. Now I'm one of the trustees at the Edinburgh International Festival, and I work with artists to help them build sustainable careers at the intersection of creativity and technology.And it's through this lens that the year-on-year growth story of the festival season seems so anachronistic to me. How can we call ourselves a truly creative city if our primary measurements of success in August are performance numbers and box office takings? Real growth is sustainable and focuses on solving problems – even when they're self-created.A festival season with impactful environmental policies, a festival season where artists from all backgrounds have equal access to space, marketing exposure and a chance at breaking even; where venue staff are paid fairly for their work, and where audiences and residents feel welcome, included and involved – that's the kind of growth I'd like to see in 2021 and beyond.
Yasmin Sulaiman leads the Creative Bridge entrepreneurship programme at CodeBase, the UK's biggest tech cluster. She's a former editor-in-chief of The List and a member of the board of trustees at the Edinburgh International Festival
A message from the Editor
Thank you for reading this story on our website. While I have your attention, I also have an important request to make of you.
With the coronavirus lockdown having a major impact on many of our advertisers - and consequently the revenue we receive - we are more reliant than ever on you taking out a digital subscription.
Subscribe to scotsman.com and enjoy unlimited access to Scottish news and information online and on our app. With a digital subscription, you can read more than 5 articles, see fewer ads, enjoy faster load times, and get access to exclusive newsletters and content. Visit https://www.scotsman.com/subscriptions now to sign up.