Fringe theatre reviews: Manifest Destiny's Child | Truly Madly Baldy | Do Rhinos... | Dual | Party Scene: Chemsex. Community. Crisis | Awake, Gay and Writing a Play
Activist Dennis Trainor Jr's show provides candid insights into life on the US political campaign trail, writes Sally Stott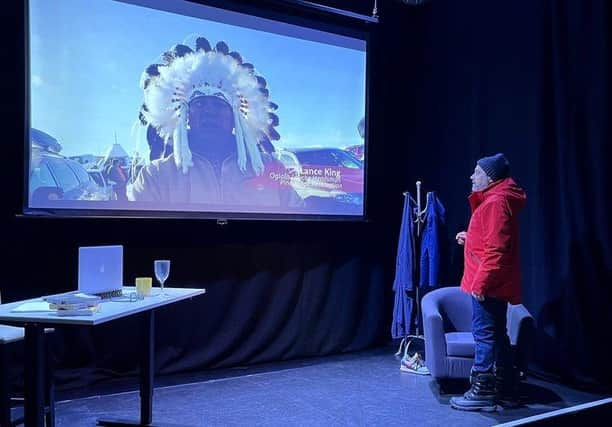 THEATREManifest Destiny's Child ****Assembly Rooms (Venue 20) until 27 August
In this unusually personal and refreshingly candid insight into life on the political campaign trail, social justice activist Dennis Trainor Jr takes us from the perfect art of the perfect walls of his affluent friends' home to participating in the 2016 US presidential elections, as Campaign Director for Green Party leader Jill Stein, his only qualification being "a degree in theatre". Aware that he has the time and resources to do what others don't – leave his comfy coach and join what he describes as the impossible prospect of getting Stein elected – the inner conflicts of a middle-class man trying to make a difference, against the backdrop of Donald Trump's rise to power, are as much a focal point in Trainor Jr's warmly delivered monologue as the world events he amiably orbits.
After a quick and apparently effortlessly achieved promotion, from Communications Director, Dennis is plunged into the familiar in-fighting and self-promotion that seems to stifle all political parties, but perhaps most ironically those committed to creating a fairer world. "I'll be a meme," he speculates, creating rallying videos, fantasising over fighting for the equality, justice and diversity that doesn't seem to be being practised within the wider campaign team. When both real-life politics and the dramatisations of them are often defined by spin, it's a refreshingly self-aware and honest perspective – one that also underpins his wry descriptions of joining the Standing Rock Sioux Tribe to protest the Dakota Access Pipeline.
As well as being on the fringes of such news stories, Dennis's many hours of unseen activism away from circling the spotlight are highlighted and expanded into a celebration of third-party politics, where those putting in the hours and failing to win elections have chipped away throughout history to gain many of the civil rights that we enjoy today.
Pleasance Courtyard (Venue 33) until 27 August
In a blend of honest autobiography and comic vignettes, writer and co-star of this two-handed piece Sam MacGregor takes us on a journey – one that's heartfelt but also-light-hearted – through his own experience with alopecia. Still in his late twenties, McGregor's hair fell out in a matter of days in 2019; when the pandemic hit, he decided to turn his experience into a play.
His co-star is also bald, although he doesn't appear to have alopecia himself, but there's still a stoic, in-jokey quality to their interaction; they are, after all, referred to as 'Baldy 1' and 'Baldy 2' in the accompanying material. MacGregor felt the loss of his hair like a bereavement, he says, so a funeral is performed for it here.
Along the way there are some funny lines (wearing Carhartt and going rock climbing is, apparently, a bald man personality trait), some unlikely wig action – including to a soundtrack of Willow Smith's Whip My Hair – and a note of the cliched things bald people hear, including comparisons to Prince Willian, Right Said Fred and an EDL racist.
The fragmentary, sketch-like nature of the piece means it occasionally lacks direction, but MacGregor's frank and clear desire to come to terms with his own feelings about what he's experienced give it a passionate ring of truth which is invaluable.
THEATREDo Rhinos Feel Their Horns Or Can They Not See Them Like How We Can't See Our Noses ***Summerhall (Venue 26) until 27 August
A loose twist on Ionesco's absurdist classic Rhinoceros, Do Rhinos Feel Their Horns takes that play's themes of mob mentality, rebellion and apathy and uses them to ask fresh questions about one-party politics, national media, protest, and the pursuit of happiness. Written by Singaporean playwright Edward Eng, and produced by his company Gangguan!, which means 'disturbance' in Malay, this two-hander is both sly and playful, cartoonish and radical.
Actors Cheryl Ho and Shannen Tan begin by showing us a conversation between a middle-aged man and a teenage girl, about the rise of multi-coloured hair in Singapore's youth. He sees it as a violation of biology, she argues that all culture is natural. The play then unfolds into a DIY mockumentary about a 'Rhinoceritis' epidemic in the 1980s, and we meet an intrepid journalist, a conservative media boss, and a mammalian scientist, each of whom are trying to shape the coverage of this mysterious illness plaguing the nation. Is shape-shifting a natural response to the state of things, or a transgressive act which should be contained before it spreads? This play's scattergun approach doesn't unravel this tangled knot, but Ho and Tan's vivid performances touch a real nerve with their charming, uneasy doublethink.
THEATREDual ***Pleasance Dome (Venue 23), until 28 AugustWhen Peyvand Sadeghian was ten, she was taken from London to Iran to visit family, where a short holiday turned into a weeks-long extrication after Iran refused to recognise her dual citizenship. This formative tipping point lies at the heart of Dual, a chaotic investigation into liminal states of belonging against the backdrop of rigid systems of state violence.Much like Sadeghian's own identity, Dual exists beyond boundaries, crafting a postmodern hybrid of political pastiche, bilingual puppetry, and intimate autobiography to tell its story of in-betweenness. This bricolage technique has a real punk sensibility, yet some sections land better than others, with a slight sense of tonal incoherence as the action – such as it is – moves along.It's hard though, in a play with such ambition and teeth, to regret whatever failings exist of its mad yet sincere experimental approach. And there are moments where Dual shines: when Sadeghian lip-syncs to the hubristic words of the last Shah of Iran; when footage of the Green Movement plays on screen; when the entire audience rehearses revolution. Over the course of an hour, we watch Iran become a place where – whatever anyone's passport says – few can find belonging. All that's left is an imagined future, and the enactment of it.Anahit Behrooz
Summerhall (Venue 26) until 27 August
What goes up must come down, and some landings are harder than others. That's the central message in this no-holds-barred look at drug use in the gay community. Non-judgemental and never remotely preachy, Party Scene is honest about the good time that can come from a drug-fuelled sexual encounter after a night on the town. But everything comes at a cost, across a spectrum of consequences, from being late for work to sexual assault.
Four performers of varying ages work their way through a range of scenarios (and countless outfits) exploring the highs and lows of chemsex. When it's good, it's great, the music's pumping, the movement's dynamic and exciting new connections are made. The morning after can be brutal, however and it's clear the show's creators were inspired to make this work out of a sense of concern and care.
The action onstage is supplemented by voiceovers left on answer machines, with friends encouraging a big night out or being frustrated by someone's irresponsibility. It all knits together to build a visceral snapshot of the company's Dublin home scene, the euphoria and the danger. Some vignettes carry considerable heft, others water down an otherwise potent message, but the performers' commitment never wavers.
Awake, Gay and Writing a Play **
PBH's Free Fringe @ The Street (Venue 239) until 27 August
Mirroring the story told by Brook Tate in Birthmarked at the Assembly Rooms, which tells of the artist's coming out as a gay man in parallel with his shunning by and eventual departure from the Jehovah's Witnesses, this one-man piece relates the same experience in DIY miniature. It feels like a series of fragments, as though – as the title suggests – the writing process is ongoing rather than complete, but it's a tenderly delivered piece and there are vignettes of real intimacy and connection, particularly the recounting of a sexual encounter and awakening while on a missionary visit to China. Anyone to whom a tale of coming out in the face of societal pressure connects will appreciate the journey.