Fringe theatre reviews: An(dre)a Spisto: El Dizzy Beast | All is Pink in West Berkshire County | Blowhole | Sing, River | What Goes On Without Me | Dead End Job
Katie Hawthorne enjoys a puppyish fever dream of a show about a caterpillar clown's metamorphosis
THEATREAn(dre)a Spisto: El Dizzy Beast ****Assembly George Square (Venue 8) until 27 August
"That's my cousin!" beams Dre Spisto proudly, pointing at a home video projected onto the back of the stage. The video shows a line of hairy caterpillars crawling over a rock. Spisto is dressed in slime green shorts and a puffy nappy; a baby, a larvi (aka non-binary larva), a butterfly-in-the-making. El Dizzy Beast is a gleefully unserious take on that plentiful Fringe staple, the autobiographical one-person show. Trashy, tender, and incredibly sweet, Spisto's caterpillar Bildungsroman explores the outer limits of the butterfly as a metaphor for growth, drawing gentle connections between selfhood, immigration, and absent families as they undergo transformation after transformation.
Spisto is a trained clown, and it shows: El Dizzy Beast is very, very funny. It requires serious comedic skill to perform a show this unruly, and as they lead us through puberty and onwards to prom, an adoring audience turns into a raucous family unit. Spisto has a puppyish way of asking people to do things for them that is incredibly powerful: one pleading face and the front row are ready to donate a kidney. Lucky, because raising a baby caterpillar takes a village.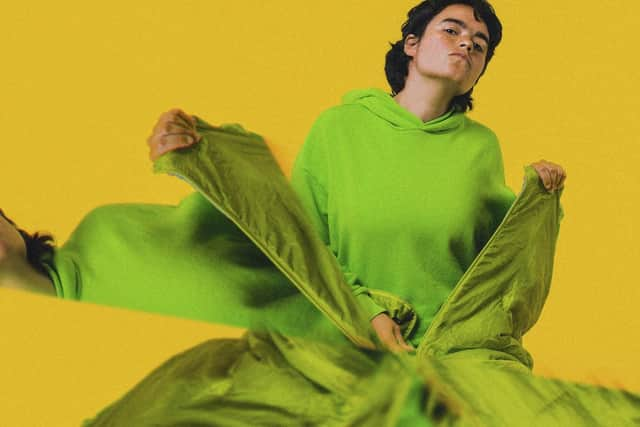 Soundtracked by pop songs about both teenagers and butterflies, El Dizzy Beast is a fever dream of a show, a late-night Fringe treat with a warm, radical heart. Sitting somewhere between performance art and cabaret – one brilliant routine with a sleeping bag has the audience shrieking – it's also comfortable and homey, thanks to Spisto's easy, gifted improvisation. All the same, this is no show for the faint of heart: come prepared to help propel this caterpillar into the rest of their life by any means necessary. Spisto's metamorphosis may still be in motion, but this little larvi has the makings of a Fringe hero.
THEATREAll is Pink in West Berkshire County ***theSpace @ Symposium Hall (Venue 43) until 26 August
Meeting the parents is taken to a dangerous new level in cannibal comedy All is Pink in West Berkshire County. It's Christmas day, the table is set, and ludicrously posh parents Michael (Matthew Dangerfield) and Denise (Siobhan Ward) are whipping each other into hysterics whilst waiting for their posh child Evelyn (Maisie Stalham) and her less posh new boyfriend Rory (Ben Greenwood) to arrive for dinner. What begins as a pantomime of class divide, with Michael writhing in horror at Rory's every utterance, evolves into something more speculative, set in an unspecified future where vegans rule the roost and meat has been outlawed.
Written by Harry Daisley, at first the comedic beats are enjoyable yet familiar: Evelyn is a holier-than-thou vegan to the disgust of her wistfully carnivorous parents, every joke is at the expense of Rory's "humble" origin, and Denise's dramatics are hammy and hilarious. Sharper and more consistent characterisation would help to land the initial mystery meat reveal, as well as Michael's rousing "eat the poor" rhetoric, but the thrilling final third of this new play really delivers on its juicy premise: sharp physical performances and a violent double-bluff finally pull the tablecloth out from underneath us.
Pleasance Dome (Venue 23) until 28 August
"What's this about?" muses an unsuspecting audience member, pre-show. "Something about a***holes," replies his companion. Correct, but Benjamin Salmon's monologue is thankfully so much more than anal selfies. His nameless protagonist is a 24-year-old virgin, looking for validation from online creeps, patronised by the boss at the hot yoga studio where he works as receptionist and desperately trying to find his niche in London's queer community.
Salmon is a gifted character actor, whether inhabiting his bitchy innocent main man, the monstrous yoga matron Star or latest crush, "posh twat" Laurence. This is a world of trendy parties with canapés that "taste like genocide" and orgies to which he is not invited and Salmon draws it well and wittily, especially the sickness of wellness culture.
He also inhabits the alternative universe of his family life – kind, well-intentioned mum, drunken Auntie Val, homophobic Great Uncle Malcolm (deceased) and an almost throwaway remark that his dad died when he was ten. All the filth and the fun is fine and entertaining but a reckoning with sincere, mature emotions – grief, anger, love – awaits and Salmon balances all this credibly, while retaining a wicked glint in his eye.
Pleasance Courtyard (Venue 33) until 27 August
Written and performed by Nathaniel Jones, Sing, River blends an original folk score, British mythology and queer anti-romance. It is Midsummer's Eve. Our protagonist stands on the bed of the River Thames - the veil between this world and the next is thin, and tonight, the river is going to show him how to forget his most painful and traumatic memories.
Or so he hopes. He beseeches the river, and he relives the unliveable. The year is 2010. It is his first Pride. It is the evening he met his first boyfriend. Jones's voice beckons to the listener the way a lighthouse might. Lighting, props and song help to ground the action underwater - however, the setting, and its significance (as it relates to his personal experience of trauma) could be made stronger through additional technical effects or musical elements.
Sing, River is emotionally intelligent in its treatment of abusive relationships and behaviours. Poignant messages (which merge with the story of a king captured by the Faye) are sometimes submerged, victim to their own lyricism. But our protagonists' past experiences prove both formative and informative. They do not determine his identity or direction in the world, and Jones explores this moral beautifully.
What Goes on Without Me **
theSpace on the Mile (venue 39) until 26 August
There's an interesting question at the centre of Alessia Lowcock's serio-comic play; if, after you die, you're allowed ten minutes back on Earth, where would you go? Jude (Katie Booth) is greeted in the afterlife by a rather eccentric deity (Millie Rushworth) who offers her this difficult choice - and plenty of tea and biscuits. This does well to ultimately reach a quietly effective conclusion but the negotiating of bureaucracy, even in the hereafter, doesn't hold a lot of interest. The performances are lively even when the dialogue isn't but it's still a neat idea that would benefit from trimming and polishing the script a little more.
THEATREDead End Job **theSpace on the Mile (Venue 39) until 25 AugustSome bright performances from members of London's Queen Mary Theatre Company help illuminate Tabby Ewing's very patchy supernatural comedy. Alternating between the afterlife and a haunted office, it's a briefly sketched none-too-convincing burgeoning romance between a ghost trainer in purgatory and the psychic who's been employed to exorcise them. Essentially, it's really just an excuse for a series of intentionally ghastly puns which the cast do their best to sell by employing an eclectic mix of acting styles that range from quietly assured to shameless barnstorming that threatens to leave teeth marks in what little scenery there is available.Rory Ford