Fringe Firsts: seven more winners of our prestigious new writing awards
On the 50th anniversary of our awards the quality of new work on the Fringe is impressively high
It's week two of this year's Scotsman Fringe Firsts, and we are giving out SEVEN awards in recognition of outstanding new writing premiered at the Fringe, a reflection of the high quality of work at this year's festival .
This year is a big year for the Fringe Firsts, now proudly sponsored by the University of Edinburgh. It is the 50th anniversary of the prizes, that were established back in 1973 by late Scotsman arts editor Allen Wright to encourage theatre companies to premiere new work at the Edinburgh Fringe; half a century on the Fringe Firsts remain the most prestigious theatre awards at the festival and are recognised all over the world.
The Fringe Firsts are awarded once a week throughout each year's festival; there is no set number each week. Our judging panel is chaired by the Scotsman's chief theatre critic, Joyce McMillan, and consists of Mark Fisher, Susan Mansfield, Sally Stott, Fiona Shepherd, David Pollock and Jackie McGlone, all of whom have decades of experience of writing about the arts. We are very grateful to them for all their hard work in seeing, and debating long into the night, dozens of shows that have been nominated for the award by our wider team of critics.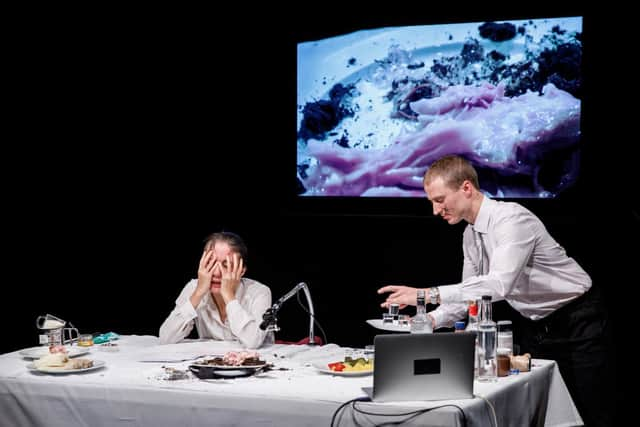 Our first Fringe First winners of 2023 will receive their awards on Friday 18 August at the Pleasance Courtyard, at a ceremony featuring special guest presenter Cora Bissett, a former Fringe First winner who is currently performing her acclaimed autobiographical show, What Girls Are Made Of, every day at 1pm at the Assembly Rooms Music Hall. We would like to thank the University of Edinburgh for continuing to support the awards, and also the Pleasance for hosting our awards ceremonies. We will announce our final group of 2023 Fringe First winners on Friday 25 August.
This week's winners are as follows:
Blue, Assembly George Square until 28 August
What we said: "June Carryl's incredibly tight, tense two-handed play takes an urgent subject which has been explored often in dramatised form in recent years, and offers a fresh spin on it with the pace of a classic interrogation room crime thriller. Sergeant Boyd Sully (John Colella) is being investigated by Detective LaRhonda Parker (Carryl herself), whose father and husband were respectively an old friend and the street partner of Sully. Their friendliness is rich in authentic, conversational familiarity, but there's an undercurrent. Sully is being questioned as to why he shot dead a driver who pulled away from a routine traffic stop; the perp/victim was a black man and a decorated US Army veteran suffering from Post-Traumatic Stress Disorder. Parker, meanwhile, is also black, and as their conversation unfolds it becomes clear she won't let the ties of police loyalty prevent her from securing justice. Carryl's writing and Michael Matthews' direction of it crackles in the air like a thunderstorm about to begin, with all the naturalistic potency of Twelve Angry Men condensed into the form of one woman who's had enough."
Choo Choo, Pleasance Dome, until 28 August
What we said: "Choo Choo is the kind of show where badges are handed out that say whether or not you are comfortable with audience participation, but this also offers the chance to to get 'picked' which involves embracing risk. The balance between danger and safety is something that this deceptively playful show takes a lot of pleasure in exploring, from inside the primary coloured dungarees-and-no-socks world of a kid's TV show. Here high-energy "best friends" Nye (Russell Thompson) and Duncan (Hallis) are joined by their pal Laura, doing BSL in the corner, and a radio that is more a member of the family than a household object. With the holidays on the way, every day starts with the same upbeat song to a point where it all starts to become a bit sinister. "Everything's alright," they say, but you may not be so sure. It's a piece that creatively and cleverly reveals its purpose: an exploration of the kind of intrusive thoughts that we might all have at some point, but which affect some more than others. With the laughter momentarily slipping away, Nye and Duncan embrace fear, risk and a more real kind of friendship, before a thrillingly funny final scene concludes this original and audacious exploration of mental health and theatrical form."
Club Life, Summerhall, until 27 August
What we said: "Although Fred Deakin has been retired as a club promoter for two decades, the years fall away as he gives us his personal tour of clubland as he experienced it. He doesn't take us to the Hacienda, Studio 54 or Wigan Casino. Instead, we arrive at his own style-magazine influenced The Blue at the old Gilded Balloon in the 1980s; the eclectic Thunderball; the so-called "worst club in the world" Misery; house-heavy Devil Mountain; easy listening paradise Going Places; and Impotent Fury, where the music played depends entirely on chance… It's part autobiographical monologue, part dance show, part performance art, and at its core even a very odd jukebox musical. It's also a damn good night out, best enjoyed with friends and (if you indulge) a drink at the in-room bar. Yet it goes even deeper than that. Deakin describes his encounter with leukaemia a quarter of a century ago and his realisation of mortality in the present, and time folds around the youthful dancers and this well-travelled nostalgic, revealing the golden thread of generational bonding and solidarity inspired by the dancefloor. Few Fringe shows this year will be more inspiring or perfectly executed." (David Pollock)
Everything Under the Sun, Army@theFringe until 27 August
What we said: "Often, the West's own knowledge of military actions its troops are involved in around the world escapes public attention. One such theatre is the West African country of Mali, where a UN operation was established in 2013 following the previous year's Tuareg rebellion. In this play by Scottish writer/director Jack MacGregor, Ibrahim (the excellent Thierry Mabonga) is a Malian translator who's paired with Scottish UN officer Kelly (Rebecca Wilkie) to investigate the loss of communication from a remote base on the edge of the vast Sahara. On the way, he educates her about his country, about his pride in Bamako, the modern capital city of "vapes and 4G and Facebook", and how the presence of the UN has been good for business. As the text points out more than once, the Malian conflict is not the one in Afghanistan, and we need to think differently about it – and about Africa – if we're to be able to predict the future direction of global politics. (David Pollock)
Gunter, Summerhall until 27 August
What we said: "It's 1605, and in an Oxfordshire village, a leading citizen - a wealthy man named Gunter - has casually killed two young brothers whose noisy football game was annoying him, by brutally smashing their heads together. He escapes conviction for murder; and when the boys' raging mother continues to protest, he deflects the villagers' anger by accusing her of being a witch, and of trying to possess the spirit of his 20-year-old daughter, Anne. This is the true story that forms the basis for Dirty Hare's Gunter, a thrilling piece of small-scale total theatre about the culture of patriarchal bullying, social inequality, and outright lies that underpinned the witch-hunts of the 17th and 18th centuries across Britain. Co-created by historian and musician Lydia Higman, director Rachel Lemon and actor-writer Julia Grogan - with actors Hannah Jarrett-Scott and Norah Lopez-Holden, brilliant as Gunter and Anne - Gunter blazes with energy… And although Gunter is in some ways very much a story of its time - set early in the reign of King James VI and I, notorious for his persecution of witches in Scotland - Rachel Lemon's brilliant cast, dressed in the kit of a modern women's football team, deliver the tale in fine Brechtian style, never allowing us to believe for a moment that the attitudes that shaped the story of Gunter and his victims are not still present in our world, 400 years on." (Joyce McMillan)
The Last of the Soviets, Zoo Playground, until 27 August
What we said: "Inspired by the works of Belarusian dissident writer and Nobel Prize laureate Svetlana Alexievich, the words performed with grim determination by Czech Republic-based Russian exiles Inga Mikshina-Zotova and Roman Mikshin-Zotov span the glory years of the Soviet Union as a pre-eminent global superpower, from the blood-lashed soil of the conflict with Nazi Germany, to the dark and poorly-reported days of the Chernobyl disaster in what's now Ukraine. Amid it all, a sense of the Russian psyche of the era – which apparently permeates to this day – wears through; a respect and approval for masculinity; the greyness of state propaganda versus a distrust for all leaders and official narratives which it engenders; the pitch-black sense of humour behind a litany of jokes about the Ukraine disaster. The Spitfire Company's previously acclaimed Fringe hits include Miss America and Antiwords. If it all sounds grim and harrowing, the stark and relentlessly uncompromising sense of humour permeates everything happening on stage, creating a striking, moody piece of work which is as captivating as a disaster happening in real time." (David Pollock)
Square Peg, Paradise in Augustines until 19 August
What we said: "The gowns which hang on tailor's dummies surrounding Simeon Morris on stage are as much a part of his persona as the man we come to learn of in this autobiographical story rich in his own life and experience… Originally a leatherworker, who makes and sells designer accessories in his home city of Norwich, Morris is a recent acting graduate, and he brings the two strands of his professional life together here. He works at the sewing machine onstage, and demonstrates the simplicity of the bias cut skirt and dress by Janice Wainwright, who he knew and worked with. The tenderness and delicacy of these passages is captivating. Then he takes us through his difficult relationship with his father, relationship breakups, and one dismal tale of sex with a woman who just wanted to find drugs. The words of Shakespeare and Thomas Hardy break his reverie, and eventually just the simple song of a blackbird, which he and the audience listen to in meditative silence. It's a frank and perfectly rich and involving piece, but one which surely presents a more nuanced look at the contradictions of masculinity than almost any other on this year's Fringe." (David Pollock)