​Fringe comedy reviews: Michelle Brasier: Reform | Viggo Venn: British Comedian | William Thompson: The Hand You're Dealt | Andrew O'Neill: Geburah
​A cautionary tale about scamming, a Norwegian clown trying to become British, and a ritual evoking the Gods of War are among the latest comedy reviews
Michelle Brasier: Reform ****
Gilded Balloon Teviot (Venue 14) until 27 August
Michelle Brasier's a class act, even when she's being staggeringly naive and gullible. Related through her signature style of confessional storytelling and song, the Australian's cautionary tale is a highly engaging one of two people symbiotically linked by a crime. Juicily disclaimed with the legal notice that the following account is "fictional", a reflection on the high stakes rather than its veracity, she maintains that it's all true save for one small detail, which you can have fun trying to guess.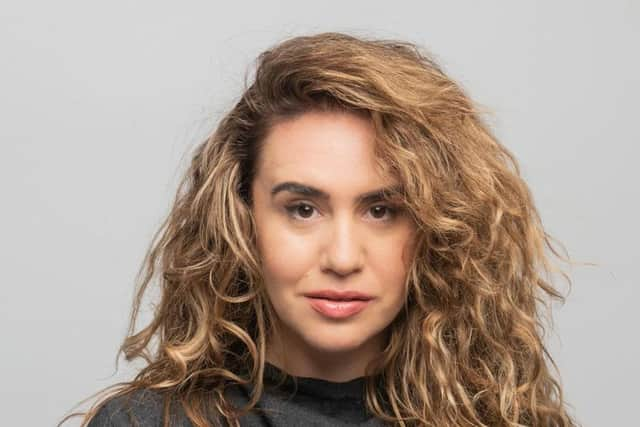 During Melbourne's harsh lockdown of March 2020, the comic sought to quell cabin fever by purchasing a second-hand bit of exercise equipment online. When it failed to arrive, she started trying to chase it up with the seller. Apologetic about inconveniencing him, she overlooked successive warning signs to enter into a lengthy back-and-forth correspondence with the young man, whom she belatedly realised was a scam artist. Despite repeatedly threatening to go to the police, Brasier gave her scammer endless opportunities to do the right thing and grew to be such a confidant that he came to rely on her in emotional matters and more. Enduring his realisation that he had conned a television celebrity and incremental shifts in the nature of their relationship, Braiser finds herself questioning her own motives and wielding of power – at what point did she start to conceive the scam as source material for comedy, at what point was she monetising it on podcast and television interviews?
I'm not sure Reform needs the anthropological bonobo (nurturing, forgiving, matriarchal) and chimp (selfish, survivalist, patriarchal) dialectic that Brasier frames it with. But the show makes compelling points about male-female relationships, which the comic further plays upon by having her guitarist and boyfriend Tim Lancaster voicing her conman, Jacob. Ultimately exposing a web of lies and patterns of toxic, exploitative behaviour, it's a mad, thought-provoking hour. Jay Richardson
Viggo Venn: British Comedian ****
Monkey Barrel Comedy (Venue 515) until 27 August
I think this is the first time I've ever seen people dressed in the same outfit as the comic they are going to see. The act is Viggo Venn, we're waiting to get into the Monkey Barrel at midnight, and there are several people dressed in high visibility waistcoats.
Viggo booked this spot, in a tiny room, before he won Britain's Got Talent and gained a whole new audience. He was originally planning a show about a Norwegian clown who is trying to become a British stand-up comedian. There are elements of that show remaining, but also a good dollop of the Viggo Venn the audience fell in love with on prime-time television. He doesn't open with it, but the 'One More Time' dance features prominently. Viggo also does a version of the 'My Name Is…' loop sequencing act – which shows his astonishingly quick skills at creating whole characters and stories from the way a person introduces themselves.
Viggo is great fun when interacting with the audience, whether getting them involved in a pretend wedding or dragging them into gunfights. There's also a very bizarre and funny section in this particular show where he tries to get a dog (yes there's a dog in the audience) to fall in love with him and leave its owner.
It may be because he's had to adapt his show to a new audience, but there are a couple of weak links and it could do with a couple more ideas. But it's still a total joy to spend an hour in the company of Viggo Venn. When the show works well it flies. And the audience relishes the opportunity to come and join him in person to celebrate his newly found fame. Claire Smith
William Thompson: The Hand You're Dealt ***
Pleasance Courtyard (Venue 33) until 28 August
As an adopted, working-class Northern Irishman with a dead mother, drug-dealer father and cerebral palsy that's not immediately obvious, William Thompson has plenty to play with in his Fringe debut. And in many respects, he's the classic insider-outsider, offering perspectives on mainstream subjects like sex, class and nationalism from an adjacent angle, absorbing ableism and other prejudices and ju-jitsu-like throwing it back at the world with interest. A slightly bizarre aspect of his disability is that through his physical bearing and speech therapy, he appears camper and posher than he is. But rather than bemoan this state of affairs, he uses it to wind up his homophobic father, indicative of his mischievous tendencies. With a matey, conversational style, Thompson has the solid assurance and gag rate of a more seasoned club act. Yet afforded the deeper scope of a show that clocks in at just under 50 minutes, he goes to some relatively dark places, acknowledging his departed mother's role in his drive to succeed at comedy, and sharing the circumstances by which a friend became suicidal. The latter example is, somewhat egotistically, used as a way to illustrate Thompson's own devil-may-care attitude. But it's emblematic of an unsentimental, sharp-elbowed and robust stand-up with a lot of promise. Jay Richardson
Andrew O'Neill: Geburah ****
Monkey Barrel Comedy (Venue 515) until 27 August
An Andrew O'Neill show is crafted like few others. This one is, they tell us, a ritual to invoke the Gods of War. And it does have, to be fair, a certain ritualistic form. There is drum banging, call and response, and repeated incantations involving the man with 20 bollocks and the problems he encounters. Response here, in Andrew's temple, is, of course, laughter. A lot of laughter. An Andrew O'Neill hour is like white-water rafting through laughs, so hang on tight, people, because once Andrew gets going, there is no break. There are hard facts, of course, and in their own extraordinary way, O'Neill is one of the most powerfully, radically political comics in Edinburgh. Here we get an irresistible tirade against property laws in this country, and a quite brilliant solution to their iniquity. They offer up the untold horrors of WW2, wax more philosophical on the subject of certainty being an illusion and reveal the absolutely appalling sums sucked up by PR companies to make sure your "certainty" is as required. Then we all spend quite a lot of time and giggling deciding "Is It Cake". They hurl, quite honestly, enough thought-bombs and ideas at us for about half a dozen shows, and it is an exhilirating experience. The dark, as always with O'Neill, is punctuated with the ridiculously silly involving such luminaries as Trevor McDonald, the BeeGees and Richard Madeley's penis. O'Neill – who is non-binary – addresses gender dysphoria in the most direct, personal and brilliant four minutes you will hear on the subject. So in thrall are we all by the end of his show that we happily sit and chant "We're going to kill the King" as he sings us out. O'Neill is a unique voice. And there is not much of that around. Kate Copstick