Fringe comedy reviews: Amos Gill: The Pursuit of Happy(ish) | Creepy Boys | Greta Titelman's Exquisite Lies | Daniel Muggleton: How the Whitey Have Fallen | Rhiannon Shaw: Wedding Night
​Jay Richardson enjoys a provocative, progressive-piquing comedian who likes pressing buttons, plus hormone-fuelled 13-year-old orphans and chucklesome characters from a wedding
Amos Gill: The Pursuit of Happy(ish) ****
Gilded Balloon Teviot (Venue 14) until 24 August
Aware that he's in the twilight of straight, white male comics lording it over stand-up with their self-consciously edgy material, Amos Gill know that at the Fringe, he's a throwback. Regardless, he's going down swinging. The US-based Australian is reminiscent of his compatriot Jim Jefferies and likes to take contentious viewpoints, brush up against liberal orthodoxies, and try to argue you round with his showy routines. He knows what piques progressives because he claims to still be one, a former human rights lawyer with a Republican streak. He's just jaded and long ago compromised his principles in the disaffected pursuit of sexual and narcotic-based hedonism.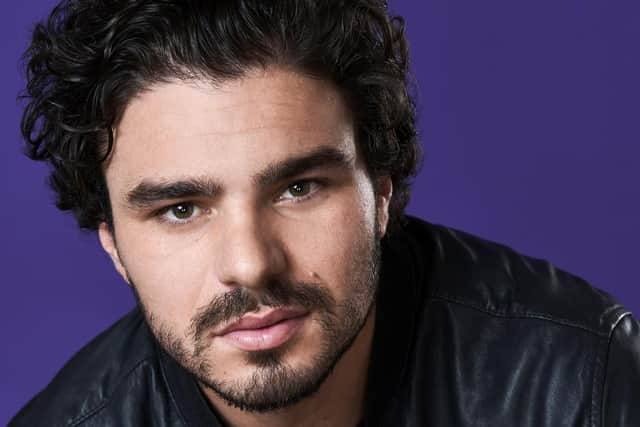 Gill has seen how the other half live and been impressed by latest stepfather's mega-rich, yacht-based lifestyle, not wishing the old man harm as such, just encouraging him to stay active and try new, heart-pumping things. He's not especially original mocking the supposed tourism argument for the monarchy. But taking inspiration from bored tech billionaires, his suggestion for a new, violently streamlined Royal Family is. A routine about handing the old and infirm a final, do-or-die shot at sporting glory has echoes of a famous Bill Hicks bit. But Gill puts stock in old-fashioned stoicism and endurance. He's as prone to anxiety and depression as anyone, but he argues, persuasively, that recognising the symptoms doesn't necessarily mean that men are equipped to help themselves. Contentiously, perhaps, he reckons that opening up about mental health has gone too far. And that the modern generation could learn from his Croatian grandparents, an example of enduring love and selfless devotion that he once recoiled from.
Whether stoking sentimentality or being flashily provocative, you're rarely sure to what extent Gill believes any of what he's advocating, or whether he's simply more honest in expressing his views than his peers. What's not in doubt is that he has an incisive, creative mind and enjoys pressing buttons.
Summerhall (Venue 26) until 27 August
Pledging their soul to Satan, the Creepy Boys are hormone-fuelled orphans celebrating their 13th birthday back in 2004, with the audience invited to join in the mayhem. Created by Canadian clowns Sam Kruger and SE Grummett, this rambunctious hour has an anarchic, free-spirited energy that's infectious, even if at times it can be overwhelming, with the pair perfectly capturing the fizzing, untrammelled delight and stroppiness of big kids demanding the spotlight to show off.
In their sometime surgery demonstration room, the Creepy Boys caper through a series of songs and games, exhorting the crowd to follow their lead, impressively ad-libbing to keep the party ticking along. Supremely attuned, physically limber and full of characterful expressiveness, they're more lovably wayward than anything else. Unlike some interaction-reliant shows, you never feel intimidated or humiliated, with the sense of a communal experience strong from the start.
As befits their age, there's an awakening, sexualised aspect to the boys that largely manifests itself in engaging, bad-taste humour, their eagerness to entertain overriding any objections on crudity grounds. A time jump to the present, reminiscing from the perspective of their now separate lives, adds little. But it does afford a breather from the chaos, which is what your abiding memory of this intense and amusing hour will be.
Greta Titelman's Exquisite Lies ***
Pleasance Courtyard (Venue 33) until 27 August
Although her show title casts some doubt on the narrative, Greta Titelman's Fringe debut is a fine showcase of her performance skills, an intense sharing of the American's seemingly credible autobiography since she was nine years old. With lung-busting singing and committed, expressive act-outs, the comedy is more uncertain and sporadic, the show's episodic structure lurching from one degradation to another, albeit in a relatively easy-to-follow, chronological way. From childhood bullying, through her precocious introduction to sex, drugs and mental breakdown, it's startling about halfway through to hear Titelman remark that she was only 21 when she suffered one relatable trauma, having already packed in a lifetime of destructive experiences. Typically, though, she had a mythologising sense of herself even then, luxuriating in the fact that the blow makes her seem more interesting. Sweeping around the stage, alternately flirting with the audience and bellowing into their faces with some big choruses, she has a flair for the dramatic and delivers the almost obligatory three-quarter-moment lowest point with a flourish, even here serving up a side order of personal debasement to give the tale additional edge and bleakness. Although Exquisite Lies' events are clearly now in the past for her, they're still vivid, even if it's not obviously apparent how she's levelled up to a more stable footing.
Daniel Muggleton: How the Whitey Have Fallen ***
Laughing Horse @ Cabaret Voltaire (Venue 338) until 27 August
Dryly sardonic Australian comic Daniel Muggleton is invariably a safe booking at the Fringe, with his roguish observations and candid anecdotes the basis of some supremely strong, waggish stand-up, even if he can't quite sustain the quality over a full hour. With a take-me-as-I-am insouciance, he opens by casually relating the passive activity he recently took cocaine for and gets good mileage out of noting the awkwardness of staying in budget accommodation as you creep towards middle-age, leading into some unapologetic musings on masturbation that are almost whimsical. Having previously lived in the UK, he finds the much-touted British pride in queuing risible, not least as it belies our historically impatient rapaciousness. But he's satirically sly on the limits of Australian reparations to its indigenous population too. Fond of a provocative wind-up, his tongue-in-cheek suggestions for improving the gig economy and tackling the homeless problem are wittily ingenious, his cynicism bracing. He overreaches with a routine about pole dancing being cultural appropriation, though, the bit feeling forced and a crunching gear change after his relation of some exceptional racism on the US public transport system. Aware of his privileges, Muggleton nevertheless has the daring to play with them and explore sensitive subjects with artful intelligence and confidence.
Rhiannon Shaw: Wedding Night ***
Bedlam Theatre (Venue 49) until 27 August
Rhiannon Shaw's slight but winsome Fringe debut has few laugh-out-loud moments. But it showcases a game performer who elicits light chuckles throughout. Introducing a range of characters at a wedding, they're broad archetypes with a degree of familiarity, mildly touched eccentrics who briefly command your attention during the very set order of ceremony. This one-woman hour doesn't start too promisingly with a health and safety officer in a high-vis vest, a rather stock, over-officious sort who feels tangential and unnecessary padding from the first. But he's succeeded by Caroline, a French flower girl whose tortuous journey to involvement in the nuptials is matched only by the distorted Franglais she gabbles with, as she sweetly but disturbingly seeks her next host family to mooch upon. Others appearing include Kyle, an Australian officiant, in a neck brace and bright shirt, inappropriately matey. And, even more of a stretch, Judith, a 1960s counterculture survivor with a Joni Mitchell, Joan Baez vibe, brought in for a bit of upbeat optimism and celebrity glamour. In between, the cheerful Shaw sometimes emerges as herself, suggesting the show has been inspired by her own betrothal. And there's a smattering of audience involvement, none too memorable but necessary to cover costume changes.