Embark on a Journey of Flavour this summer at Johnnie Walker Princes Street
Book your five-star whisky experience in Edinburgh this August, an essential part of any itinerary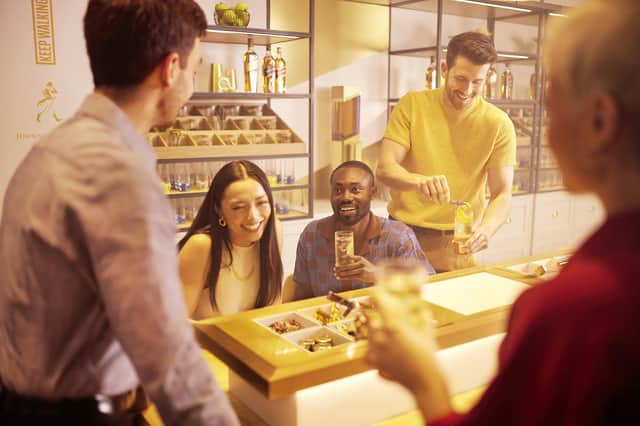 Johnnie Walker Princes Street - the eight-floor visitor experience for the world's best-selling Scotch whisky that has welcomed over 550,000 visitors from 102 countries - is ready for this year's Edinburgh Festival Fringe.
Set over 71,500sq ft, the building – formerly a traditional department store for almost 100 years – is crowned by two world-class rooftop bars and a terrace with breath-taking views of the Edinburgh skyline, as well as the Explorers' Bothy whisky bar: home of innovative new dining concept STIR, a collaboration with the team at two Michelin-Starred Raby Hunt; and the 1820 Roof Top Bar where creative cocktails are paired with a carefully curated and locally sourced food menu.
The venue has won a selection of awards including the 5-star VisitScotland accreditation and the Icons of Whisky award for World Visitor Attraction of the Year 2023. It also opened with a Green Tourism Gold Award – the highest sustainability accolade for a visitor attraction – and later in the year, the LEED certification, the globally recognised symbol of sustainability achievement and leadership.
Over 1,000 five-star Tripadvisor reviews speak to guests being "blown away", remarking on incredible storytelling, attentive staff, and a "must do" experience, even for those who don't think they like whisky.
Johnnie Walker Princes Street is challenging traditional perceptions of how whisky should be enjoyed. As of May 2023, 50% of visitors were women and 56% Johnnie Walker Princes Street tour visitors were not regular Scotch whisky drinkers.
In fact, it's not unusual for guests to visit as a plus one for their whisky loving friends or family, then leave with a bottle and a cocktail recipe to try at home following their experience.
Johnnie Walker Journey of Flavour Tour
Johnnie Walker Princes Street takes the concept of personalisation to a scale never before seen in a global drinks visitor experience, and the Journey of Flavour tour is the star of the show.
Guests on the tour have their personal flavour preferences mapped using artificial intelligence with drinks tailored to their personal flavour preferences. With more than 800 flavour combinations available in the innovative dispensation systems, one person could visit Johnnie Walker Princes Street every day for more than two years and not have the same experience twice.
Over 150 diverse and talented employees, speaking 23 languages between them, bring to life the 200-year story on the tour, transporting guests into a world of whisky discovery, smashing down preconceived notions of how our national drink should be enjoyed.
The story – told using performance, animation, music, and special effects – takes visitors through Scotland's history and how Johnnie Walker became the world's best-selling Scotch whisky. Guests are guided through interactive rooms, learning about the flavours and scents of a dram before ending up in a high-tech bar where a personalised cocktail arrives at the touch of a button.
Upstairs, the 1820 Roof Top Bar with its wraparound terrace, private dining space and spectacular views of Edinburgh Castle is one of the most impressive lounges in the city, bringing guests together in the west end of Edinburgh. Tables here and in the Explorers' Bothy Bar are booked separately from the tour. These rooms and the dedicated Label Studio event space are used as venues for events that provide a showcase for Scottish fashion, music and artistic talent.
Rob Maxwell, Head of Johnnie Walker Princes Street, said: "When we opened Johnnie Walker Princes Street in September 2021, we set out to challenge some long standing myths relating to Scotch whisky, and the "rules" around how it should be enjoyed. I think it's safe to say that those myths have been thoroughly debunked. You need only look at our Tripadvisor reviews to see that not only are we providing an incredible experience for whisky fans, we're also a must visit attraction for those who don't currently consider themselves Scotch drinkers.
"That's the biggest compliment anyone could pay us, and we're incredibly proud to be in this position less than two years after opening. The team works tirelessly to provide the best experience possible to all of our guests, whether they've travelled five minutes or 500 miles to enjoy one of our experiences, cocktails, our new dining concept STIR, or to browse our retail store. If you're curious about the world of Scotch whisky, there's no better time to pay us a visit."
Johnnie Walker Princes Street has become an essential part of the Edinburgh visitor experience.