EIF theatre and music reviews: Dimanche | Ayanna Witter-Johnson & LSO Percussion Ensemble | Mariza | Julia Bullock & Bretton Brown
Belgian companies Focus and Chaliwate's wordless meditation on climate change finds its moment at EIF, while three different concerts from three different global music traditions each equally impress
Church Hill Theatre, until 19 August
It's five years since the Belgian companies Focus and Chaliwate first presented a 30-minute version of their wordless meditation on climate change at the Edinburgh Fringe. At this year's Edinburgh Festival, though, the fully-developed 80 minute show - still almost entirely wordless - feels as though it has found its moment, as wildfires rage around the globe, and the planet lives through the hottest northern hemisphere summer ever recorded.
In Dimanche, the show's performers and co-creators Julie Tenret, Sicaire Durieux and Sandrine Heyraud intertwine two climate change stories. One involves the laughable but poignant adventures of a news crew that tries to report back from the extremes of climate crisis, but loses one member after another, from the melting sea ice of the Arctic to hurricanes across Africa.
The other, brilliantly and poignantly executed, tells the tale of an ordinary family trying to continue with normal life - to have a normal Sunday together, if you like - while sweltering in heat so extreme that it even melts the vinyl of grandma's beloved old opera records; and then blasted to oblivion by hurricanes and floods.
What the show offers, in other words, is a perfectly-judged tragic-comic snapshot of this strange moment in human history, where we still remember climate normality so well, and try to continue to live according to its rules; while facing a future in which - as the new chair of the IPCC has just warned - we should stop using the phrase "new normal", because there will be nothing but escalating change. Dimanche is apparently simple and small-scale in its staging style, and yet stunning in its wit, ingenuity and physical skill, as it creates whole worlds and landscapes out of human bodies; and offers both a warning about the future we face, and a portrait of humanity so affectionate and truthful that it makes us wish we could find the wisdom to save ourselves, after all. Joyce McMillan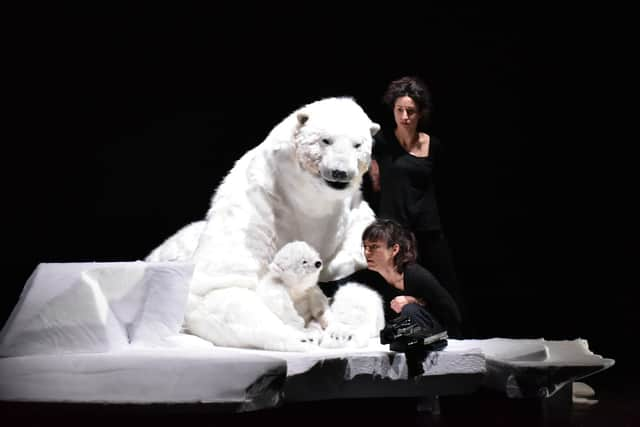 Ayanna Witter-Johnson & LSO Percussion Ensemble ****
Never mind beanbags at the Usher Hall – The Hub has to be the comfiest of Festival venues, all soft furnishings in an opulent hall, like attending an intimate, informal salon concert in a stately home. Singer, cellist and composer Ayanna Witter-Johnson was recently seen and heard to immaculate effect on tour with Peter Gabriel. Here, she was front and off-centre, backed by jazz pianist Gwilym Simcock and the London Symphony Orchestra Percussion Ensemble. "I love rhythm," she says, by way of justification.
She opened proceedings with Unconditionally, a song of thanksgiving for her mum, which played out soulfully with Afro-Latin inflections and lithe vibraphone playing from Neil Percy. Falling, her ode to unrequited love, radiated mellow soul rapture to produce a quiet storm so easy on the ear that it elicited a little sigh of pleasure in the audience.
Songs alternated with longer form composition. The Simcock-arranged Chariots now has a bonus intro called All Roads for a quartet of keyboard percussion, which layered on different rhythms and timbres to emulate a bustling intersection. Witter-Johnson's deep, melodious cello added a rhythm'n'blues tone to the piece.
Simcock took the spotlight for Holding, a cyclical 11-bar lullaby for his baby son with glistening improvisation from Percy, before the tone and texture shifted again to admit darker undercurrents, first with the hectic polyphony of Tidal Warning, inspired by a drowning while Witter-Johnson was visiting Jamaica, and then with the Ocean Floor Suite which added tabla, djembe, cowbell and triangle to a lament for slaves thrown overboard at sea so traders could claim insurance.
Witter-Johnson then distilled her West African heritage to happier ends with the loose, scurrying easy listening of Forever, before honouring a request for her beseeching solo cover of The Police's Roxanne, using the body of her cello as percussion. Fiona Shepherd
It felt as though two gigs were happening here. One was aimed at those to whom Portuguese fado singer Mariza's career might be a relative mystery. The other – as the singer made plain, addressing this segment of the crowd in Portuguese and wishing them "muito, muito, muito obrigado" – was to fans from her home country, where she's a huge star.
The most important voice in the torch-singing fado style of the last quarter century, she was preceded by Amália Rodrigues, who died just as Mariza was starting out. Recent album Mariza canta Amália pays cover version tribute to Amália, and songs from it here included the sparse, smoky Lágrima. Surrounded by five musicians, one playing a signature, wide-bodied Portuguese guitar, Mariza's stylish singing voice married a precise, almost operatic power with the texture of a folk singer.
At one point she sang a song from the start of her career off-mic, a truly special thing to experience. Sharing what she called "an intimate moment" with the audience before Há palavras que nos beijam, she explained how she had reevaluated her life and career during COVID, how it made her wonder what she wanted to leave behind. "Love" is the simple answer, although she'd also quite like to be as famous a Portuguese star as Cristiano Ronaldo; international shows like this will help her with that dream. David Pollock
Julia Bullock & Bretton Brown ****
American soprano Julia Bullock, accompanied by Japanese American pianist Bretton Brown, served a generous, diverse and fluent lunchtime programme of song from cast-iron German lieder via Italian romance (and cynicism) to avant-garde incantations, elusive folk and righteous blues, with many subtle connections and callbacks across the traditions.
Opening conventionally with Schubert's Suleika, her vocal was true and dramatic, settling with a calm assurance over Bretton's eddying piano, then ranging from perky exultation to gentle quaver on Hugo Wolf's In Dem Schatten Meiner Locken, the translation of "curly hair" foreshadowing her intense delivery of Nina Simone's devastating Four Women in the second half.
Most intriguing was her reclamation of neglected New York singer/songwriter Connie Converse. One could imagine folk divas Joan Baez or Judy Collins bestowing classic status on the yearning, poetic lyrics of There is a Vine, while the skulking solitude of One By One dovetailed seamlessly into Kurt Weill's Lost in the Stars.
Bullock showcased her eclectic technique on Weill's impish fairytale The Princess of Pure Delight, the laryngeal workout of Berio's Ballo and the wordless vocalisation of John Cage's She Is Asleep which acquired a bluesy tone she mined to its rich conclusion on her ballsy selections by Cora "Lovie" Austin, Billie Holiday and Simone. Fiona Shepherd