EIF reviews: The Threepenny Opera | Aga Khan Master Musicians
Joyce McMillan and Ken Walton offer a theatre critic and an opera critic's perspective on a new production of Brecht's classic satire
The Threepenny Opera ****
Festival Theatre, until 20 August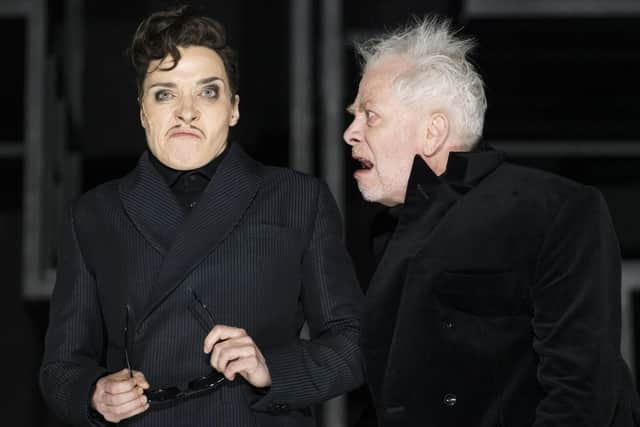 Barrie Kosky's mighty production of The Threepenny Opera for Brecht's own company, the Berliner Ensemble, is a show with immense presence, in countless ways. The shimmering cabaret curtain that greets us as the show opens, the face of the moon over Soho singing versions of Mac The Knife with menace and lyricism, the fabulous, rough-edged seven-piece band in the pit, and of course an astounding cast of singers and actors - all of it is unforgettable, and the quality of the singing often breathtaking
And yet it's also, and fascinatingly, a show shaped by a profound absence. The first thing any student learns about Bertolt Brecht and his many collaborators - including the composer Kurt Weill, and his co-writer Elisabeth Hauptmann - is that his work was shaped by his "alienation effect", essentially an attempt to avoid the tendency of much bourgeois theatre to invite emotional identification with characters at the expense of thought and meaning.
Here, though, Kosky takes that alienation process several 21st century steps further, alienating the characters not so much from the audience as from each other, and - on Rebecca Ringst's cool abstract set - having them sing and express their motivations as isolated individuals, seeking love and power without the rowdy, ever-present communal life that Brecht, Weill and Hauptmann took for granted, as they created shows for working-class boxing halls and other rough-and-ready venues.
So here, we feel no throb of collective life, either in late 1920s Berlin, or in the 18th century London of John Gay's original story, and see little real and raucous interaction between characters. It's a loss that robs The Threepenny Opera of a dimension of joy, energy and practical politics, while forcing it to face up to the consequences of the terrible cynicism about human nature expressed in the songs and lyrics; and if Brecht and his comrades might have accused Kosky of the sin of bourgeois pessimism, it's a thrillingly reimagined version of the show that - in the words of the Festival programme - invites the deepest questions about where we go from here, in the absence of community.
The Threepenny Opera ****
Festival Theatre, until 20 August
There's a pugnacious moment in Barrie Kosky's Berliner Ensemble production of The Threepenny Opera where the anti-hero Macheath - played with frenzied agility and sleazy absurdity by Gabriel Schneider - reaches into the orchestra pit, snatches a score, rips it up, chucks it in a bucket and, like some Weimar-era Tommy Cooper, sets it alight.
If that's a metaphor for Kosky's liberal adherence to Brecht, it's also a moment of vindication for music director Adam Benzwi, whose edgy, versatile 1920s cabaret band are every bit as complicit. He recasts Weill's score to match the production's bullish purpose, derived underscores etherealised through ghostly reverberation, improvised Buddy Rich-styled drum cadenzas fired out as action-directed provocation. These pit players are in on the plot.
Synergy of vision and execution ultimately wins the day. Whatever you feel about the unceasing detachment and superheated irony of Kosky's in-your-face dramaturgy, the musical delivery feeds off it like adrenalin on overdrive. The singing style is gloriously hedonistic and decadent, a rasping Lotte Lenya-inspired Mack the Knife (Josefin Platt as the Kosky-invented Moon over Soho) dryly setting the tone for successive grisly vocal portrayals that hit the listener with the same uncompromising ferocity.
These, and many more, were first-night performances true to the spirit of the piece, un-operatic in the sense they thrive on primal energy, uncultivated and with gnarling raw intensity at their core. Especially gripping were Cynthia Micas' multi-hued Polly Peachum, the sardonic pathos oozing from Bettina Hoppe's Jenny, Amelie Willberg's tantalising Lucy, and Schneider's all-consuming Macheath, a Don Giovanni in altogether seedier guise.
Benzwi's band essentially give this iconic Weill a west end makeover, which, in its more ephemeral diversions, has the odd tendency to neuter the number structure's ice-cold brutality. But as for the question, is this opera or music theatre? Neither really. It's pure Kosky.
Aga Khan Master Musicians 1 ****
Linked by the cultural cross-currents of the ancient Silk Road trading route, the Aga Khan Master Musicians say very little, apart from beaming at our enthusiastic applause, but their music is a beguiling expression of converging traditions and timbres. They opened with the delicate ringing of Feras Charestan's Syrian zither, the qanun, gradually joined by fellow Syrian Basel Rajoub's round-toned soprano saxophone, Turkish oud master Yurdal Tokcan and Jasser Haj Youssef on viola d'amore, all riding the crisp rhythms of Italian percussionist Andrea Piccioni.
While a little explication would have been welcome, their music spoke eloquently for itself, soprano sax or viola singing against plucked or bowed strings, sometimes in stealthy, melancholy procession, before breaking into fiery, intricately timed dances.
Piccioni's frame drums walloped and whirred, particularly during his enthusiastically received solo. All five players shone, however, with Tokcan performing a piece on oud – the Arabic lute – so reminiscent of flamenco as to confirm the instrument's suggested status as an antecedent of the European guitar.
A wistful viola d'amore interlude from Haj Youssef suggested microtonal Middle Eastern baroque, while an exuberantly tempoed encore gave all five their say – no commentary needed.
Aga Khan Master Musicians 2 ****
We're told that these five Aga Khan Master Musicians are "revitalising cultural heritage". As in their concert earlier in the evening, we weren't given any explanations of which particular music was building on which traditions but, once again, we were treated to a glittering display of musicianship, exploiting contrasts between their instrumentation's bright and dark timbres.
Saxophonist Rajoub opened, this time with a solo on duclar, a haunting, almost human-voiced Middle-Eastern clarinet. Feras Charestan's qanun followed with cascades of silvery notes underpinned by murmurs from oud and viola d'amore before Piccioni's rattling percussion steered them into a jaunty melody. Piccioni's own solo, once again, had his whirring, rattling tamburello doing everything but speak, before Yurdal Tokcan performed what sounded like an eloquent, full-toned lament on oud, the ensemble then joining him in what became quite a hurricane of a tune.
There was an intriguing sequence from Tunisian viola d'amore player Haj Youssef, plucking a hypnotic riff and spare melody that seemed to owe more to Delta blues than to the Middle East, before the proceedings closed once again with a compellingly spinning excursion, soprano sax calling against the urgent thrumming of the ensemble.