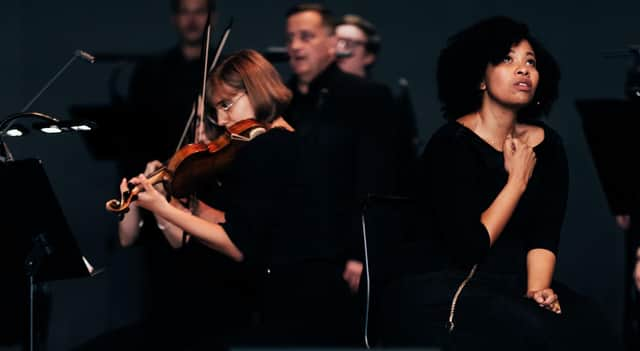 The Scottish premiere - the start of a three-night Festival run - took place on Friday, performed by co-commissioners and early music specialists the Dunedin Consort, which gives a clue to the quirkiness of this time twister. Addressing a story of the "now" and "then", Wallen wraps Purcell's original music within a blanket of modernism - her own particular brand of modernism, which in this case calls for the addition of exotic percussion and electric bass within Dunedin's purist period instrument band.
It's an intoxicating cocktail, smoothly embraced (with the odd first-night tremor) by the rear stage band and Dunedin singers under the effervescent John Butt, by an emotive cast with the magnetic Matthew Brook as Aeneas, and by stage director Frederic Wake-Walker, whose visual solutions to the flashback challenges are simple but ingenious.
The onus is on the cast. Golda Schultz is hauntingly mesmerising as Anna (and her sister Dido's ghost). Nardus Williams cuts a fetchingly saucy Belinda. Allison Cook's jealous Lavinia snarls, emboldened by Henry Waddington's imperious Sorcerer. Brook's purloining of Dido's famous Lament is the ultimate act of musical and spiritual reconciliation.