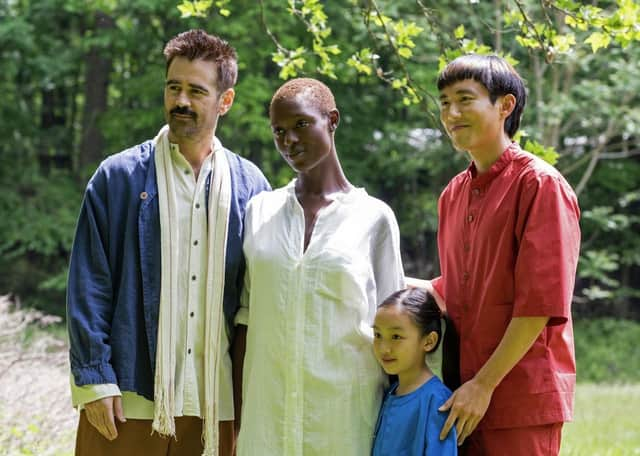 Colin Farrell, Jodie Turner-Smith, Malea Emma Tjandrawidjaja and Justin H Min in After Yang
Written and directed by enigmatic Korean-American director Kogonada, After Yang is the sort of slow-burning sci-fi drama that's so quiet and modest in its conception of the future you almost don't notice how rich in ideas it really is. Drawing this year's Festival to a close on Saturday, it stars Colin Farrell as Jake, a father and husband who seems to be experiencing some kind of depression. He runs a shop selling rare teas and, though his business isn't doing well, he uses it as an excuse to hide out from his wife Kyra (Jodie Turner-Smith) and their adopted daughter Mika (Malea Emma Tjandrawidjaja), lying to them about how busy he is, as if too ashamed to come home a failure or worried that his loss of passion for his job will infect the rest of his life.
This is clearly putting a strain on their family. Kyra's stretched thin with her own job – her income is supporting both of them – and she's worried about how much childcare they're collectively deferring to Yang, the "techno-sapien" android they purchased when Mika was born, ostensibly to provide her with some connection to her Chinese heritage. Yang has been pre-programmed with what Mika refers to as "Chinese fun facts" and he helps her understand how exposure to different cultures make you who you are. But she's also attached to him like a proper brother, so when he malfunctions, Jake becomes obsessed with finding a way to repair him before he starts decomposing.
This is more difficult than it seems. Jake purchased Yang second-hand, so he's no longer under warranty, and Jake can't afford to trade him in for a newer model (nor does he want to, for Mika's sake). Told he's unsalvageable, however, Jake gains access to what amounts to a blackbox recorder of Yang's digital "memories", selective moments in his existence that appear to have shaped who Yang was. Here the film starts serving up a low-key interrogation into the idea of whether or not machines can have feelings or, for want of a better word, a soul. It's an idea that's been more elaborately explored in the likes of Blade Runner, AI and the current TV version of Westworld, but After Yang manages to offer a fresh take by mediating Yang's experiences through Jake's journey. The more he accesses Yang's memories – beautifully imagined as a kind of branching hub of random scenes from his life that have lodged in his digital brain – the more Jake gets a new perspective on Yang, himself and the family he's in the process of losing.
Charlotte Rampling in Juniper PIC: Jen Raoult
What follows as Jake embarks on an odyssey to track down Yang's previous owners is a haunting meditation on memory and loss, but it's also a quietly unsettling portrait of life in a technocratic future. Big Brother is literally watching you in this world, and all through the film Kogonada hints at prejudices and incursions on liberty borne out of the normalisation of technology designed to bring people together but which can also push them apart. Yet the film also understands that co-dependency on technology can't be overturned at this point and some form of progressive co-existence is required. It's a remarkable film in this way, and it boasts a remarkable performance from Farrell at its centre.
The concept of digital memories crops up again in A Cat Called Dom, an intriguing, partially animated docudrama from Scottish animators Will Anderson and Ainslie Henderson, the award-winning team behind the Bafta-winning short The Making of Longbird. Like that film, it's another self-referential behind-the-scenes look at their creative struggle to create a new work. Yet what starts off as a commission to make some short animations for a TV channel is sidetracked by Anderson dealing with the revelation that his mother has contracted cancer – news that knocks him for six, but also causes him to retreat from Henderson and fall into his own world via the titular animated cat that lives on his computer's desktop.
Framed as a film for his mum, what emerges is a non-linear exploration on the strange interaction between real life and creativity and the value of art as a way of processing pain. Anderson's hard drive becomes a repository of his life during this period, and we jump around in its timeline, revisiting key moments captured on film, on audio and in animation via playful editing and a deconstructionist's eye for stripping away layers of artifice to get at the truth of what really matters in life. It's very imaginatively done, full of sly wit and real emotion, and though Anderson worries at one point that it's not the "funny film about cancer" he wanted it to be, what emerges is something better: a moving portrait of a son's love for his mother.
Familial angst is given a more conventional treatment in Juniper, a New Zealand drama enlivened by a spiky performance from Charlotte Rampling as the alcoholic grandmother of a wayward teenager forced to care for her when she breaks her leg and comes to visit. The two have never met, and Sam (George Ferrier) – who recently lost his mother and has just been kicked out of boarding school – is not too thrilled at the idea of having to look after her when his dad (Marton Csokas) announces he's leaving for a business trip. A former war photographer, Rampling's character Ruth is a hard-living woman whose brusque manner and bottle-of-gin-a-day addiction make her difficult to be around, and Sam is pretty truculent in his own right. Inevitably, the mutual softening of their relationship becomes the predictable driving force of the film, though Rampling makes the most of her scenes, harnessing the fury of a woman whose rich life has been curtailed in ways she doesn't want and turning it into series of brutal one-liners and bitter asides.
George Ferrier and Charlotte Rampling in Juniper PIC: Jen Raoult
Like an urban Free Solo, the documentary Off the Rails is filled with scenes of such death-defying, heart-in-mouth thrill-seeking it almost feels wrong to take any pleasure in watching them. The footage comes courtesy of parkour-loving Aiden Knox and Rikke Brewer as they take ever greater risks – scaling building and bridges (including the the Forth Road Bridge) or embarking on the insanely dangerous activity of train surfing – in their pursuit of viral content for their YouTube channels. Away from their self-filmed stunts, director Peter Day pieces together a remarkable portrait of a lost generation trying to find its place in a world where validation comes from virtual likes and monetised content, and trauma and loss are processed in public forums ill equipped to provide the mental and emotional support needed. What's heartening about the film, though, is that it doesn't take a judgemental approach to this. Instead, it provides context for its subjects' lives and shows the extent to which they're really trying to make something of themselves. It also celebrates the inherent beauty of what they do – both in the way they can make their bodies move, and their instinctive understanding of how to visually capture this on film.
After Yang screens on 20 August; A Cat Called Dom screens on 19 August; Juniper screens on 17 and 20 August; Off the Rails screens on 18 and 19 August. For tickets and more information see www.edfilmfest.org.uk