Edinburgh International Film Festival interview: Christian Petzold on his hot new comedy Afire
The Oscar-nominated film-maker known for examining Germany's complex post-war legacy is bringing something a little different to Edinburgh. He discusses bad novels and house parties with Alistair Harkness
Christian Petzold likes to talk. Seconds into our Zoom interview and my throwaway question about where he's based has him embarking on an amusingly frank tirade against landlords ("They're becoming criminals!") while giving me a virtual tour of his new office, which isn't really an office at all. It's a converted room in his Berlin flat that he set up after the landlord of his previous office evicted him on a whim after 25 years.
"Today's the first day I'm in here," he beams. "I'm so happy because this place is better. I feel better. I can write better things here. It's on the fourth floor and the sun is coming in. And the cat is sleeping on the chair." He points somewhere off-screen.
"And I've bought a new turntable one week ago." He swivels on his chair. His new purchase sits off to his left, atop shelves stacked with vinyl. "The first three records on this turntable were Prefab Sprout's Steve McQueen, a piano concert by Schumann and John Coltrane's Naima."
He seems genuinely chuffed about this. Turns out he is: "I sit there and think, this is great! My life is good, it could not be better."
Such joie de vivre is unexpected from a filmmaker whose body of work includes the Oscar-nominated Cold War thriller Barbara, the noir-inflected Holocaust drama Phoenix and the contemporary fascism allegory Transit. Those are films that reckon with Germany's complicated post-war legacy in artful and subtle ways; they're gripping and enervating (in a good way), but not necessarily what you'd call a fun time at the movies.
His buoyant mood is in keeping with his new film Afire, however. Though it also contains elements of heartache and tragedy, and builds to an ending as profound as anything he's done, it's arguably Petzold's first proper comedy — a slyly funny, Eric Rohmer-esque dissection of a young author coming to terms with the fact that his new novel might actually be terrible.
Not that it started out as a comedy.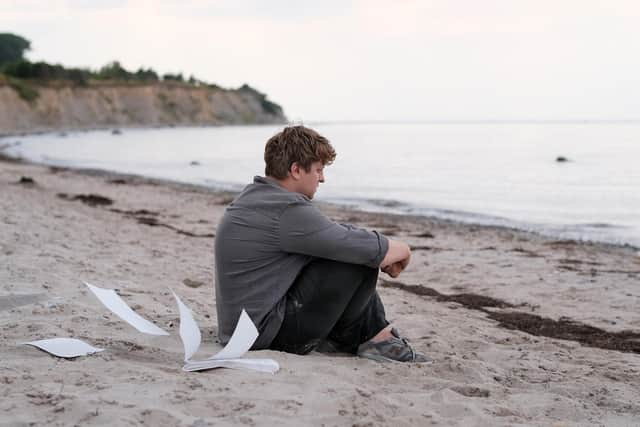 "I thought the whole movie was a melodrama about loneliness," he says, chuckling. "A portrait of the artist as a lonely asshole!"
It was only when he did his first read-through of the script with the cast — which includes Thomas Schubert and Petzold regular Paula Beer — that he realised it was actually funny. "During this cold read, the actors started laughing," he says. "And they were not laughing at the script. They were laughing with the script."
Set on Germany's Baltic coast against a backdrop of raging forest fires, the film takes shape around Schubert's character, Leon, who's retreated with his best friend Felix (Langston Uibel) to the latter's family holiday home for the summer, ostensibly so they can complete their respective creative endeavours. In Leon's case this means editing his second novel; Felix is keen to ready his photography portfolio for art school applications. But when they arrive they discover Felix's mother has double-booked the place, renting it out to Nadja (Paula Beer), whose free-spirited ways vibe with the more laidback Felix, though not with Leon, who refuses to engage in any fun and priggishly reminds everyone he's there to work.
Unlike most movie novelists, Leon isn't suffering from writer's block, but his writing is suffering from his willingness to block out the world around him. The squirm-inducing laughs come from the excruciating way Leon misreads every situation and social cue.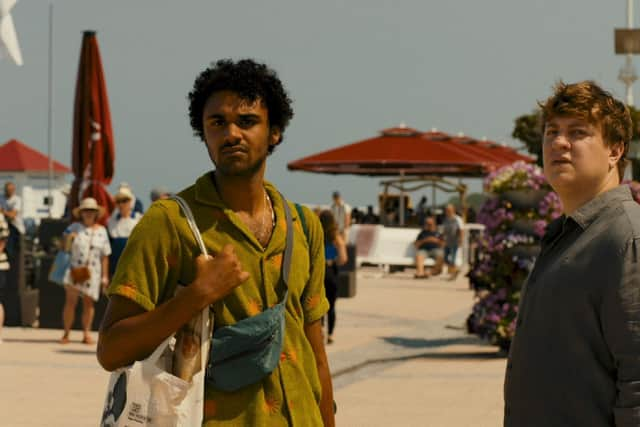 Petzold confesses that one of the reasons he didn't initially realise his script was funny was because Leon perhaps shared a few too many similarities with his younger self. I ask in what way and he launches into a breakdown of the party scene in Berlin, telling me that all the old tenement flats have small kitchens and big living rooms so when there's a party there's a very clear social divide between the kitchen dwellers — mostly serious young guys hanging out talking about philosophy — and the people who just enjoy themselves and dance in the living room.
"In the kitchen there are the Leons," he says, clearly enjoying his metaphor. "And I am also a guy from the kitchen. The girls and the handsome guys are in the living room and they are free.
"But I know what is happening with these artists in the kitchen," he continues. "They have a fear of life. They have a fear of laughter. They have a fear of being part of something. They are always in a bad mood."
In the film, though, it's hard not to feel a little sorry for Leon. Hilariously, he's called his sophomore novel Club Sandwich, bringing to mind that bit in This is Spinal Tap when the band discover their Shark Sandwich album has been dismissed with a two-word critical savaging that simply reads: "Shit Sandwich."
Petzold lets us hear excerpts from Leon's opus in the movie. The results are painful.
Was it difficult to write a bad novel?
"Oh, it was the hardest part," laughs Petzold. "I thought it would take ten minutes, but it was really hard because you have to write something bad, but the author doesn't know that it's bad."
He spent three days wandering around Berlin trying to figure out how to do it. Eventually he thought about what would happen if an untalented musician rewrote a Burt Bacharach song. "It would be 100% really ugly, right? So I decided to take a short story by F Scott Fitzgerald and re-write it for Berlin."
He says the short story was called Ten Years, which might be a German translation; from his description it sounds like Babylon Revisited. Whichever one it was, it took a long time and he was really proud of the results. Until rehearsals, when everyone laughed at it.
"I was really hurt because it was so much work," he says. "I'll take this metaphor of the kitchen society again: I thought this novel would take me out of the kitchen and impress the people on the dance floor. But they were like, 'No, go back into your kitchen.'" He laughs again. "But they made a comedy out of it. And this helps with my self-analysis."
Afire screens at the Edinburgh International Film Festival on 22 and 23 August and goes on general release on 25 August. edfilmfest.org.uk