Edinburgh International Festival reviews: Tannhäuser | Isidore String Quartet | Seven Last Words
A thrilling Wagner opera and an informal but vivid night at the Hub deliver a strong start to the EIF's closing weekend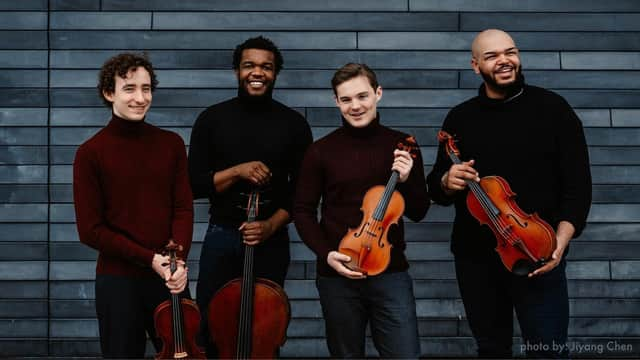 As with most Wagner operas, in Tannhäuser there is a thin line separating earthly beings from the gods. The titular knight/minstrel drifts listlessly between Wartburg and Venusberg never satisfied with his lover in each place. It doesn't end well, particularly for his earthly love Elisabeth. Emma Bell was sensational as the devout self-sacrificing 'angel' who only has eyes for Tannhäuser. She gave a powerful, highly emotional and moving performance in contrast to Clay Hilley's commanding but thinly-toned, one-dimensional Tannhäuser.
Thomas Lehman as Elisabeth's admirer Wolfram, with his richly textured baritone voice, was outstanding while Irene Roberts lit up the stage both vocally and with her fiery seductive presence as Venus.
But it was the thrilling interpretation of Wagner's score by the Chorus and Orchestra of the Deutsche Oper Berlin and musicians from the Royal Scottish National Orchestra (the off-stage band in Act II) under Edinburgh-born conductor Sir Donald Runnicles that was front and centre of this beautifully paced concert performance. He deployed his forces with aplomb, subtly teasing apart the fine layers of the music. The brass spun gold, the woodwind purred, the strings were both ethereal and strident while the chorus had a lot of narrative to deliver and did so brilliantly.
Isidore String Quartet *****
For anyone who'd heard the Isidore Quartet's recital the previous day at the Queen's Hall, the ensemble's violist Devin Moore told us, their evening concert at the Hub was them on informal form: just check out their jeans and trainers. Tell that to their playing, though: it was every bit as vivid, imaginative and bold as that in their more formal recital, in two works that they clearly know inside out, and have plenty to say about too. They navigated a secure course through the shifting moods of Bartók's thorny First Quartet, from sinewy tension to joy and release at its conclusion.
There was a clear transcendental quality, too, something they carried over into a clear-headed but still distance-peering Beethoven Op. 132 Quartet, all strongly defined textures and exquisitely shaped phrases. Their central Heiliger Dankgesang was a thing of ineffable beauty, airborne and otherworldly in its slow-moving Lydian sections, and with a sense of gentle awakening in its glistening faster music.
The repertoire raised questions about these less formal evenings at the Hub, however: surely these two pieces are precisely music that rewards close, attentive listening? Which is precisely what they got – but was that what the Hub events were meant to be about? Nonetheless, the Isidore players provided plenty to cherish.
Christian Tetzlaff & Camerata Bern: Seven Last Words ***
Not so much Seven Last Words of Christ on the Cross, more seven screams of anguish for a world we're killing. The International Festival's final morning concert at the Queen's Hall wasn't a concert at all; it was more a music-and-video response to the climate emergency, dying species, shrinking rainforests, melting glaciers, migrating peoples, which interspersed the movements of Haydn's idiosyncratic meditation on Christ's passion with images, interviews, sound and quotes shedding sometimes harrowing light on our impending cataclysm. It was powerful stuff, delivered with panache and a remarkable richness of sound by Camerata Bern under unobtrusive direction from starry stand-in violinist/director Christian Tetzlaff, covering for an indisposed Patricia Kopatchinskaja.
Stacked up against the staggering technical achievements and breathtaking dramaturgical audacity of certain shows on the Fringe, though, it all felt a bit – well, tame. With projections somewhat obscured by the live Bern players for watchers in the stalls, and crumpled skewwhiff sheets serving as screens, it didn't look terribly convincing. Nor did it point up the connections and contrasts between Haydn's sometimes very polite music and the distressing contemporary ideas of destruction and collapse (nor the Christian religious themes) quite as pointedly as it might have done. No director was mentioned in the programme: perhaps it needed one.