Edinburgh International Festival reviews: Food | First Night at the Hub | BBC SSO: Where Do We Go From Here? | Jupiter Ensemble
In this latest EIF round-up, gastronomy and magic fuel a new play by acclaimed theatre-maker Geoff Sobelle, while two one-off concerts featuring EIF director Nicola Benedetti deliver mixed results. Reviews by Joyce McMillan, Ken Walton and David Kettle
The great American theatre-maker Geoff Sobelle has a way with him, when it comes to approaching the current state of our civilisation. Part solo philosopher-comic, part installation artist, and part magician, he begins with sly humour and sharp observation, and then gradually invites us, through ever-strengthening visual imagery and action, to face up to some of the toughest issues of our age.
In his latest show Food – co-created with magician Steve Cuiffo, and served up in the square space of The Studio at Poterrow, with the front row of the audience seated around a giant table laid for dinner – he therefore begins by sending up the rituals of traditional posh dining, with himself as the head waiter, working against a backdrop of rich flock wallpaper, trays of wine bottles, and a large painting of what might be Belshazzar's feast.
His interactions with the diners are strange, to say the least, and the food he serves up stranger, ranging from a bowl of raw eggs to a flapping mechanical Arctic chard; and it's no surprise when the waiter's post-shift snack morphs into something truly grotesque, an orgy of greed involving some colossal trompe l'oeil gluttony.
It's when the tablecloth is finally ripped away, though, to reveal an earthy landscape increasingly reshaped by the escalating needs and greeds of humankind, that the show achieves its final momentum towards a lyrical and potentially heartbreaking conclusion, driven by Tei Blow's fine sound design and Isabella Byrd's lighting, as well as by the unfailing precision of Sobelle's performance. It's characteristic of Sobelle's work that it allows plenty of escape routes for those who prefer to take it lightly, and to dwell on his magical and comic technique. For those willing to follow the full tragic arc of his narrative, though, the impact of his work can be stunning; and as disturbing as it is beautiful. Joyce McMillan
First Night at the Hub, The Hub ****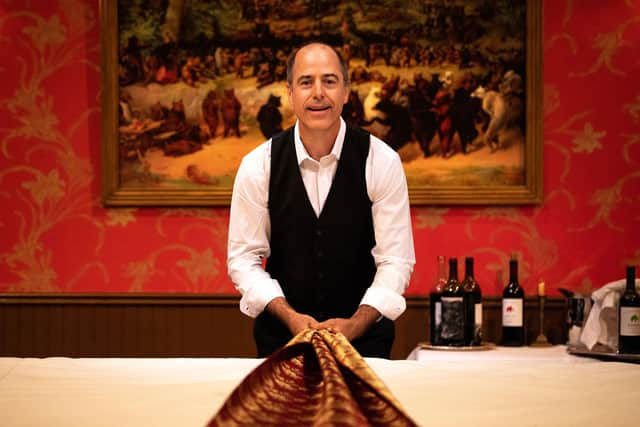 Festival director Nicola Benedetti presented this warmhearted event launching The Hub Reimagined, a series of concerts crossing the many divides of musical style and aimed at utilising the snazzy informality – soft chairs, club atmosphere – of this Royal Mile venue. She'd had a hectic day. This was the pay-off.
Where the mood was impromptu, the performances were randomly adventurous and unceasingly engaging. Lone lutenist Thomas Dunford eased us in with a porcelain medley of Bach and others, cast swiftly aside by the sizzling charisma of Géza and The 5 DeViLs (four on this occasion including their supersonic cimbalom player), whose improvised Hungarian Gypsy repertoire was almost too hot to handle. Their own programme on Tuesday should be an absolute knock-out!
Benedetti restored calm with Elgar's wistful Sospiri, the spotlight shifting to her accompanist Orion Weiss for some characterful Debussy Études. Violinist Stefan Jackiw prolonged the close-up intimacy endearingly with a Clara Schumann Romance, traditional vocalist Batubagen then inducing mysticism with his ethereal Mongolian overtones.
Two movements from Tchaikovsky's gorgeous String Sextet "Souvenir de Florence" provided a golden transition to the rocket-fueled madness of the finale, concocted to involve the entire cast, its madcap climax of Monti's Czardas sending the temperature sky-high. Ken Walton
BBC SSO: Where Do We Go From Here? Usher Hall **
"Where do we go from here?" That's the question Nicola Benedetti has posed as the overriding theme of her first Edinburgh International Festival programme as director. And it was the title given to a concert by the BBC SSO, which she co-presented with the sprightly Radio 3 personality Tom Service. That it was a bit of a shambles boiled down to a seemingly unrehearsed dialogue in which the two protagonists seemed to be asking each other that very same question, for all the wrong reasons.
Some of their spiel was scripted; some not. Occasionally the typically flawless Service would realise he had to add some "radio tech" for the benefit of a future listening audience, while mid-concert whispers with conductor Ryan Wigglesworth endorsed the growing suspicion that the frontmen were effectively winging it.
Despite that, it was still illuminating to hear Hans Abrahamsen's Let Me Tell You, a magically sophisticated setting of words, inspired by Hamlet's Ophelia and sung with breathtaking liberation by soprano Jennifer France, alongside the freshness of Helen Grime's Virga and Elizabeth Ogonek's as though birds. Mark-Anthony Turnage's Three Screaming Popes seemed curiously tame, contrary to its aggressive countenance, but by then the steam had gone out of this concert. Ken Walton
Jupiter Ensemble & Iestyn Davies, Queen's Hall ****
"As you've heard, Iestyn is sick," announced Jupiter Ensemble artistic director Thomas Dunford partway into their recital (perhaps slightly ill-advisedly). Superstar English countertenor Iestyn Davies himself looked rather ill-at-ease in front of the international seven-piece period ensemble – a few eye-rolls at the abundant applause gave the game away. He needn't have worried. Aside from a slight thinness at the very bottom of his range, his voice was its gloriously silvery, supple self, and an ideal match for the vivid, richly varied playing from the instrumentalists in an (almost) all-Handel programme.
They launched with a velvety, intimate Eternal Source of Light Divine before a clutch of oratorio arias by turns bustling and energetic – Yet, Can I hear that Dulcet Lay from The Choice of Hercules, for example – or serenely spiritual, most memorably in O Sacred Oracles of Truth from Belshazzar, sandwiched between vibrant dances from Terpsichore from the Jupiter players. Most impressive was the sheer range of textures and sounds the instrumentalists achieved, from bouncing, chugging continuo to light-as-air ethereality from their violin/viola trio, under Dunford's light-touch direction from his lute. It was a tonal range that even stretched to pop and jazz, the styles behind encore We are the Ocean – a bit of a surprise, but gratifyingly convincing all the same. David Kettle