​Edinburgh International Festival music reviews: Tippett's A Child of Our Time | Catriona Morison & Malcolm Martineau
​Conductor Sir Andrew Davis struck a perfect equilibrium in a secular oratorio with chilling contemporary resonances, while two of Scotland's finest musicians returned to their Edinburgh roots
Sir Michael Tippett's secular oratorio A Child of Our Time, written during the Second World War in response to his outrage over the plight of Jewish refugees, rings chillingly for our own time. Random snippets of his own libretto, projected on supertitles above this moving Festival performance, read like headlines from today's newspapers: "How can I feed my children on low wages?"; Europe brooding on a war of starvation"; "We cannot have them in our Empire".
It is also one of the composer's most approachable pre-1950 works, in which his ardent beliefs – pacifism and social justice – are matched by a musical language that comes passionately from the heart, popularised through a framework of Black American spirituals, yet personalised by the harsh intimacy of Tippett's signature modernism.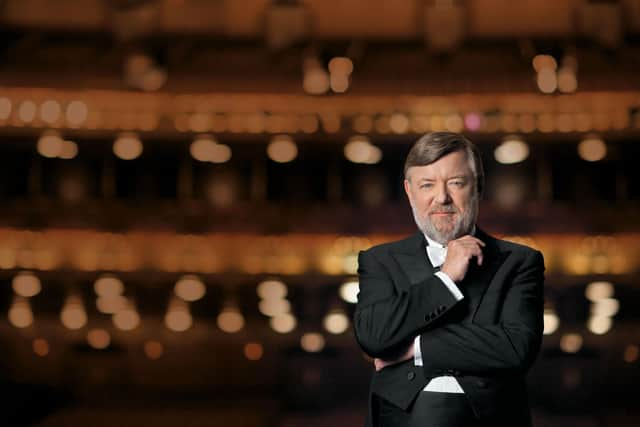 Conducting the RSNO, the Edinburgh Festival Chorus and a powerfully matched quartet of soloists, Sir Andrew Davis struck a perfect equilibrium. His relaxed persona elicited a gloriously expressive response – embracing, confident and powerfully expansive. Yet the sheer aura of his personality ensured tautness and precision that seemed as effortless as they were electrifying.
This was a holistic triumph, the richly defined potency of the chorus, the crystalline complexity of the orchestra, the formidable collective frontline of soprano Masabane Cecilia Rangwanasha, mezzo-soprano Dame Sarah Connolly, tenor Russell Thomas and bass Michael Morfidian all capturing, as one, Tippett's aspirational vision.
The concert opened with later Tippett, the Concerto for Orchestra, written 60 years ago for the 1963 Edinburgh Festival. Here was his more extreme, astringent style, and a work that takes no prisoners. From the virtuosic flute opening to its myriad flirtations with weirdly exciting instrumental combinations (tuba and piano for one), it's in one sense a relentlessly manic menagerie, on the other a dazzling, cohesive masterpiece. It was outstandingly played. Ken Walton
Catriona Morison & Malcolm Martineau, Queen's Hall *****
There's always a frisson of excited pride when homegrown talent appears in recital at the Queen's Hall. With two of Scotland's finest returning to their Edinburgh roots, it probably wouldn't have mattered what mezzo-soprano Catriona Morison and pianist Malcolm Martineau offered musically in terms of attracting a full house. That they chose to perform a programme showcasing both artists' skills in mercurial shifts of mood and complexion, which also fitted perfectly with the EIF theme of seeing the world with new perspectives, brought rapt attention, generous applause and lots of happy faces. It was a morning with an outpouring of melody, both from the known and the less familiar, and the discovery of dreamy, schmaltzy and dramatic songs by Pauline Viardot (also a mezzo as well as a composer) was a highly agreeable surprise. Less so Catalan Xavier Montsalvatge, whose Cinco canciones negras didn't reach beyond the inconsequential, even with all the colour given to them by Morison and Martineau. Earlier in the programme, Schubert, Mahler and another welcome new name, Josephine Lang, gave insight to Morison's breadth and depth of characterisation, with spot-on placing of every velvety note. Carol Main