Edinburgh International Festival music reviews - Oslo Philharmonic: Yuja Wang plays Ravel | Abel Selaocoe | Nick Pritchard and Ian Tindale
​Chilling contemporary resonances in a mind-blowing Shostakovich performance, plus philosophy, stories and jokes from a South African cellist, and an intimate Anglo-French song recital
Oslo Philharmonic: Yuja Wang plays Ravel, Usher Hall *****
Heading home from this mind-blowing Oslo Philharmonic performance of Shostakovich's Fifth Symphony, a discussion on the car radio was underway on Russian soldiers' likely secret involvement as fifth columnists in facilitating Ukrainian attacks in Russian territory. It was a mindful afterthought to a Symphony outwardly written as the composer's contrite response to criticism by Stalin, yet sounding very much the opposite.
Under their Finnish music director Klaus Mäkelä, the Norwegians probed that mystifying paradox with searing intent, in a performance as thrilling for its emotional contradictions as for its pulverising unity of purpose.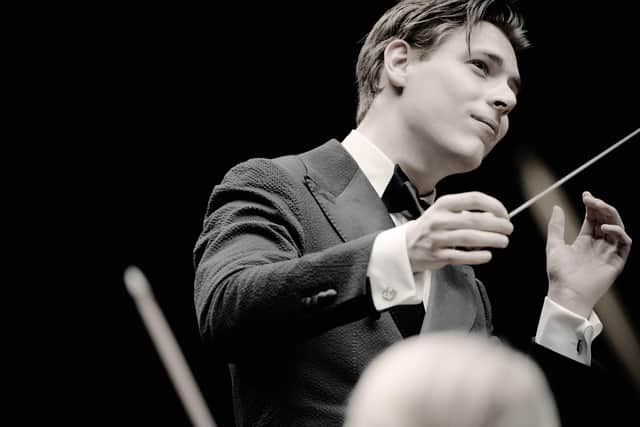 The opening movement was instantly all-consuming, a journey of organic inevitability encompassing the sublime, the cataclysmic, and the disarming naivety of its closing bars. Then the spirited grotesquerie of the Scherzo, its swagger both intoxicating and menacing. Time stood still for the breathless ache of the slow movement, its message of sorrow and acceptance, only to be overturned and overwhelmed by the bombastic resolve and forced rapture of the finale. How the troubling poignance of such music prevails.
The concert's opening half was every bit as riveting, not least for the colourful double presence of pianist Yuja Wang. Known as much for her outré dress style as her indisputable musicianship, the Chinese-born star matched her pairing of Ravel's two piano concertos with contrasting attire: provocative red for the stormy rhetoric of the Piano Concerto for the Left Hand; elegant yellow for the jazz-infused intimacy of the two-handed Concerto in G major.
It was a cracking musical combination. Wang addressed the former concerto – written for Paul Wittgenstein, who lost his right arm in the First World War – with muscular precision and molten passion. In contrast, her G major Concerto was like a mischievous sparkling cocktail, rich in delicate flavours and unpredictably invigorating. Another memory to savour. Ken Walton
Abel Selaocoe, The Hub ****
Going to hear Abel Selaocoe isn't like attending a conventional International Festival performance. His is more a show than a concert. For a start, he's a cellist who sings, and gets the audience to sing too. He philosophises, tells stories, cracks jokes, beatboxes and uses live looping electronics, his cello becomes a percussion instrument, and with a deep, gravelly voice, he grimaced his way through compositions mainly inspired by his South African heritage. But it wasn't only Selaocoe's larger-than-life personality that engaged with the Hub audience. While there is impressive freedom to his performing style, it is grounded in the rigour of polished excellence in everything he does. Sometimes his gutsy cello could almost have been a double bass the way he made its lower register ring out, while his "Hero of Heroes" was a lighter evocation of childhood's whimsical curiosity. Most telling was an old South African hymn, "Everything is Everything", with its ground bass – the original loop technique – and hushed percussive sound providing a bed upon which Selaocoe's voice resonated more purely, showing its softer side. Bach made some fleeting appearances, too, his Baroque genius being yet another inspiration for the Selaocoe makeover. Carol Main
Nick Pritchard & Ian Tindale, Queen's Hall ****
Tough Scots don't cry. But this one's eyes filled as an astonishing recital unfolded. Tenor Nick Pritchard sang Fauré maritime songs before Paul Éluard's exquisite texts set by Poulenc, moving on to Britten's heart-on-sleeve First Canticle. Written as World War Two's grim landscape spread its darkness, Éluard's line 'You see the world without yourself' might have been a metaphor for a programme balancing Gallic and English repertoire, each song flushed with extreme tenderness swerving into tetchy humour. The texts, by Louis Aragon, Thomas Hardy, WB Yeats and others, are so potent that it could seem impossible that more could be added – yet these composers with their landscape of serene colours seize fundamental emotions, touch our terrors and wring love from the darkest corners.
Pritchard and his fine pianist, Ian Tindale, in the least showy of performances, beckoned us into an intimate world with music of rare personality written about ordinary lives: a young man facing war, a boy on a train, an obnoxious vicar, birds singing as the sun sets – and how Britten captures the fluttering and chirping in his keyboard writing. Ending with folk songs, Pritchard sang as an encore Burns' 'Ca' the yowes'. More truly Scottish tears, but of joy. Mary Miller