Edinburgh International Festival music reviews: Jake Bugg | Endea Owens: New Work at The Hub
No-nonsense rocking from the Happy Valley-approved troubadour and a special jazz commission inspired by Martin Luther King Jr prove to be EIF standouts. Words by David Pollock and Jim Gilchrist
Kudos to Nottingham singer-songwriter Jake Bugg, who surely instigated the first audience chorus of "here we f***ing go!" ever experienced at the Edinburgh International Festival, at the tail end of his rowdy rocker Lightning Bolt.
Although it is likely the entire audience here – from young gig-goers to adventurous EIF stalwarts who buy tickets for everything in the hope of expanding their horizons – will have enjoyed a shared moment of recognition when the equally, deliberately ramshackle Trouble Town appeared early on.
"Some of you might know this from a TV show," said Bugg, by way of typically sparse introduction. "It goes like this." The song was the theme to Sally Wainwright's Yorkshire-set police drama Happy Valley, and there's something – albeit far more polite – of Sarah Lancashire's character Catherine Cawood and her taciturn straight-talking about 29-year-old Bugg. He told us which album certain songs were from, expressed pleasure to be here and said thank you, and that was about it for the stage banter.
Bugg's inclusion in the EIF's programme this year was an early talking point, as an artist with an indie-pop background and output which might best be described as conventional. He isn't exactly a marginal talent either, with four of his five albums released in a decade-long career reaching the top five.
Yet the production quality at an EIF show elevates and focuses attention on an artist's performance, and the guitar-playing Bugg and his three-piece band rose to the occasion.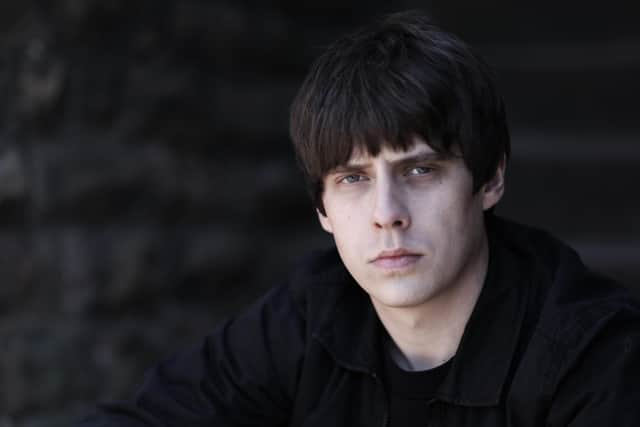 There was a wistful, folky quality to the early stages of the show, bringing romance to songs including Me and You and Note to Self, then a burning, Beatles-in-Hamburg energy to There's a Beast and We All Feed It. Through Messed Up Kids, Seen It All and Broken, he balanced the poignancy of a troubadour, before urging the audience to stand and sing for Kingpin, Screaming and the big, nostalgic chorus of Two Fingers. In the darkness, a man yelled "go on, Jakey boy!" You don't get that at the opera. David Pollock
Endea Owens: New Work at The Hub *****
Introduced by EIF director Nicola Benedetti as "a singular moment in the Festival for me", this specially commissioned work from Detroit-raised jazz bassist and composer Endea Owens interspersed readings from Martin Luther King Jr's famous last speech – "I've been to the mountaintop" – with jazz, blues and, most potently, gospel music.
They were delivered by her powerful septet, Owens's big-toned double bass leading trumpet, saxophone, drums, piano and two vocalists, Shenel Johns and Jonathan Hoard. It opened, over stately piano and drums, with Owens reciting King's wisdom about there being "nothing to fear except fear itself", other band members stepping up to read as the music developed, sax and trumpet breaks perhaps signalling indignant defiance in the face of injustice.
Owens's bass growled a stealthy blues pulse as Johns and Hoard sang of walking that lonesome road, trumpet responding, their passionately demonstrative gospel singing gathering force as the piece progressed.
A gentler, lullaby-like section with warm bass and trumpet developed heft and eventually, following Owens's habitual rite of self-affirmation, which we were all cajoled into joining, the words "I still believe in hope for you and me" became a joyful, rhythmic refrain, bolstered by a no-holds-barred drum break from Jerome Jennings. Owens herself delivered King's vision of seeing the Promised Land from the mountaintop, before a big, repeating amen closed this timely anthem for a sadly fractured world.
A world away from the EIF's traditional material and audiences, the sequence was at times very loud and with occasional moments of uncertainty. That fifth star, however, is for it also being infectiously passionate and profoundly moving. It embodied the words and spirit of King, whose last book, Where Do We Go From Here?, inspired Benedetti when she wa formulating her philosophy for this year's Festival. Jim Gilchrist