Edinburgh International Festival: Chamber Music Soundscapes week two review
Leading soloists and chamber musicians give specially recorded performances from The Hub, heard in the beautiful surrounds of Princes Street Gardens.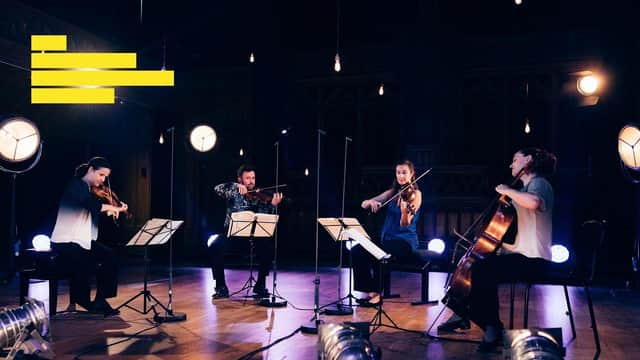 If nothing else, Andrea Baker (***) knows how to make an entrance. That would have been as obvious to those catching the first few minutes of her EIF Chamber Soundscapes through the speaker system in Princes Street Gardens, as to those watching her give it big in a sequence from her award-winning Sing Sistah Sing! routine live on the Festival's You Tube channel.
It opened with the metronomic beat of a wood block, tapped out by Baker as she emerged barefooted, soulfully intoning a song made famous in the 1940s by black American folklorist Vera Hall about the fatal injustices of the black chain gangs, Another Man Done Gone.
With the spirit of BLM in the air, Baker's earthy lamentation, its deep-rooted melancholy interrupted by wild bursts of improvisation, bore a haunting relevance, especially when she later informed us she was descended from enslaved ancestors. And it left us guessing where this unorthodox, unpredictable song recital, with pianist Richard Lewis, might go next.
In the end, it was all about the strength of the human soul in overcoming adversity, expressed through the emotional weight of the spiritual, the elevated formalism of opera, the abrasive honesty of the blues, woven together by strength of personality and chameleon versatility.
If Baker had a persistent tendency to sing under pitch in the spirituals, That was never the case in the harnessed operatic intensity of her songs by Strauss, Wagner and Bizet.
No such crossover glitches for the Elias String Quartet (*****) whose recital on Tuesday opened with the distant, ethereal atmospherics of Sally Beamish's Reed Stanzas, its opening offstage incantation by Scots second violinist Donald Grant imbued with eerie folksiness, like a delicate touchpaper catalysing the airy, agile mysticism that ensued, illuminated by the crystalline lucidness of the full ensemble.
To proceed instantly to Haydn's short E flat String Quartet, Op 64 No 6, was a gravitating transition. The carefree fluidity of the opening Allegretto, its predictable formality combined with the Elias' stylistic consistency and homogenous expressive flexibility, took us to a more centred world, yet one - thoughtfully poetic in the Andante, irreverently whimsical in the Menuetto; full of life's joys in the helter-skelter finale - enlivened by irrepressible fresh thoughts.
Then to another flight of fancy: Grant's own arrangement of Scottish Folk Tunes, its shift from hazy meditation to the simple metrical charm of a central soft-spun jig and foot-tapping finale as invigorating as any crowd-energising hit at a major folk festival.
Just what piping purists would make of Judith Weir's The Bagpiper's String Trio is anyone's guess. It gave an immediate dash of distinctiveness to Wednesday's neatly balanced programme by the Hebrides Ensemble (****).
Weir's uncanny skill in reimagining traditional music styles in a classical instrumentation without losing the essence of the original inspirational source is the central fascination of these alluring set of character pieces that reflect on the story of Jacobite piper James Reid.
Zoë Beyers (violin), Catherine Marwood (viola) and artistic director William Conway (cello) overlaid its surface sophistication with the plentiful skirls and snaps that define each movements spontaneous charms. Augmented to a sextet, the programme ended with Tchaikovsky's Souvenir de Florence, and a performance that richly embraced its luxuriant textures, tumultuous joy, sweet-scented lyricism and sizzling colour.
Angela Hewitt (*****) makes Bach sizzle like few other pianists, and to her enormous credit does so with a 21st century regard for Baroque performance style. For her vehicle of choice is the piano, and in the Prelude and Fugue in A minor, BWV894, which opened Thursday's lunchtime offering, she exercised vibrant energy and biting articulation which drew out the contrapuntal essence of the music - with bullet-like aggression at times - yet found, too, a deep-rooted pianistic sensitivity.
She was then joined by a string quintet from the Royal Scottish National Orchestra in an intoxicating curiosity: Beethoven's Piano Concerto No1 in reduced chamber arrangement by the 19th century composer/conductor Vincenz Lachner.
From the very start, it bore an altered character from the norm, the tight knit string group radically softening, at times darkening, the textural perspective, able to reduce to the most whispered pianissimo, but equally capable of striking dramatic gestures.
As such, Hewitt's interpretation could explore brave new avenues, from snug intimacy to expressive interplay that sought out gorgeously unexpected moments of mystery and reflection, but equally gave vent to a colossal superheated first moment cadenza. Among its stranger moments, a passing time-slip to Chopin in the slow movement, but all in all an eyeopening revelation.
Friday's Baroque sonata programme by members of harpsichordist John Butt's Dunedin Consort (****) produced its own modicum of mystery and revelation, opening with works by relatively obscure female composers from the 17th/18th century: the Sonata duodecima by the Italian, Isabella Leonarda; and the Violin Sonata No 1 by multi-talented French composer, Élisabeth Jacquet de la Guerre.
Both are multi-movement sonatas, Leonarda's blessed with alluring hints of the exotic, de la Guerre's as graceful as any from the land of Couperin and Rameau. Violinist Tuomo Suni struck a firm but relaxed tone in his naturally-spun performances, as did flautist Georgia Browne in Jean-Marie Leclair's Flute Sonata in E minor.
Both featured together in Bach's Trio Sonata in G, BWV 1038, the intellectual inevitability of Bach's genius intoxicatingly captured by the Dunedin's effortless fluidity. A restful conclusion to Week 2 of this classy Festival series.
Comments
 0 comments
Want to join the conversation? Please or to comment on this article.