Edinburgh International Book Festival round-up: Alan Cumming | Alistair Moffat | Joanne Harris
Actor Alan Cumming discusses shapeshifting and authenticity, while Alistair Moffat imagines Nazi-occupied Scotland, and Joanne Harris considers women wielding power. Susan Mansfield rounds up the latest EIBF highlights
Alan Cumming's ability to shapeshift as a performer becomes all the more apparent when you hear a list of some of the characters he has played: God, the devil, Hitler, the Pope, Hamlet, Dionysus, a smurf, Sebastian Flight in The High Life, the Emcee in Cabaret, and now, of course, Robert Burns.
In a warm and entertaining event at the Book Festival about his fifth book, Baggage, he explained that his long and diverse career has taught him the virtues of variety. Whether he's doing a film with Stanley Kubrick back to back with the Spice Girls movie Spice World, or stepping from a Shakespeare adaptation on to the set of the Flintstones, each of the characters he plays expresses a bit of his authentic self.
He was in rep at the Lyceum in 1986, appearing in shows such as Liz Lochhead's Tartuffe, when he realised that the best acting needed "the shimmer of authenticity". "I used to think that acting was about putting things on: costumes, voices, make-up. Then I realised it's about letting yourself through."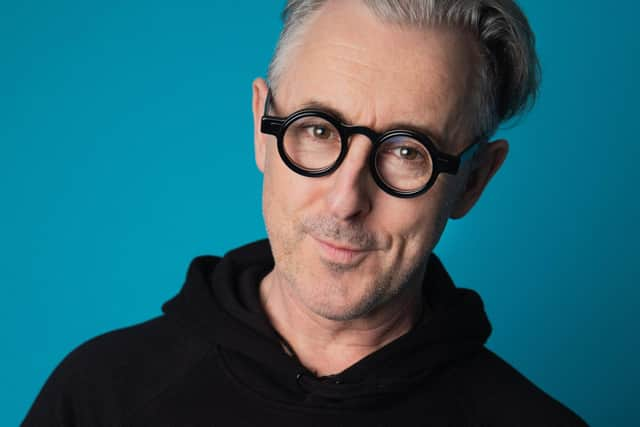 And that's also the case with his solo dance show, Burn, which opened at EIF and is now playing in Perth, the physical demands of which leave him in frequent pain. "What I've done for myself is rewrite my narrative, tell a story about myself which is different from what other people have seen, so I wanted to do the same for Robert Burns, a man I felt needed to be better understood."
Writer Alistair Moffat, another fine raconteur, did a bit of literary shapeshifting of his own during lockdown. Unable to travel to research the two non-fiction books he was commissioned to write, he sat down to write a novel. Five weeks later, he was finished. But lockdown wasn't, so he continued. Now he has a stack of five.
The first of these, now published as The Night Before Morning, is a chilling alternative history set in a Nazi-occupied Scotland in 1944 and 1945. The extract he read, in which an elderly couple are hanged by the Gestapo on a gallows on St Boswells Green in the Borders, was as disturbing as the place is familiar. Moffat pointed out that the Nazis did exactly the same thing in occupied France.
So prolific that he rarely has just one book on the go, Moffat also talked about his new non-fiction book, The Secret History of Here, which delves into the wealth of history that has taken place within a few miles of his Borders farm. And wealth there is: from Agricola's Roman legions to a wandering crusader in the company of Edward I and a Polish wartime romance. While it has the ring of a lockdown project, based on daily walks with his West Highland terrier Maidie and small granddaughter Grace, it was, in fact, completed before the pandemic.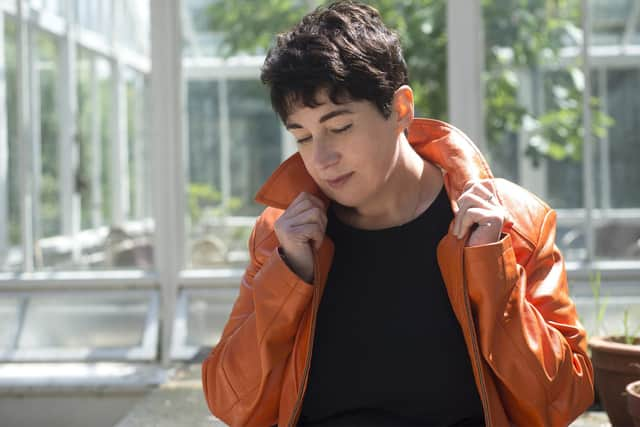 Two formidable women writers took to the main stage on Monday morning, queen of South African literary crime, Margie Orford, and our own Joanne Harris, both talking about books in which women tell their own stories, process the impact of violence and trauma, and bring their own perspective on what power means and how it is wielded.
Harris's latest novel, A Narrow Door, tells the story of a woman who becomes the first female head of an elite boys' school. But Rebecca Buckfast is "a monster" as well as a heroine, her story a confession. Harris explained that – murders aside – she was drawing, in part, on her own experience as a young female teacher at a boys' grammar school in Leeds, a story that lies behind many of her books.
"You might know me for a book called Chocolat, but that is also about a woman who enters a very patriarchal world, starts a fight, and wins it despite considerable odds. Stories are all from internalised experience on some level, whether we realise it or not."