Edinburgh Fringe theatre reviews: The Insider | The Court | Andronicus Synecdoche | Declan | Blueprints | Brief Candle
Danish company Teater Katapult's high-tech, high-octane The Insider goes off with a bang in our latest round-up of Fringe theatre reviews, also including a thought-provoking courtroom drama and another sideways take on Shakespeare
ZOO Southside (Venue 82) until 27 August
A glass cubicle. A filing cabinet. A desk. A chair. The cubicle is foremost an interrogation room, but its function varies: it is a park in spring, a hospital bed, a wrong turn, a big idea. An unnamed protagonist (Christoffer Hvidberg Rønje), a key player in the 2014 CumEx Strategy, has turned himself in. How do you plea? asks a disembodied voice. "Not guilty," he replies. "Not exactly."
His identity is protected from the audience, but his breath, the very beat of his body, can be heard in intimate, glaring detail through the use of binaural sound technology. Delivered via headphones, the audience is allied with the action - hardwired into its hardware. We act as confidantes. We are complicit, somehow.
The Insider is gripping, blistering. Written by Anna Skov Jensen, the narrative revolves around a police raid - the simultaneous strike in 14 countries on major banks and suspected members of the CumEx tax fraud network. Our protagonist tells of his scintillating, narcissistic boss, who first encouraged him to exploit the financial market. Interview transcripts crawl across the back wall all the while.
Filthy rich and morally bankrupt, his colleagues frequently venture philosophical and scientific bases for their actions. Their language, at first foreign, soon becomes his lingua franca. The plan falls into place, prompting a chain reaction of stunning visual effects (one in particular is reminiscent of Antony Gormley's Blind Light). The world is thrown into technicolour. When our protagonist showers, he showers in gold.
When the network begins to crumble, so too does the conscience of our protagonist. The production could perhaps maintain its anger and urgency to the close (its final moments make a bullet out of what could be a bomb), but The Insider is explosive nonetheless - a truly high-tech, high-octane piece of theatre. Josephine Balfour-Oatts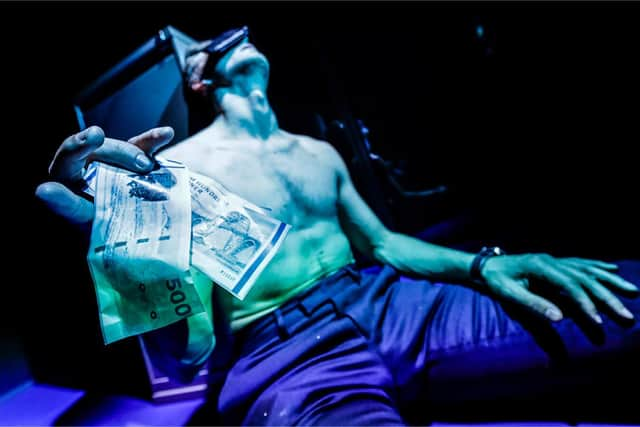 Hill Street Theatre (Venue 41), until 27 August
Local am-dram company Edinburgh Litttle Theatre has turned their performance space into a pretty convincing court room for Derek Douglas' play, with a jury of nine audience members and the rest of us in the public gallery. On trial is one Cathy MacDonald, accused of the murder of her terminally ill mother. Was it an act of mercy, or (as her sister contends) a cold-hearted crime motivated by greed and sibling jealousy?
MacDonald (Hazel Murray) and her sister (Norma Brown) are cross-examined, the lawyers (Linda Thomson and Torya Winters) make their summations, Alan Ireby is an impressively solemn judge. Then, this court departs from procedure and the jury is allowed to question the two women, revealing further nuggets of inspiration. Both jury and spectators are invited to make their verdicts.
Paul Murray's production is well acted and carefully conceived, but what is most interesting about it is how it reveals to us our own decision-making processes, how important our preconceptions are, and how, and by what, our judgement can be swayed. One leaves with lots to think about. Susan Mansfield
Andronicus Synecdoche ***
ZOO Southside (Venue 82) until 27 August
Based on Shakespeare's Titus Andronicus, Andronicus Synecdoche is a depiction of extreme cruelty - particularly, the cruelties that bridge domestic violence and war. It has a brutal, uncompromising aesthetic, which is only accentuated by Maciej Rychły's score. This is art as artillery battery. It is hard to watch, but it is even harder to look away.
Directed by Grzegorz Bral (or perhaps, orchestrated, given his presence, and sway, onstage), a large choir (led by Paweł Jan Frasz) sees this revenge tragedy transposed into song. Though faithful to the soundscape and spirit of war, the unrelenting noise and chaos in Andronicus Synecdoche makes the narrative difficult to follow. This is with the exception of the rape and mutilation of Lavinia - the details of which are unadulterated, their horror enhanced by a thicket of mirrors.
The work does skew towards pretension, and errs, problematically, on the wrong side of political correctness (the character of Aaron is played by a non-black performer), which is striking, given the play's attention to racial difference and resultant forms of harm. Just as striking, though, is its staccato, militaristic choreography, through which Song of the Goat Theatre evokes the agonies of their native Poland amid the ongoing Russia/Ukraine war. Josephine Balfour-Oatts
Underbelly, Cowgate (Venue 61) until 27 August
When Jimbo's best friend, and love interest, Declan, goes missing, the line between Jimbo's memories and imaginings becomes increasingly unclear. Written and performed by Alistair Hall, the structure maintains a steady pace and sense of intrigue. It is hallucinatory, phantasmagorical, replete with heady images - the feeling of teeth on Jimbo's skin, the smell of his own flesh, a whistling from the end of his driveway.
The relationship between technical elements is excellent. A single lightbulb hangs above the stage, and is subject to both the soundtrack and sound effects. A party scene, during which the rest of the space comes on, opened up by fairy lights, also impresses. Hall's narrative is notable for small acts of great sadness, such as when Jimbo buys his dad a Barbie doll, because he thinks it looks like his late mum (whom Jimbo tragically lost to suicide).
Details of abuse at home and at school are powerful and sensitively handled. "Just think about being somewhere new," Declan might say. "Somewhere else." Though disorienting (often to its detriment), Declan is a haunting tale of a childlike protagonist, whose appalling make-believe world makes up for the pall of the world as it actually is, for him. Josephine Balfour-Oatts
Pleasance Courtyard (Venue 33) until 28 August
Faith (Aisha Weise-Forbes) and Adam (Martin O'Whyte) are a contemporary(ish) young couple who meet and begin dating, and they appear to have an instant surface compatibility, although little breadcrumbs of disagreement suggest to the audience that there may be problems in the future. He is a natural partier, more relaxed about commitment than she is, while she thinks twice about having sex out of wedlock.
Faith's religious beliefs are a factor in this, but the couple soon conceive unexpectedly anyway. Perhaps discussion of God and the religious connotations of both characters' names are a suggestion of what is to come, as a new service called Blueprints offers to use intensive individual study to not just reveal the couple's genetic history, but also their every belief, conviction and element of personal history.
Is this, the play explores, against the natural order of things? Adam's cheating on his past girlfriends is brought to light, and Faith wonders if she can trust him, raising philosophical and moral questions about the second-guessing of human nature. Playwright Ashlee Elizabeth-Lolo's two-handed play is a well-observed relationship drama, with a pair of likeable and empathetic performances at its heart, but the increasingly unlikely sci-fi abilities of the central Blueprints concept stretches credibility until it threatens to snap. David Pollock
theSpace @ Surgeons Hall (Venue 53) until 26 August
Young Fringe company Blushing Caligula deserve credit, first of all, for deciding to write a fictional account of a historic event whose setting is the very building and streets surrounding their venue. Less infamous than its counterpart in London, the Great Fire of Edinburgh took place over five days in November 1824, and was incredibly destructive to the fabric of the city, if not nearly as fatal; only thirteen people died.
What happened that day is related through the story of 15-year-old Isla Kerr (Emma Ford), who lives with her mother and siblings in the depth of the Cowgate vaults. Their father was "impressed" – abducted by a press gang and taken to sea – long ago, and while the family await his return, crooked family friend Ewan helps out, getting Isla's brother Douglas to run errands for him. Yet all the young girl wants is to find a candle for her mother's birthday.
Through Ford's solo telling of David C Ford's story, an evocative picture builds of this dark, damp-sodden world of 19th century poverty and exploitation, where Isla's two-year-old sister has never even been outside and the class system of Edinburgh is stacked liked the multi-storey nature of the city itself. Ford's accent is a bit Outlander in places, but otherwise it's a very capable and engaging piece of work. David Pollock