Edinburgh Fringe theatre reviews: Dazzling | The Church of Princess Cassandra | Pinched | Draining the Swamp | The Kids with Nae Hame | Music
In this latest Fringe theatre round-up, our critics find that Dazzling – "Gen-Z's answer to Fleabag" –more than lives up to its name, while a playful show about eradicating prejudice offers plenty of surprises
Dazzling, theSpace @ Niddry St - Studio (Venue 9) ****
Being in your early 20s is rough. No-one knows it better than Alix (Charlie Scott-Haynes), who's working a dead-end summer job and downing entire bottles of Shloer to avoid a relapse into alcoholism. Luckily, she's got Jan – her "platonic soulmate" – who works at McDonald's and brings her to parties where she can meet beautiful strangers. One such stranger is Fiona; what begins as an escape from the daily grind of a miserable workplace quickly devolves into an all-consuming obsession for Alix. Scott-Haynes' anxious performance is entirely believable as she flits between wine-induced overconfidence and complete vulnerability, becoming increasingly erratic as her relationships falter.
With so many themes vying for our attention, and only 50 minutes to fit everything in, some plot elements are bound to lose out. In the case of Dazzling, it's actually the friendship at the heart of the story which feels somewhat underdeveloped; while Alix opens the show by singing Jan's praises, we don't actually get much insight into their history or dynamics. Friendship breakups may see less glory than their romantic counterparts, but they're also much more compelling as a result; it's primarily Scott-Haynes' skilful characterisation of Alix, not the relationship between her and Fiona, that keeps us invested in her arc.
While Dazzling could be construed as Gen-Z's answer to the distinctly Millennial Fleabag – in fact, it's a comparison explicitly drawn by Alix herself in one of many fourth-wall breaks throughout the show – its charm doesn't end there. There's plenty of room at the Fringe for another one-woman show which touches on the ennui of youth and fraught interpersonal relationships – especially one as accomplished as Dazzling. Ariane Branigan
The Church of Princess Cassandra, Laughing Horse @ 32 Below (Venue 442) ****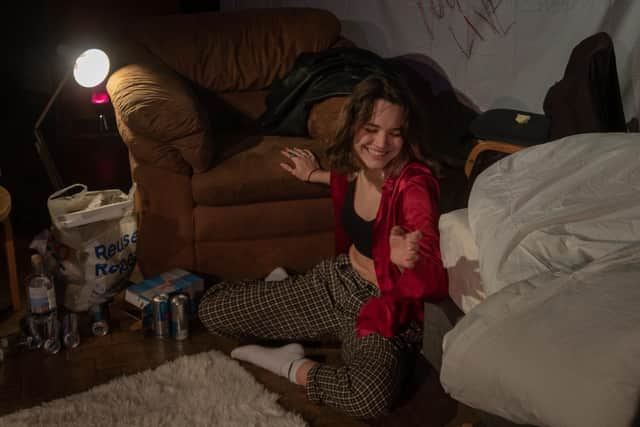 Is it a secret meeting or a show? A piece of comic theatre, or a call to an action that you might later regret? At the start, it feels like a classic Free Fringe performance: we're putting on fake moustaches and sunglasses. By the end, we've been transported from the golden gloom of an underground bar to somewhere significantly darker. It begins, like all great comedy, with a speech delivered from behind a lectern. Its charismatic orator is comedian-turned-playwright Lucy Frederick who, wearing blue eye shadow like war paint, rallies us to seek revenge for the treatment of Cassandra, a woman who isn't believed for the things that she says and a figure that you may be familiar with from Greek mythology, or real life. This is after all, not so secretly, a piece about eradicating prejudice, including in ourselves.
Joined by Robyn Perkins and Alice Frick, who you'll perhaps recognise from the world of stand-up, and Emma Berryman, who risks stealing the show from the side-lines as Patrick Swayze, there's tea, biscuits and opportunities to share in what could be a self-help group, a cult, or a franchise – like an Avon party but with more blood. Just when you think you know what to expect, something that feels disconcertingly like a verbatim monologue pops up. And then another one. They're excellent – moving and macabre, like Alan Bennett meets Tales of the Unexpected. Calls for help regarding a wayward son are unanswered by "the social" in a touching piece delivered by Mr. I Had the Time of My Life, and some ornamental fish risk becoming the victims of a vigilante violence. Can such behaviour ever be justified? What if nothing else is working? By the end of the show, the venue has melted away and it's not just laughter but tension that fills the room. Sally Stott
Pinched, Greenside @ Infirmary Street (Venue 236) ***
By means of introduction, this solo performance begins in childhood, with writer and performer Emma Hadley-Leonard depicting her character as a goofy outsider, desperate to please her classmates by clowning around. As this urge to people-please continues into young adulthood, the show arrives at its true focus: a controlling, abusive romantic relationship which has left her both heartbroken and diminished, with her sense of self having been badly shaken.
Pinched is Hadley-Leonard's debut, and throughout she tries on a variety of forms as if to see if they suit her voice. Intense physical theatre is used to evoke the psychological battle of an eating disorder, whilst her lyrical spoken word brings poetry, and perhaps a sense of remove, to descriptions of a foggy post-breakup daze. One scene requires ambitious audience work, but Hadley-Leonard's easy, open-hearted presence puts the room at ease, and the pay-off is sweetly euphoric.
An unpolished production, but performed with guts and passion, this show sacrifices style in favour of bold trial and error. Pinched is far from fully realised, but its spirit of experimentation fits this narrative of hard-won self-discovery, as well as Hadley-Leonard's own, emerging career. Katie Hawthorne
Draining the Swamp, C ARTS | C venues | C aquila (Venue 21) **
There's one good scene in this political biodrama when Oswald Mosley (D. R. Hill) is heckled by members of the audience during his appearance on The Frost Report in 1967. It shows off this well-mounted production's willingness to utilise every bit of space available. Otherwise it's rather a flat, non-linear canter through Mosley's life and career as founder and leader of the British Union of Fascists. Written by Hill himself, there's careful attention to period detail but a frequently unecessary soundtrack proves distracting; while you appreciate the effort, having one of Hitler's speeches play out over a quiet dialogue scene is unwise. Rory Ford
The Kids with Nae Hame, C ARTS | C venues | C aurora (Venue 6) **
Loosely inspired by the movie and TV series Fame, and based on the backgrounds of care-experienced people, Geraldine Smith's scrappy production is a freewheeling affair. It's loosely structured, more a series of sketches, beginning in 1980s Glasgow, with a hint of narrative that gently nudges it towards a surprising conclusion. The performers are all care-experienced too, and while there's a real range of ability on display, it's notable that the kids seem more confident than the adults. By making a political point, it ends on an interesting scenario – as the first care-experienced person is appointed Prime Minister – that might provide the basis for further exploration. Rory Ford
MUSIC, Pleasance Courtyard (Venue 33) **
There's a fine idea at the centre of this good-natured shambles, loosely assembled by Jacob Lovick and Jack Toop: what if the streaming music service they work for, Stripefy, used an algorithm to create the perfect pop star? Unfortunately, they don't explore their premise to anywhere near its full potential. It's lightly likeable and flecked with occasional laughs, but overstuffed with unnecessary characters that detract from the genuine bright spots. There are glimmers of invention and good use of video, but at times you wonder if this was actually written using A.I. – although it would surely be more tightly structured if it was. Rory Ford