Edinburgh Fringe theatre reviews: Dark Noon | Ile | Nova | Luke Wright's Silver Jubilee
Moving into the third week of the Fringe, find your next breathtaking Edinburgh Fringe Festival theatre performance in our latest review round-up.
Pleasance EICC (Venue 150), until 27
The history of colonisation takes many forms, some more subtle than others. In Dark Noon - a huge and spectacular 2019 show by Fix + Foxy of Denmark, playing at the Pleasance EICC on its first visit to the UK - a company of bold and breathtaking South African actors attempt both to tell the story of the brutal subjugation of the American west by white European settlers, and to deconstruct how the mythologising of that frontier history, through the great American western movies of the 20th century, also helped colonise the minds of generations of film-goers, across the globe.
It's an ambitious project, no question; and in the course of this vast hundred-minute show, the seven-strong company of actors, directed by the show's writer-creator Tue Biering, gradually build a whole film-studio stage in the big space of the EICC's Lennox Theatre, mirroring the development of the west as the space gradually becomes filled with partial versions of a familiar frontier townscape.
The style is comic-grotesque, with actors switching genders, and romping around in hastily slapped-on blonde wigs and crinolines; there's also a shade too much audience participation, inducing giggly hilarity among the friends of the participants at all the wrong moments; and a puzzling failure to use the powerful closing testimony of the actors, about what western films meant to them as they grew up in South Africa, to frame the action from the start.
Yet still, despite the slightly chaotic mood, the sheer boldness of Dark Noon is irresistible, as it leads us through the history of genocide, ecocide, and horrific sustained violence - both to Native Americans and to other settlers - that was for so long sanitised and even glorified for us by generations of Hollywood film-makers and stars. Changing perspective on the founding myths of modern Western civilisation is not easy, for Western audiences; but shows like Dark Noon challenge us to look again, and to accept, once and for all, that the story of the West was not all Grace Kelly and Gary Cooper, but something much darker, bloodier, and more ominous, for the country those men of the frontier were helping to build.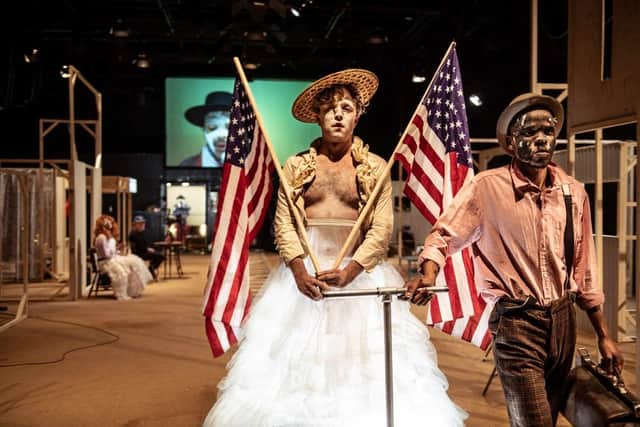 Pleasance Courtyard (Venue 33), until 28
And elsewhere the Fringe also features many other artists trying, in their own way, with the long and troubled history of western dominance across the globe. In her vivid solo show Ile at Pleasance Courtyard, for example, South African stand-up comic and theatre-maker Sophie Joans explores the strange world of her mother's roots in the Indian Ocean island of Mauritius, the Ile Maurice, colonised at different points in its history by Arab traders, the Dutch, the French, and finally the British.
Ile mixes elements of physical theatre and serious cultural reflection with some fairly light-touch comedy about a young woman on the brink of her twenties trying to negotiate the eccentric and vaguely incestuous world of a family where everyone is everyone's cousin, on an island so small that she feels she can stand on the central hilltop and touch each coast. Yet it remains a hugely engaging account of a unique life story with much wider resonances; and it touches boldly on one of this festival's vital themes.
Royal Lyceum Theatre (Venue 593), until 27
In Nova, at the Lyceum Studio, the award-winning American-Nigerian writer, actor and comedian Obehi Janice also attempts a bold act of cultural reclamation, reimagining the erotic adventures of the 18th-century Venetian lover and adventurer Giacomo Casanova from the perspective of a modern black woman who loves sex, can't get enough of it, and doesn't care who knows it.
On a sparkling cabaret stage, and dressed in fabulously sexy black leather, Janice therefore launches into the tale of her many sexual encounters, from her schooldays on up. She recognises the racism she encounters, and is deeply bored by the way white men tend to exoticise non-white lovers, yet still - like all the historic writers of tales of sexual adventure - she cannot avoid a faint sense of tedium and melancholy, in such an apparently endless series of brief encounters.
She sings a little, she protests, she meditates, and she finally rouses some of her audience to ecstasy with references to the dance music she loves; but there's nothing in the texture of her writing that adds much to the familiar 'woo-woo' discourse of female sexual empowerment, or any fresh insight into what it is to be a black woman, navigating that fast-changing sexual landscape.
Luke Wright's Silver Jubilee ****
Pleasance Dome (Venue 23), until 15
There is still just time, meanwhile, to head for the Pleasance Dome to catch the final performances of an English poet who portrays the post-colonial landscape of his country with exceptional honesty and grace, not least in his latest solo show Luke Wright's Silver Jubilee. Written to recognise his 25th year as a freelance poet-performer, Silver Jubilee is a superb collection of poetry that digs deep, for the first time, into Wright's experience of being taken from his working-class family at the age of five weeks, and adopted into the relative comfort and easy privilege of that English middle class that often had a colonial history.
Perhaps it's that mixed sense of loss and good fortune, and ability to identify with both sides of the class divide, that gives Wright's poetry such a fine edge of insight, and such an unerring political compass; but at any rate, it soars to quietly brilliant heights, as he writes of the condition of Britain, the story of his birth, and his own new-found personal happiness. His portrayal of a nation too busy on the internet and Netflix to stop and watch a murmuration of starlings is breathtaking; and when Luke Wright pauses to "check his privilege", it's clear that he means it. After all, as he says, it's only a matter of counting your blessings; and he does that, with a sharpness and wisdom that lifts the soul, and soothes the battered heart. Joyce McMillan