Edinburgh Fringe theatre reviews: Blizzard | #MeToo, a one woman show | Singing Sands | Rise | Sherlock Holmes The Last Act
In this latest Fringe theatre round-up, Nietzsche and neuroscience form the basis of Emily Woof's brainy monodrama, while a new play featuring Sherlock Holmes draws the curtain on one of the most enduring friendships in British literature
Summerhall (Venue 26 ) until 27 August
Set in a transitional place somewhere between home in England and the international conference circuit, Emily Woof's new solo show Blizzard follows a woman called Dotty on a remarkable and touching journey that involves neuroscience, theatrical magic, and the philosophy of Friedrich Nietzsche, along with the fluid and eloquent relationship between words and movement that is one of the trademarks of Woof's career as a live performer.
As the show opens, Dotty and her brilliant neuroscientist husband – also called Dotty, at least by her – are trying to survive lockdown. They are very different people, although somehow devoted to each other; and he sounds dismissive and bullying at times, a scientific rationalist scornful of her more poetic and lyrical approach to life, and her strong affinity with all living things.
When her husband becomes ill, though – in a manner about which Dotty seems to be in denial – he nonetheless asks her to go to Pontresina in Switzerland to represent him at a major international conference, and to read the research paper on which he has been working for years, although she barely understands a word of it.
Things go less than smoothly at the conference, in that Dotty, in a highly inappropriate sparkly gold dress, soon abandons the paper entirely, and begins to riff in her own words, after she glimpses how her husband's theory connects with an incident long ago, when he filmed images of her brain in the middle of a "neural avalanche", a little-understood transformational brain event.
Along the way, though – in this exquisitely written and delivered monodrama, with light-touch minimal set-changes as the scene shifts – Dotty meets an artist of a kind she has never encountered before, almost dies in a real Alpine avalanche, and finds herself wandering the rooms of Nietzsche's house high above the town; in a journey that seems like a loving farewell to a complicated marriage, and a preparation for the new life that awaits her, at the end of her journey home. Joyce McMillan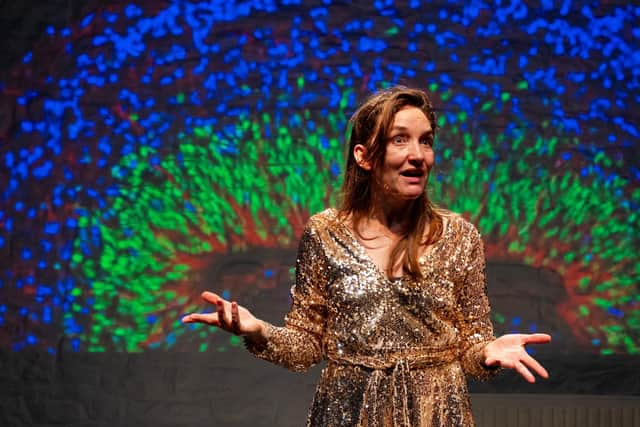 #MeToo, a one woman show ***C Aquila (Venue 21), run ended
Star Stone performs a multitude of real and imagined characters in this agile one-woman show. Besides former lovers, unreformed creeps, therapists and yoga instructors, Stone introduces us to the voices inside her head. There's Belle-Shit, an angelic-voiced presence who cuts through the nonsense, Rosy-Coloured Glasses, an optimist who (often wrongly) sees the best in a bad situation, and Inner Peace, who claims to have established ego death after a single yoga session. These Disneyfied versions of something akin to Big Mouth characters offer satirical comedy about the wellness industry, and how people who claim to sell empowerment, agency and bodily autonomy so often deliver the opposite.
Directed by and developed with Jessica Lynn Johnson, and despite its unoriginal title, #MeToo has fresh commentary to offer on persistent misogyny: it is striking that many of the most predatory environments described by Stone in this solo hour are in the context of supposedly holistic, healing activities. Stone plays herself to be wide-eyed and naïve, and flicks through her rolodex of characters with ease, with a Siri-like robotic voice used to present concrete verdicts for a host of clearly exploitative scenarios. A slower pace, and fewer voices, would allow more time for deeper, self-reflective enquiry.
Greenside @ Infirmary Street (Venue 236) until 26 August
In many ways, you could reasonably argue, there's really not much to Singing Sands from new Scottish company Oor Theatre. Three young cousins – strait-laced siblings Skye and Harris, and more wayward Ali – get together at their grandmother's funeral on the island of Eigg, reminisce (and bicker) about the old times, reflect on their current lives apart, then head off again.
So what makes the play such a powerful, funny and profoundly emotional experience? It's a combination of things, all of which the Oor Theatre trio pull off with skills all the more remarkable since this is their inaugural production. The writing is sly, nimble and disarmingly witty, and it captures the cut and thrust of authentic speech brilliantly. It shouldn't come as too much of a surprise that the script was put together jointly by the three performers: it fits their characters' personalities and delivery like a glove. Sean Russell probably gets least to do as baby of the trio Harris, though he has a nice line in petulance and needy charm. The real fireworks kick off, however, between cousins Skye and Ali, whose sometimes brutal banter conceals a deep affection. Eilidh Park delivers an appealing range of disapproving facial expressions as would-be singer Skye, while Hugo Shack swaggers and saunters as Ali, too flaky to attend his nan's funeral, but ready to carry out her dying wishes.
There are plenty of gags – many pretty broad, though with a few cutting one-liners – and the trio are careful with their gradual reveal of memories and details, adding ever richer depth to the piece. But it's the show's subtle but resolute questioning of Scottish identity that really impresses, from the raw energy of Peat & Diesel playing as we enter to the island's unspoken role as the cousins' unquestionable home, even if they now live miles apart. There are rough edges, and threads left teasingly untied – most urgently, what is it that Ali actually does? But Singing Sands is nonetheless a very accomplished, vividly acted and deeply moving exploration of home and identity. David Kettle
theSpace @ Surgeons Hall (Venue 53) until 26 August
American writer-performer Diana Varco's solo show is both a prequel and sequel to Shattered, which dealt with the effects of sexual assault on mental health. Set on a metaphorical moon, Rise sees Varco return to this theme, but also, more centrally, her experiences in foster care and the scarring it can cause upon the psyche. The moon's craters are pockmarks of trauma and are inhabited by a mouse (which represents her fears) and up to 20 other characters – many of whom are not so readily identifiable. If this sounds confusing, it often is and, as talented as Varco clearly is, you may well struggle to keep up as she slips from one character to the next. Rory Ford
Sherlock Holmes The Last Act ***
theSpace @ Surgeons Hall (Venue 53) until 26 August
"We take things for granted until they're not there," says Sherlock Holmes in David Stuart Davies' new play, in which the renowned detective, performed with appropriate precision by Nigel Miles-Thomas, returns to Baker Street following Watson's death to draw the curtain on one of the most enduring friendships in British literature. Meticulously researched by Davies – who has been studying Holmes since his university thesis in 1977 – it brings together key moments in the men's relationship, touching on The Hound of the Baskervilles' famous waterfall scene and The Adventure of the Speckled Band (an adaptation of which, by the same team, is also playing at the venue).
Miles-Thomas gives a classy performance, his eyes and outfit as sharp as Holmes' waspish one-liners and melodramatic tendencies, which slowly give way to reveal something more melancholic, as the famous consulting detective looks into both the past and the future, to a changing world and a lesser life without his dear friend. Davies' script also touches on Holmes' intriguing relationships with Moriarty, and other men in his life, in a way that sheds new light, but mainly it's a mega-mix of Holmes and Watson's best moments and a chance to focus on the friendship that's the still beating heart of the tales. Sally Stott