Edinburgh Fringe theatre reviews: An Interrogation | Polko | Captain Avaritia's Carnival of Wonders | The Devil's Passion | Notes to Future Self | White Butterfly
No matter how familiar you may be with TV police procedurals, you'll find An Interrogation a classy and gripping piece of theatre. Elsewhere our reviewers run the rule over a tale of late-twenties torpor and a macabre showcase of damaged sideshow acts.
A YOUNG woman police officer at risk of being used and undervalued by senior male colleagues, two similar murders which may well be linked, and a well-connected suspect who may have known both female victims, invited in for voluntary questioning. It's a scenario so familiar from current television police procedurals that the audience could probably write some of the dialogue themselves; yet it's handled with such professionalism and skill, in Jamie Armitage's new play An Interrogation, that it holds us in thrall nonetheless.
In Armitage's own production - based on a true life story from Canada - Beth Cullinane plays ambitious young cop Ruth Palmer, left alone by her boss to interview a high-powered businessman and consultant called Andrews, who at first seems to have rock-solid alibis for the nights in question, but gradually begins to crack under pressure.
The production involves intriguing use of live video camera footage, projected above the action, to shift our perspective on the interview; here a close-up of the suspect's nervous finger-twisting under the table, there a birds-eye view of the interview room as an intellectual and moral boxing-ring.
And although the arc of the story is fully predictable, the ingenious patterns of bluff and double-bluff in Armitage's writing, a dark twist involving the policewoman's physical resemblance to the victims, and some tremendous acting from both Beth Cullinane and a superb Jamie Ballard as Andrews, make An Interrogation a classy and gripping piece of theatre; with the same strong feminist undercurrent that also inspires television series like Scott & Bailey and The Bay, and that tends to emerge - in #metoo times - whenever good writers choose to foreground young female cops. Joyce McMillan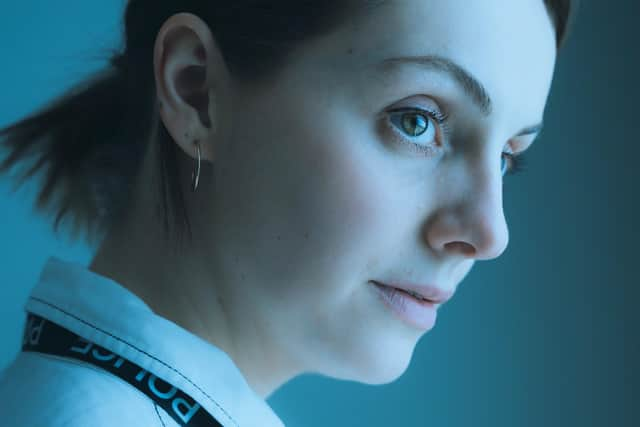 Roundabout @ Summerhall (Venue 26) until 27 August
THE FESTIVAL OF new work presented by Paines Plough at the Roundabout in Summerhall is never less than interesting; and in Angus Harrison's new play Polko, the focus is on the stalled lives of many people now in their late twenties, who find that any setback in their work or personal lives may be enough, under tough 2020's conditions, to tip them back into the parental home, and into the home-town life they left behind years ago.
When Emma makes that journey, in Harrison's play, she is met at the station by her old friend Joe, now working in a hotel, and driving a car he bought cheap from his mother's long-term admirer. Joe seems oddly contented with his home-town life; but Emma and Joe's deepening friendship, beautifully played out by Rosie Dwyer and Elliot Norman in Emily Ling Williams's production, is overshadowed by the absence of their old mate Polko, with whom they used to chum about as a threesome.
The play is set almost entirely in the front seats of Joe's car, and articulated through alternating conversations haunted by a looming sense that something terrible must have happened to Polko. An oddly unsatisfying final plot-twist, though, suggests that the "something terrible" is in fact happening much closer to home; as Joe's young life slips by in a haze of low-level substance abuse, and Polko turns out to be the one who has finally made his escape. Joyce McMillan
Captain Avaritia's Carnival of Wonders ***
theSpace @ Symposium Hall (Venue 43) until 26 August
The eponymous Captain's name gives a big hint as to what's going on in this macabre showcase of damaged sideshow acts from Fife-based FCSA Theatre Company. The greed of that devilish ringmaster (a smouldering Steven Smyth) is not for money, however, but for souls to entertain his ever-hungry audiences as his carnival rumbles across a dusty, impoverished America. Among those souls are haughty beauty Vana Gloria (a smouldering Kaiya Gardiner) accompanied by emo kid Luxuria (a gloriously preening Sam Barclay), bumbling comic Gula (larger-than-life Cameron Nicoll), and the strident, blindfolded clairvoyant Ira, played with flamboyant frenzy by Katie Bryant. And then there's poor, lost Amy (Tanaya Brady), searching for her kid brother who's somehow got sucked up into all this madness.
Yes, there's a big cast (12 actors, in fact) behind writer/director Craig Walker's sinister carnival creation, and at times the play feels like simply a succession of individual acts, corralled and controlled by Leo Henry's simpering Gatekeeper (whose obsequious attentions begin even when the audience is queuing outside). But Walker keeps up a drip-drip of details as to what's really going on, and while his conclusion might not shock you with its horror, the show nonetheless offers some gently creepy thrills. And as the Fringe plummets towards its close, its image of damnation as performing perpetually for endless audiences might ring horrifyingly true for many in the festival. David Kettle
Assembly George Square Studios (Venue 17) until 27 August
Written and performed by Justin Butcher, The Devil's Passion witnesses the ascension of Satan as Jesus enters Jerusalem in 33 AD. A gargantuan, brutalist set piece dominates the stage. Through projection, scenes shift between the gates of Hell, a war room, an endless desert plain, a panoramic view of Jerusalem. The technological elements at play in this production are choreographed expertly by director Guy Masterson, and each effect is executed brilliantly.
Butcher's performance is remarkable. He is Mary, in the throes of immaculate conception; he is Judas, agent of the afterlife; he is the devil again, his arms thrown into the shape of a crucifix. The poetical, biblical language in Butcher's script behaves like the pealing of church bells, appealing to the audience with almost mathematical precision.
The Devil's Passion has all the makings of a spectacle. But what this devil gives is a guided tour of the gospels, merely retelling them as opposed to telling them anew. The overarching concept - a contemporary Middle East "War on Terror" backdrop, with Satan hell-bent on capturing Jesus, whom he maintains is an ideological radical and lunatic revolutionary - is unclear and inconsistent. It is an impressive theatrical feat, certainly. But to what end? Josephine Balfour-Oatts
theSpace on the Mile (Venue 39) until 26 August
Raised in new-age communes and ashrams from Goa to California to Morocco, sisters Sophie (real name Philosophy Rainbow) and Calliope return to their mother Judy's former home of Birmingham when Sophie is diagnosed with a rare and aggressive cancer. There's lots of potential in writer Lucy Caldwell's poignant four-hander for an exploration of dashed dreams, harsh realities and rebuilding shattered family relationships – and probably a strong solo show for Sophie (a vivid performance from Meg Thomas) struggling to get out. As it stands, though, plot and characters could be more strongly developed to grapple with the play's themes, and director Alyssa Wint might encourage her actors to embody their roles more convincingly – and simply to speak a bit more loudly. David Kettle
Greenside @ Infirmary Street (venue 236) until 26 August
Split into seven short scenes, Mermaids Performing Arts production explores various ways people experience and deal with grief. It is most successful when detailing young people's experiences and showing the detrimental toll grief can have on them. These sections are accurately written and directed by Heather Tiernan, and believably portrayed. Sadly when the young actors play older women, it is less convincing.
The actors certainly push themselves emotionally but it is difficult to fully appreciate the piece when a chunk of the dialogue cannot be heard. This is only in part due to the loud air conditioning units in the venue and mainly due to projection issues. Suzanne O'Brien