Edinburgh Fringe dance reviews: Havana Street Party |  The 7 Fingers: Duel Reality | A Couple of Humans | Double Goer | Taiwan Season
Travel the world with these dance and physical theatre shows, taking you from Cuba to Taiwan
Havana Street Party *****
Underbelly Bristo Square (Venue 302) until 27 August
If you've ever attended a street party in Britain, take that memory and push it to one side – because a street party in Havana is like nothing you've experienced here. By the time this 50-minute show is finished, the cast is dancing in the audience, the whole crowd is on its feet and nobody wants to leave. When we eventually do, hips are still swaying and everyone is smiling. No bunting or soggy sandwiches here.
The ten dancers from Cuba have battled convoluted visa woes and unbelievable travel complications just to get to Edinburgh, and are so happy to be on stage it's infectious. Life in Cuba, we're told, is far from easy – blackouts, food and gas shortages – the only consistently good thing in their lives is music and dance. Dance group, Los Datway became internet sensations during the pandemic, when they won a worldwide Tik Tok competition. Six of their members are here, and they light up the stage with their youthful passion and vigour. They didn't just learn to dance, they inhaled it, and now it pours out of them like a life force.
Joining them are four seasoned performers with rumba (THIS IS CORRECT SPELLING) and salsa running through their veins. Two of them also deliver a beautiful, sensuous duet to 'Ain't No Sunshine'. Otherwise, it's wall-to-wall Cuban beats and boundless energy. But while the slick delivery has the sharpness of a commercial dance video, there's something wholly authentic here that gives it a different vibe.
When they encourage us to get up and dance along (nothing intimidating, just friendly) it's as if we've actually landed in a backstreet in sun-drenched Havana. And just as this utterly joyful movement helps them forget their country's economic problems, for 50 minutes at least all is right in the world for us, too. Kelly Apter
The 7 Fingers: Duel Reality ****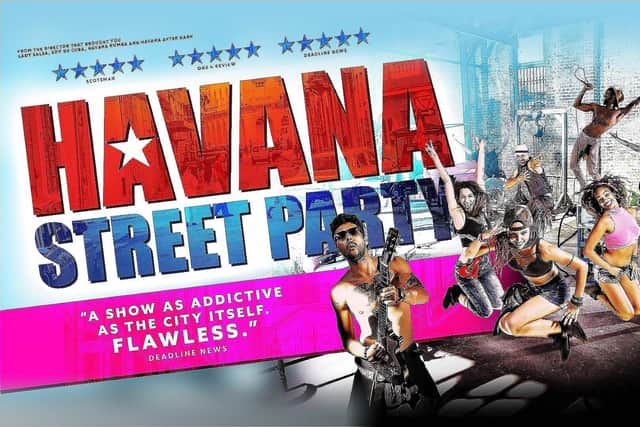 Underbelly's Circus Hub on the Meadows (Venue 360) until 26 August
"Two households, both alike in dignity" – a quote well-known to fans of Romeo and Juliet, but not your average line from a circus show. Then again, Montreal-based contemporary circus company The 7 Fingers is known for being decidedly unaverage. This latest venture takes Shakespeare's notion of lovers torn apart by hate and turns it into a team game. Stepping inside the tent, we're all handed a ribbon – blue or red – and so our fate is decided. Whichever colour outfit the performer is wearing, that's who you'll support in a face-off between opposing circus artists.
Of course, they're too good and we're too sensible to only cheer for our own colour, so each amazing endeavour receives the claps and cheers it deserves. But as a rallying call, it's a good one and everyone gets behind it. Filling the gaps between tricks with further lines from Romeo and Juliet has mixed results (you wouldn't expect members of the RSC to juggle and flip, so why should this troupe be able to deliver Shakespeare?) but they're quickly over and this talented company goes back to what it does best: thrill.
As is the nature of circus, anyone who's been before has seen it all in terms of tricks and skills, but some things never get old. The speed and strength demonstrated on the Chinese pole here are world-class, the teeterboard flipping and flying is superb, and the precision of the aerial work and acrobatics truly magnificent. Juggling, hula hooping and diabolo throwing also make an appearance – each as perfectly executed as the last. And the closing routine, when we're encouraged to see beyond the blue and red and support everyone, provokes a heart-warming audience response. Kelly Apter
Summerhall (Venue 26) until 20 August
Riikka Puumalainen and Antti Puumalainen are close. Really close – as close as you can be without the need for privacy. For not only do their share a stage in this enjoyable physical theatre work from Finland, but a pair of tights. Dressing in front of us, they each pull on a pair of the flesh-coloured hosiery. But then one of them goes a step further and climbs into a second pair. This, it transpires, is to allow their partner to join them in the synthetic underwear, first their legs, then their upper body. They also do a fine job sharing an oversized jumper.
Moments such as these are both fascinating and humorous; seeing two bodies navigate a small space, accommodating each other yet retaining their individuality. This is just one of the ways A Couple of Humans explores the notion of relationships – asking the questions who am I? And who are we together? Elsewhere some interesting shadow play begs a third question about who influences or leads who?
Some of the camera work feels a little lost, and more could be made of the claustrophobic movement, but this is still a fun and engaging experience. Kelly Apter
Dance Base (Venue 21) until 27 August
Look them square in the face, and Rose Philpott and Tamsin Russell share passing but not considerable similarities. But put them in a half light, with their long, brown, wavy hair falling past their shoulders and they could indeed pass for doppelgangers (or, as translated here, as a Double Goer).
Hair plays a vital part in this powerful two-hander. When we first meet them, the women are tightly intertwined like twins in utero. Their bare skin and dark hair blends, and as their feet and hands tuck round each other, it's hard to tell them apart. Separating and seeking autonomy, they begin to move – at first, keeping the 'sisterhood' and breathing as one. Surrounded by a circle of strip lights, their bodies are caught in synchronised motion, their hair whipping from side to side in perfect unison.
There's something almost primordial about this opening section, as if Philpott and Russell have emerged from the swamp and need to learn to survive. An edge of anger and competition ricochets between them, like wrestlers in a ring. When they become self-conscious and pull on dresses in a show of modesty, the piece starts to lose a few volts of power. But regardless, this is an intense, athletic work of contemporary dance. Kelly Apter
Dance Base (Venue 22) until 27 August
Anyone who has been in a co-habiting romantic relationship knows that laundry can easily become a point of friction. That and a myriad of other domestic issues which mask the real emotional matter at play. Duo takes this idea and runs with it – perhaps a little too far. Performers Sun Cheng-Hsueh and Hsia Ling, of Taiwanese company 0471 Acro Physical Theatre, are both hugely competent circus artists who have honed their craft to perfection.
Cheng-Hsueh is the muscle behind the moves, lifting, hoisting, throwing and protecting Ling during countless complicated manoeuvres. Ling is incredibly supple and lithe, climbing up and around her partner's body with sinuous ease. They fight, they make up, they fight, they make up (we all know the drill) and the pile of laundry – a long pink dress and brown suit jacket in particular – are a constant focus.
We know they love each other and want to make it work, but between the circus tricks and the clothes pile, it's hard to find a way into their emotional realm. As an acrobatic metaphor for couple dynamics, however, it's right on the money. Kelly Apter