Edinburgh Festival Fringe theatre reviews: Yippee Ki Yay (the Die Hard Parody) | A Good Panto Die Hard | Junk Monkey | 1 Tent, 4 Girls | Love is Blue
Our latest batch of Fringe theatre reviews includes two irreverent tributes to Die Hard, plus a confidently delivered and written drama about one woman's warped reality.
Yippee Ki Yay (the Die Hard Parody) ****
Gilded Balloon at the Museum (Venue 64) until 27 August
A Good Panto Die Hard ****
Gilded Balloon Patter Hoose (Venue 24) until 27 August
On one level, it's no surprise to see John McTiernan's Bruce Willis-starring 1988 action film Die Hard resonating with younger audiences, because it's great, frankly; a simple high concept (New York cop visits his estranged wife in a state-of-the-art Los Angeles office block, terrorists take it over, the cop fights back) allied with a distinctive central performance and memorable bad guys.
What comes as a nice surprise, though, is to see such a one-note film – albeit a perfectly-struck note – inspiring wildly different comic interpretations. Yippee Ki Yay (the Die Hard Parody) is a returning Fringe show, although where last year's premiere had writer Richard Marsh (a past Fringe First winner for Dirty Great Love Story) in the lead role, now the part is taken by Darrel Bailey.
As a young father recounting his relationship with his wife since their first date watching the mutually-admired Die Hard, and their subsequent attempt to regain the spark against odds as tough as Willis' character John McClane faced, Bailey brings relatable humanity, but in his parallel DIY retelling of the Die Hard story there's much winning, over-the-top humour.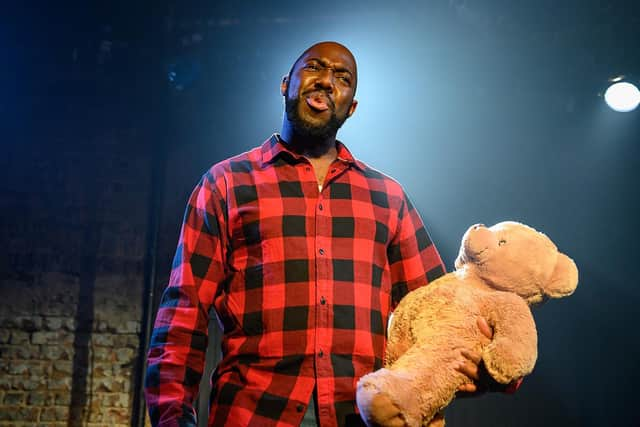 Told in rhyme, which reflects Marsh's own background as a poet, he nails Willis' grizzled, taciturn delivery perfectly, building a recognisable ensemble around him; McClane's exasperated, shoulder-pad wearing executive wife Holly; RADA-trained German terrorist Hans; angry but perfectly preened henchman Karl, who's represented by a giant marauding teddy bear.
A cheer goes up when Bailey strips down to the famous McClane vest, before splashing it with ketchup, while the micro-budget nature of the show – the plush Nakatomi Tower fountain becomes a child's toy watering can in a bucket – is offset by the dramatic, movie-style direction and lighting by Hal Chambers and Robbie Butler, respectively. With theatrical heart and a lot of laughs, Yippee Ki Yay is the Die Hard parody to see this year.
If you love the film as much as Bailey's character, however, then the new Fringe Die Hard parody for this year, A Good Panto Die Hard, also comes highly recommended. Even more knowingly sparsely produced than Yippee Ki Yay, the enjoyment in this ensemble musical pantomime is based on the synchronisation between the humour in Trevor O'Connell's script and the four high-energy performances at its heart.
Shane McDaid plays the joint, relatively straight roles of the narrator and McClane, with Alex Stewart as song and dance cop Al, Bradley Hawkes as Alan Rickman's glaring, thespy Hans and Belle Quinlan as straight-laced Holly. Quinlan and Hawkes' stoned surf bro FBI agents are a highlight, as is the unlikely Duran Duran medley. Through both plays, it turns out Die Hard was a lot funnier than we remember.
Gilded Balloon Patter Hoose (Venue 24) until 27 August
Since the age of 10, she's been falling in love with unsuitable men. Now she's doing the same with a woman she's briefly "met one time on a train" and has cyber stalked all the way to her latest opera recital, convinced that it must be love and unperturbed by the fact that her boyfriend Tom is sitting at home. Maybe with the dazzling May, she thinks, she can "do better".
Olivia McLeod's confidently delivered and written one-woman show slowly reveals the warped reality of a woman so enthralled by the idea of love that she's oblivious to the reality of the people she transposes it onto, nor the damage she causes when she treats her partners in the same way her latest love interests seem to treat her – as disposable.
Through a carefully structured story that runs smoothly along two tracks of time, like a well-oiled train, we journey through Olivia's many sort-of relationships with men, intercut with her attempts to wow her latest love interest in an epic journey of incidental stop-offs with acquaintances-turned-partners who rarely work out. Today's is at an after show party – karaoke machine blaring – but be it with men or now a woman, the one consistent seems to be awkward sex that comes from having no real connection.
"I only feel relevant to what he wants," she says of one man, invisible red flags sprouting up from beneath her feet only to be quickly trodden on. Seeking romance and commitment from others that she doesn't give them in return, she's intriguing unaware of what's obvious to everyone else, including us in the audience. "It feels like winning," she says, the sinisterness behind her smile hidden by the whiteness of her teeth, as she vows to "stop searching" – at least until her next obsession comes along.
Greenside @ Infirmary Street (Venue 236), until 26 August
A disastrous camping holiday in Wales provides the backdrop for this four-handed comedy, directed by Amber Charlie-Conroy and Rosalie Roger-Lacan of young theatre company Talkers & Doers. Sam (Ella Hakin), Ruby (Bethan Owen) and Rosa (Alice Bebber) rendezvous at Victoria Coach Station, but there's a surprise: Ruby has brought "a little friend".
It soon becomes clear that Ruby and Lily (Evie Cooper) are rather more than friends, much to the chagrin of the others, dreamy, vulnerable Rosa and Sam, still smarting from a bad break-up. Initial bliss at the sunshine and greenery is short-lived; a storm is on the way, and the instructions for putting up the tent appear to be in Swedish.
They squabble their way through the rest of the play with not much more plot than this to go on, but the four actors wring comedy out of every line of Rosalie Roger-Lacan's play. Their bright, exuberant performances lift the show well beyond its basic premise and, judging by the rapturous response of the (mainly young) sell-out audience, they have nailed the foibles and insecurities of millennial twentysomethings with absolute precision.
C ARTS | C venues | C cubed (Venue 50) until 27 August
Two worlds collide when straight-talking city trader Olly meets meditative homeless teenager Aaron and they strike up an unlikely friendship back at Olly's flat – both of them haunted by tragedies in their pasts that, respectively, that either prevent or inspire them to try and turn it into something more. Will it even be possible for them to find love that's anything other than, as a Billy Joel song goes, blue?
Writer Don Cotter's slick little two-hander, punchily performed by the cast, slowly reveals what happened in both of the two very different men's lives to bring them to where they eventually end up: in Olly's flat, with Aaron happy to use the shower but wondering what the catch is. Olly is "not lonely, but alone", while Aaron's upbringing seems to be stifling him from fully living his life as a young gay man – but then, is he really looking for what Aaron is?
It's in some ways, a familiar gay love story, but it's well done and, when the two men reconcile their differences at the end, offers no simple answers for what their future might hold, but an uplifting sense of hope that's a warming conclusion to a light and, ultimately, bright story.