Edinburgh Festival Fringe theatre reviews: What If They Ate The Baby? | Optimistic: Elizabeth Holmes | Prick | Ctrl | Blue Morpho
z
What If They Ate The Baby? ****
Space on the Mile (Venue 39) until 26
Zoo Southside (Venue 82) until 27
Ever since the second wave of feminism broke over American culture in the early 1970's, the figure of the stay-at-home postwar suburban housewife has been an object of both passionate rejection and some cultural fascination, to women shocked by the limitations on female ambition and potential so speedily re-imposed after the Second World War.
Rarely, though, can their way of life have been subjected to such a radical queer confrontation as it experiences in What If They Ate The Baby?, the latest show from Fringe-First-winning New York theatre-makers and performers Xhloe and Natasha, otherwise known as Xhloe Rice and Natasha Roland.
On a beautifully simple set featuring a black and white checkered kitchen floor, kitchen table and chairs, and an oddly skewed lace-curtained window, Rice and Roland play two 50's-style neighbours in super-neat multi-petticoat dresses whose conventional interactions - guided by rules which say that a good housewife should never return a dish empty, and that some things are best kept under the table - are constantly interrupted by wild and increasingly intrusive fantasy sequences in which they make wild lesbian love to one another, on and under the table, and across the room.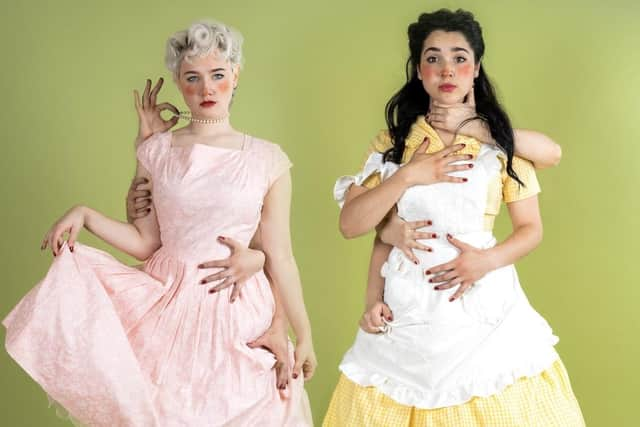 It's a scenario that offers full and astonishing scope to Xhloe and Natasha's gifts for both sharp writing and astonishing physical theatre, bouts of brilliant erotic choreography backed by a fierce grunge-rock score.
Whether these two unhappy wives finally make their escape is doubtful; and the baby of the title, eaten or otherwise, never appears, since both women seem in denial about the little strangers that might soon come knocking on their doors. By the end of this brisk 50-minute show, though, the postwar American suburban dream lies smashed to smithereens by the ferocious alternative energy of Xhloe and Natasha's queer world-view; which, of course, is exactly the fate it always deserved.
Despite appearances to the contrary, the disgraced American entrepreneur Elizabeth Holmes is one of the heirs and successors of that generation of desperate housewives, not least in her blank-eyed acceptance of the macho tropes of American capitalism at its individualistic worst.
In Optimistic: Elizabeth Holmes, writer and solo performer Sarah Deller gives us an Elizabeth Holmes drunk on pseudo-new-age mantras of self-belief and personal destiny, who somehow convinces herself that the untried and ultimately unsuccessful diagnostic technology on which she founded her Theranos corporation would not only bring her and her partner huge wealth and success, but would also transform the prospects of poorer patients in the broken US healthcare system.
The writing is powerful, the staging much less so, as Deller circles the small studio space, endlessly deconstructing and reconstructing Holmes's office furniture in a mounting frenzy of denial and desperation; and if the play seems inconclusive about what exactly drove Holmes to such extremes, it nonetheless comes as reminder of the apparently endless capacity of the USA to offer its people both the right dreams, and what Arthur Miller once nailed as tragically wrong and destructive ones.
theSpace on the Mile (Venue 39) until 25 August
"The public love witch content," one of the characters says in this at times harrowing but also well researched and powerful play about the women murdered by men during the Scottish witch trials of the 1600s.
The balance between depicting the way that three women – Marioun Twedy of Peebles, Isabel Gowdie of Auldearn and an Unknown Woman – were tortured and killed, while avoiding sensationalising it, is something that playwright Laurie Flanigan Hegge attempts but also addresses within the thoughtful script, paired with an imaginative production, directed by Meggie Greivell, which uses puppetry, folk music, costume and sound.
Nevertheless, there is some unspeakably grim imagery, as we see what is inflicted on the women through ashen-faced puppets. "You're pricking me now with every word," Isobel observes.
However, in the second half of the piece, time and space are broken down to enable the defiant voices of the women, in particular Isobel, to rise from the ashes in a way that's more satisfying and expands the story's scope beyond the "regular folk" putting on a show, including this young company, to include the women, and sometimes also men, who continue to be persecuted in such ways today. The final message is one of anger and strength.
TheSpace on the Mile (Venue 39) until 26 August
Artificial intelligence is one of the defining themes of this year's Edinburgh Fringe. Shows about it are everywhere.
At Pleasance Courtyard, American comedian Courtney Pauroso is satirically skewering it as sophisticated sex robot Vanessa 5000, Edinburgh University's Inspace Gallery is hosting a free exhibit of interactive AI artwork, and at TheSpace on The Mile, London-based young company Lund is presenting its nine-handed ensemble drama Ctrl, which has both been co-written with AI, and ambitiously grapples with the technology's impact on education, creativity, theatre and more.
It's set in some dystopian future, where the education system is run by an omnipotent, omniscient AI system known as the Authority Index. A class of nine teenagers – known only, The Prisoner-style, as numbers – has failed its creativity module. Now, they have eight days to resit by writing and performing a play, or they will be "deselected."
Over fifty minutes, they bicker and banter their way through various philosophical arguments about AI and theatre, weaving in some neat nods to classics of world drama – The Crucible, A Streetcar Named Desire, Shakespeare – along the way.
It's tonally uneven, and Connor Abbott and Rebecca Baxter's staging might be cramped – fitting nine actors into such a small space would be challenging for an experienced company – but this is a thoughtful play that tackles some big topics with commendable spirit.
Greenside at Infirmary Street (Venue 236) until 26 August
On Christmas Eve 1971, 17-year-old Juliane Koepcke fell almost two miles from a plane into the Amazon rainforest. She was the sole survivor of the crash, spending 11 days alone in the elements. It's compelling stuff, and musical drama Blue Morpho does an engaging job with its well-chosen subject matter.
We enter the performance space to an unconscious Juliane (Amy Clayton), and watch her deal with her psychological and physical injuries over the days leading to her rescue. Justin Cartledge's slick writing gives us some well-observed moments of teenage vanity and panic, capably portrayed by Clayton despite an age gap between character and actor. The songs are tender and emotional, though occasionally lyrically unimaginative.
The show is at its best when existentialism creeps in, but we don't get enough of it. I was unconvinced by Juliane's chipper exterior in the circumstances and keen for Cartledge to ramp up the tension by having her less relentlessly clear-minded. One absorbing moment touches on 'survivor's guilt' but passes quickly, which is a shame.