We Were Promised Honey! *****
ROUNDABOUT @ Summerhall, until 28 August
We Were Promised Honey! warns you from the start that there won't be a happy ending. What goes up must come down and tragedy is inevitable, says creator and performer Sam Ward with a sympathetic smile. But don't you want to hear the story anyway?
Experimental theatre company YESYESNONO are a Fringe staple, beloved for detailed and thoughtful live art that touches on the tenderest parts of human existence. Ward has a knack for spotting a bruise, finding a feeling that's been hidden in the dark, but never once exploits it. His work is built on trust, and We Were Promised Honey! flexes this soft power more than in any previous work. A truly captivating presence, Ward oscillates between a best friend, an executive life coach, and a preacher from an alternate timeline as he leads the audience through tens, hundreds, thousands of years of history toward that final, promised act.
A stripped-back performance with minimal props or effects, We Were Promised Honey! makes way for your imagination to race ahead, even into the unimaginable. A plane tumbles through the sky and a baby is born in a remote lighthouse, while atoms dissolve into mysteries and the sun embarks on its ultimate, inescapable heat death. This is a solo show, but also not. It's our future, after all, and Ward asks for encouragement and affirmation at every step: are we sure we want to keep going?
A play about control and destiny, disintegration and rebirth: these are fables on a planetary scale. It's both painful and comforting to feel so tiny in the face of it all, but Ward is a skilled pilot and knows exactly how to land. In an aerial feat of storytelling he sets the audience back down in the here and now, armed with hope on the brink of sure disaster. Katie Hawthorne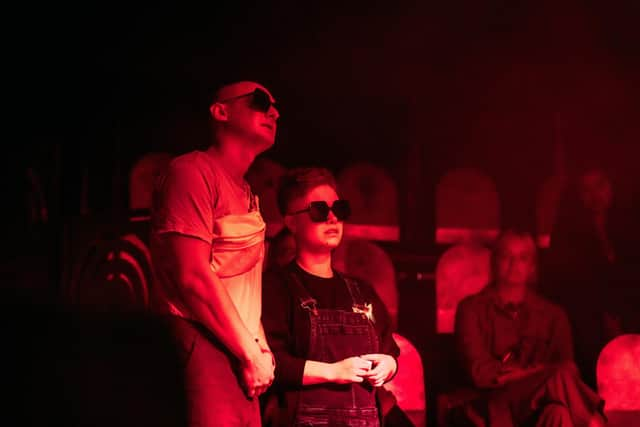 Pleasance Dome, until 28 August
Please welcome to the stage, ladies and gentlemen, the great American theatre director, Mr Adrian Truscott. On the stylised set of a 1970s talk show, this preening and thoroughly awful "genius" struts and swaggers, batting aside difficult questions about his working practices and declaring his creative strategy to be essentially an all-encompassing sense of fear in the rehearsal room. Instigating arguments about the wrong kind of sandwiches is one of this Hemingway-inspired boor's key tips.
He's also, to no-one's surprise, an utter misogynist, who believes a good play is like a mini-skirt: "long enough to cover the important bits, short enough to keep you interested". To illustrate, he invites the show's fawning host to join him in performing the same scene over and over, in which a rugged protagonist chats up a woman in a bar. Shifting tone every time, the emphasis moves from his swaggering old-time confidence to her harassed distress.
Truscott, of course, is played by Adrienne Truscott, one of the Fringe's most versatile and radical voices, in a moustachioed, gravel-voiced turn worthy of Andy Kaufman. Opposite her in this dazzling, difficult two-hander is Feidlim Cannon, co-artistic director of Irish company Brokentalkers, who are also co-producers of the play. Midway through, character is broken and Truscott – the real Truscott – begins addressing Cannon by name.
An absurdist piece rich in comedy, clowning and dance that takes aim at old misogynist attitudes has snapped right up to date, with Truscott questioning Cannon's attitude to and very place in their show. Every older white male's continued place in theatre, in fact. What follows is challenging and disturbing, but still very darkly funny, especially as an attack on performative male allyship in enthusiastic word only. It's magnificent, unmissable (certainly if you work in the arts) and likely thoroughly divisive – the Fringe at its best. David Pollock
Pleasance Courtyard, until 29 August
Everything about her outfit seems put together, but at home the clothes are getting out of control. It's the cliché of "the hoarder" – not that Sophie sees herself in this "extreme" way. Recently moved back to her home town of Plymouth, leaving the sequins of London sample sales behind, along with a writing career that hasn't progressed in line with her spending, Sophie has started dating the contrastingly cool and composed Jo. While she's getting used to telling people that she "likes women", she's struggling to recognise her compulsion for buying outfits that she'll never wear, which sit, like "ghosts" on the empty hangers of the set, encapsulating the flat she refuses to let anyone see.
Laura Horton's sensitive and sharply observed script, based on her own experiences of hoarding clothes, is beautifully performed by Madeleine MacMahon, who embodies her character like a tailor-made dress. The illusion of "normality" that Sophie, sizzling with self-doubt, is desperately trying to maintain is coming apart at the seams – the irony being that she only feels "in control" when she's out of control. Choosing to see the savings that come from buying designer second-hand clothes, rather than the cost, she's a complicated, compulsive creation that it's a thrill and a horror to shop with. "Haven't we all got a bit too much?" she asks at one point. Of course, for many of us the answer is: yes.
Taking control of her story, via an unpaid "first-person article in a women's magazine", eventually becomes the means by which Sophie takes control of her addiction – media interest in the subject of "hoarding" being portrayed as both an exacerbation and a means of salvation in a way that feels contradictory. In a one-hour Fringe slot, Sophie's story feels rather quickly resolved, but it's pleasing to see this likeable character get a happy ending, even if real life can sometimes be more complicated. Sally Stott
Gilded Balloon Teviot, until 29 August
It's probably worth watching Die Hard before going to see Yippee Ki Yay, poet Richard Marsh's entertaining and affectionate tribute to the 1988 action thriller. That's because his solo show is essentially a scene-by-scene re-enactment of the movie.
Under Hal Chambers' direction, Marsh uses his voice, his body and a few props to tell the iconic tale of Bruce Willis's John McClane and his eventful Christmas Eve at Nakatomi Plaza – and little of it will make sense if you haven't seen the film.
All the classic scenes, lines and characters are here – including Alan Rickman's Hans Gruber – but they have been reworked by Marsh into mime, mimicry and intentionally mangled verse. To compare it to some recent festival hits: think the inventiveness of Lewis Doherty's solo shows, the doggerel of Gary McNair's McGonagall's Chronicles, and the nostalgic enthusiasm of Superbolt Theatre's Jurassic Park.
There is a bit more going on. Marsh – an energetic, endearing performer – touchingly interweaves his faithful replay with the story of a marriage founded on Die Hard fandom, but now foundering on the rocks of parenthood, drawing out the poignant parallels between the two. That's entirely a sideshow, though: for the most part, Yippee Ki Yay is simply a rhyming re-enactment of a much-loved movie. Fergus Morgan