Edinburgh Festival Fringe theatre reviews: The Rejects | All the Glorious Moments in Between | Terminal: A Play About 0 Planes, 1 Person, and a 6-Hour Delay | Lash | Locusts | Midnight Building
Our latest round-up of Fringe theatre review includes an assured comedy about the stress of competitive job interviews, an uplifting celebration of friendship and beauty, and an offbeat meditation on the hellish limbo of being stuck at an airport.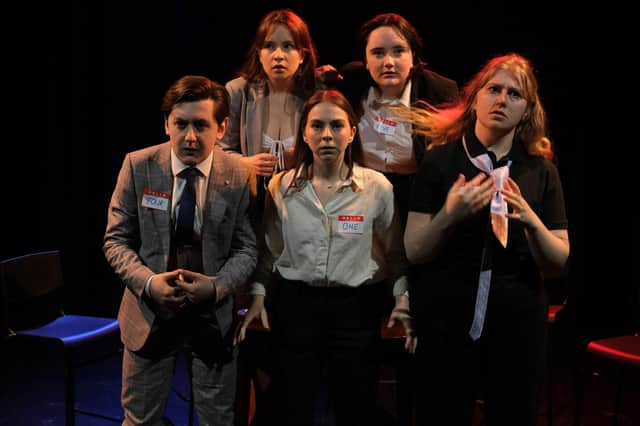 The Space on the Mile (Venue 39), until 26 August (even dates only)
Five young people being interviewed for the same dead end job forms the basis of this impressive debut by writer Jess Ferrier. The sense of mutual suspicion eases as the candidates agree to a post-interview drink, and as one drink turns into an evening, the rejection emails start to arrive.
It's a simple but effective scenario written with such acuity, pace and wit that it becomes more than the sum of its parts. Directed by Ian Dunn for new Edinburgh-based theatre collective Shark Bait, it's performed with verve and ability by the five young actors.
The characters are strongly drawn, from the conciliatory people-pleaser who once dreamed of going to art school (Robyn Reilly), to the flirtacious one whose biggest strength might be her sense of middle-class entitlement (Ferrier herself), to the one who is simply desperate for a job to pay her electricity bill and start repaying her debts (Isla Campbell).
There's the one who wears a sharp suit because he hasn't told his family he lost his last job six months ago (Lex Joyce) and the enigmatic one (Abi Price) who turns out to have a psychology degree and enjoys playing with people's expectations. As the pub quiz gets underway, there are deceptions, admissions and confidences, but there can be only one winner.
It's an indictment on a society which leaves so many able people languishing in McJobs to pay the bills, but that's almost taken for granted. As an assured comedy where the pace rarely falters, laced with quick-fire dialogue, this is an incredibly promising debut for writer and company alike.
4/ 4/ 4: 4 Real Asians, 4 White Men, 4 Fake Asians ****theSpace @ Niddry St (Venue 9) until 19 August
This is what happens when cultural appropriation goes meta. As the title summarises, four actors described as 'Asian' play four white men who play four 'fake Asians': people who have created alternative versions of themselves to appeal to a world where Asian stereotypes are fetishised for being interesting, cool or exotic. To add to the confusion, the performers keep slipping in and out of character. Trying to keep track, as well as work out what it's all about, is a mind melting but thought provoking experience in a show that ultimately asks it will ever be possible to live in the 'post-racial world' of a new 'woke' TV sitcom that tries, and fails, to contain the action.
A Brechtian dissection of California rolls, cultural tropes and theatre itself, both the show and its characters are constantly in metamorphosis, as the growing pile of assumptions and behaviours deemed incorrect starts to stifle the conversation and drive the group apart in a piece that joyfully takes aim at itself, as well as others elsewhere. Are we on the side of creative freedom or cultural appropriation? Is it better to try and change things from within or fight them from outside? Are impossible-to-resolve conversations driven by oppositions part of the problem rather than the solution?
Using comedy like a precision tool, rather than feeling the need to be endlessly funny, the piece concludes in the kind of chaos that these conversations often do – but also a glorious freeform dance routine to Freddy Mercury's The Great Pretender. After all, "aren't we all fakes?" we are asked. While the conclusion seems to be to not to get stuck in paradoxes that perhaps aren't really the point, its exuberance also demonstrates what it might be like not to have to – a simplistic but appealing vision where everyone is happy.
All the Glorious Moments in Between ***
theSpace on the Mile (venue 39) until 26 August
Three women with glorious outlooks and infectious smiles encourage their new friend, as well as the audience, to focus on the beauty rather than the darkness. Directed and created by Hollie-Jasmine Wills, this uplifting 40-minute show is a mix of choreographed movements, monologues and poetry, which all have a modern feel.
The cast is made up of four strong women of colour who exude joy - Anika Sharman, Freya Johnson, Marisol Rojas, and Tara Olawoye. They have an undeniable chemistry, and it really does feel like they are the best of friends. Sharing their personal moments of happiness and appreciating their heritage, home, and those around them, they inspire one another and ultimately become closer.
Darker times are alluded to but Queen Mary Theatre Company's piece refrains from delving deep into them. The emphasis remains on the positive, which is somewhat refreshing when it is much more common to focus on the opposite.
The pacing feels slightly off at times and the piece would benefit from being tightened up. Although it lacks slickness, Wills's direction and writing create a warm and welcoming space that will leave the audience with a lasting glow.
Terminal: A Play About 0 Planes, 1 Person, and a 6-Hour Delay ****
Greenside @ Riddles Court - Clover Studio (Venue 16) until 26 August
Before Terminal: A Play About 0 Planes… even starts, the scene is set; everyone who has ever had the misfortune of spending hours in an airport would recognize the bland, visibly sticky faux-leather chairs and general air of hopelessness before they've even stepped off the travelator.
But as soon as Samantha Vita staggers onto the stage - equipped with a neck pillow, two unwieldy bags and a kind of self-conscious confidence, à la Michael Cera - we know that they won't subject us to any of the boredom normally associated with a delayed flight.
Vita's offbeat humour effectively taps into the discomfort we all feel during periods of limbo; they check their emails and read The Hobbit while trying to drown out increasingly sinister airport security announcements and the dulcet tones of a crying child. Their gate keeps changing, resulting in panicky commutes across the terminal. They bitterly munch on a pre-crushed bag of complimentary pretzels.
If none of this sounds particularly enthralling, that's because it's not designed to be; Vita's excellent comedic timing and delivery elevates the mundane by verbalising the meandering thoughts and feelings of stagnation that extended waits can draw out of us.
By the time their six-hour saga at LaGuardia draws to an end, we're ambivalent - delighted that Vita can be set free from their liminal hell at gate 31A, but also saddened that it has to come to an end at all.
Pleasance Courtyard (Venue 33) until 27 August
Yorkshire-based father-son duo Philip and Jack Stokes have had hits at the Edinburgh Fringe before – Heroin(e) For Breakfast in 2019 and Jesus, Jane, Mother and Me in 2022 – but their new one-man play Lash disappoints.
Written in pummelling poetry by Philip and performed exuberantly by Jack, it follows a young man on a booze-fuelled night out, attempting to explore how the angst of a generation that lost their adolescence to Covid is driving them drink and drugs. It is a compelling theme, but one that is entirely lost in a monotonously mile-a-minute production that lacks sophistication and subtlety.
theSpace @ Surgeons Hall (Venue 53) until 26 August
An excess of good taste stifles this exploration of gay conversion therapy and the evangelical church by Ian Tucker Bell and Garth McLean.
Drawn from lived-experience it's well-performed (particularly by Tucker-Bell as the central character, Stephen) but thematically overstuffed. The subject of conversion therapy isn't even raised until towards the end and many scenes are quite deliberately played at a glacial pace to emphasise how serious this all is - as does an unnecessary tinkly tasteful piano soundtrack.
It's a sincere attempt to at least address the pseudoscience of conversion therapy - which the U.K. government still hasn't banned - but its notions of dramatic momentum seem to stem from another era.
Greenside @ Infirmary Street (Venue 236) until August 26
This back-and-forth two-hander treats the moral high ground like a tennis match.
Blake (Makaio Toft) wants her friend Sarah to report her sexual assault, but Sarah's new boyfriend Adam (Aryan Bhattacharjee) has vested interest in her silence. Blake and Adam manipulate each other, resorting to both lies and confessions in their fight to be in the right, and as both parties treat Sarah like a toy it's clear that neither has entirely altruistic intent.
Written and well-performed by two NYU students, Midnight Building has a promising premise, but the script is loose and circuitous, losing pace in its repetitions.